7 Examples of Cart Abandonment Emails You'll Want to Steal
Table of Contents
Online consumers are a fickle bunch. They browse your site, add items to their cart and then – poof – they vanish. American shoppers abandoned a whopping 73% of shopping carts in the first quarter of 2016 alone, and Americans aren't the only offenders. Worldwide, the cart abandonment rate is 74%.
That's a lot of revenue left on the table, or in this case, in digital carts. To try and recapture some of those sales, 51% of marketers launch remarketing campaigns to get customers to check out.
Cart abandonment emails are a great remarketing tool. These emails remind customers about the items they planned to buy and encourage them to complete the transaction.
The primary purpose of the email is to push customers to the checkout, but there's a variety of ways to accomplish this.
Here's a look at seven cart abandonment emails – each with a unique feature – that you'll want to steal:

1. Feature the forgotten items

One of the most effective components to a cart abandonment email is to show customers the actual items left in their cart. Yes, there are cart abandonment emails that don't show images, but they're not as effective. Showing a picture of the product gives your transaction rate a 25% boost.
A picture helps the customer remember the product and why they wanted it in the first place.
Here's a cart abandonment email that features clothing that the customer put in the cart. It also shows the price and gives the customer a link to check out.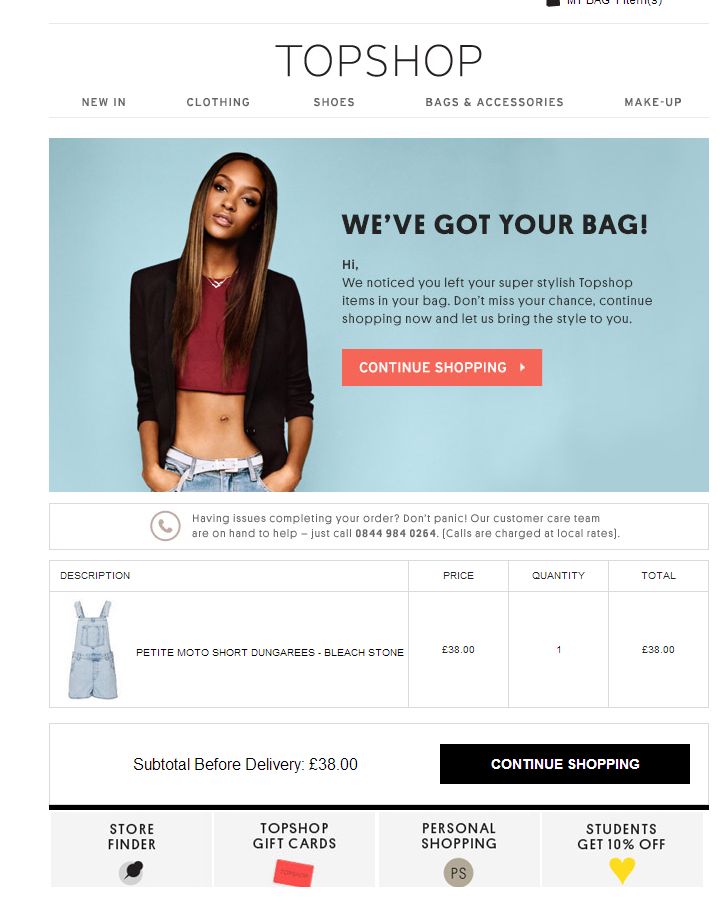 2. Drop the price

Customers can't resist a good deal. As an incentive, consider lowering the prices of the goods left in the cart. Send the shopper a "new price alert" email that shows the items they wanted at a new, lower price.
You don't have to drastically cut the price; even a small 5% cut off the top could be enough to lure a customer to the checkout.
Here's an example of cart abandonment email that shows the price reduction.
Notice the text is simple too. It simply says, "New price alert. Time to check out." A simple call to action, or CTA, sits just below the text. It's simple but effective.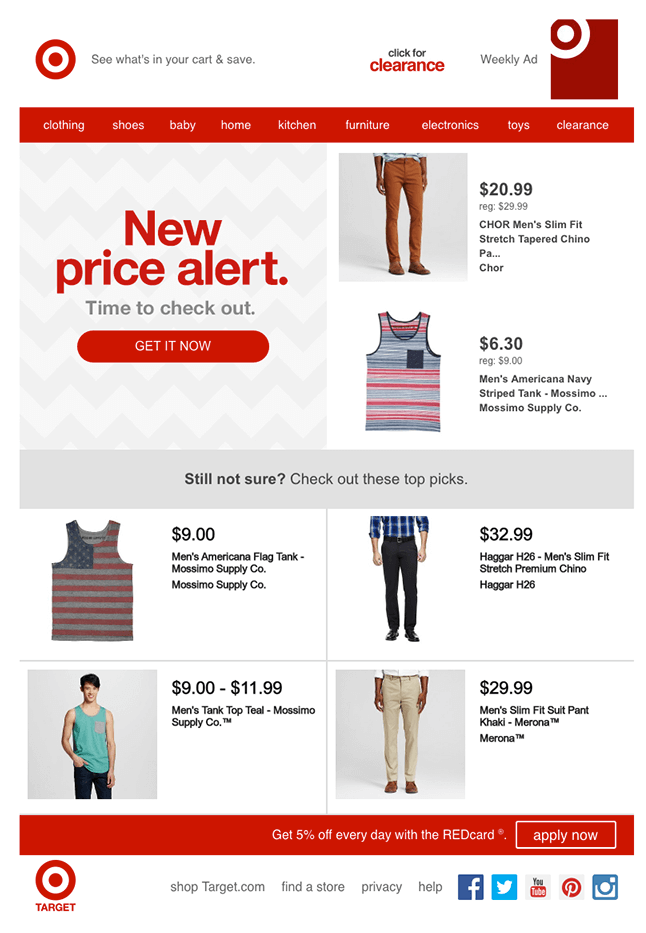 3. Provide a coupon

If you don't want to drop the price of your products, you could offer a coupon instead. Offering 10% off a total purchase is often easier than lowering prices on individual products.
Of course, some marketers debate whether or not adding a coupon to a cart abandonment email is a good idea. Some worry that customers will grow to expect it, which could hurt long-term sales. Others are fine with offering a coupon if it means closing a deal.
And, research doesn't lie. Coupons work. Adding a coupon to your first cart abandonment email can boost your transaction rate by 54%.
Here's a cart abandonment email that offers 25% off the purchase: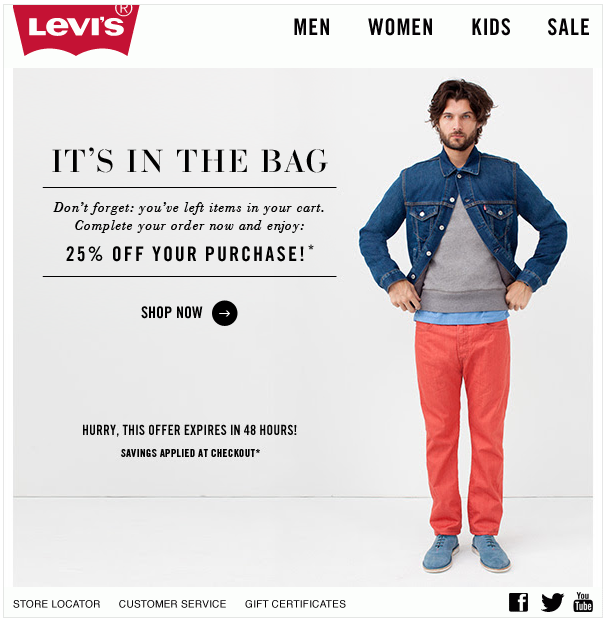 4. Offer free shipping

The only thing customers love more than a coupon is free shipping. As an incentive, give customers that are on the fence about a particular product free shipping.
The cost of shipping actually scares a lot of customers away, and cause 55% of online shoppers to abandon their cart in the first place.
You can often bring a customer back to the checkout by offering free shipping via email.
Some brands offer free shipping all the time. If you're able to do that, you'll have a competitive advantage. Ninety-six percent of consumers say they're more likely to shop at sites that offer free shipping year-round. But, offering free shipping 365 days a year can be pricey, so if it's not in your budget – don't worry. Offering free shipping as an occasional incentive works too.
Here's a cart abandonment email with a free shipping offer: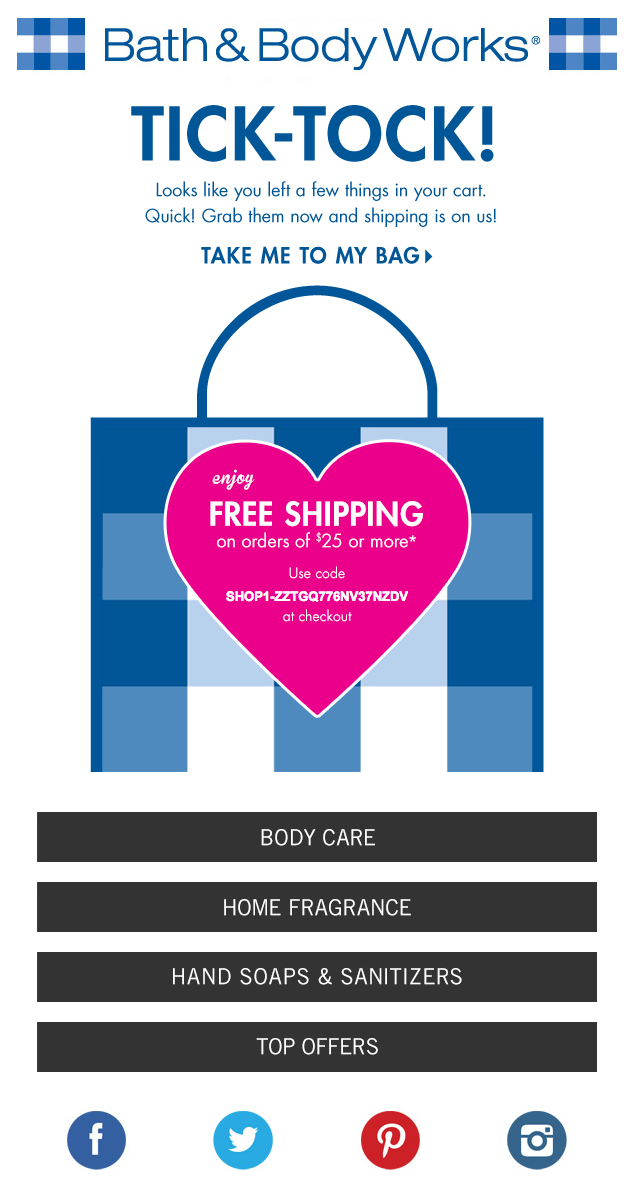 5. Use the FOMO effect

You may have heard the term, FOMO, or fear of missing out. It's not just a trendy hashtag, it's a real thing. People are actually afraid that they'll miss out on an event or a hot new product that everyone's talking about.
If a product is rare or in limited supply, consumers are drawn to it even more. You can use the FOMO effect in your cart abandonment emails.
Tell customers if a certain purse is almost gone, or if a vintage t-shirt typically sells out within hours. Explaining how scarce a product is can provide enough incentive for customers to act.
Here's an email that uses FOMO to its advantage. The email mentions the possibility of the product selling out and uses "Check Availability" as its call to action to show customers they have to act fast to get the product.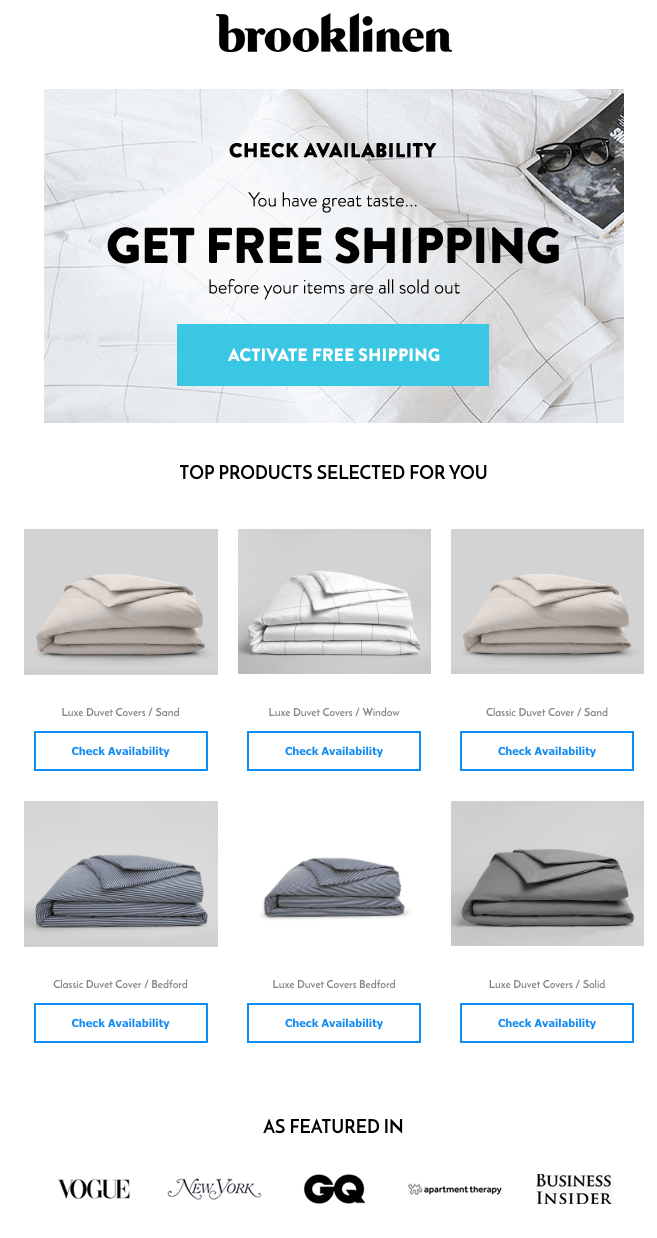 6. Provide reassurance

Sometimes, customers aren't sure about a purchase and they need a little reassurance. Remember, buying items online doesn't allow customers to touch a product, try it on or test it out. To compensate for this digital setback, brands should provide reassurance in cart abandonment emails.
Give customers a phone number to customer service, a link to product reviews, or explain your hassle-free return policy. All of these actions build trust and give customers the confidence they need to make a risk-free purchase.
Here's a cart abandonment email that gives customers a chance to speak to a "customer service ninja" for more information: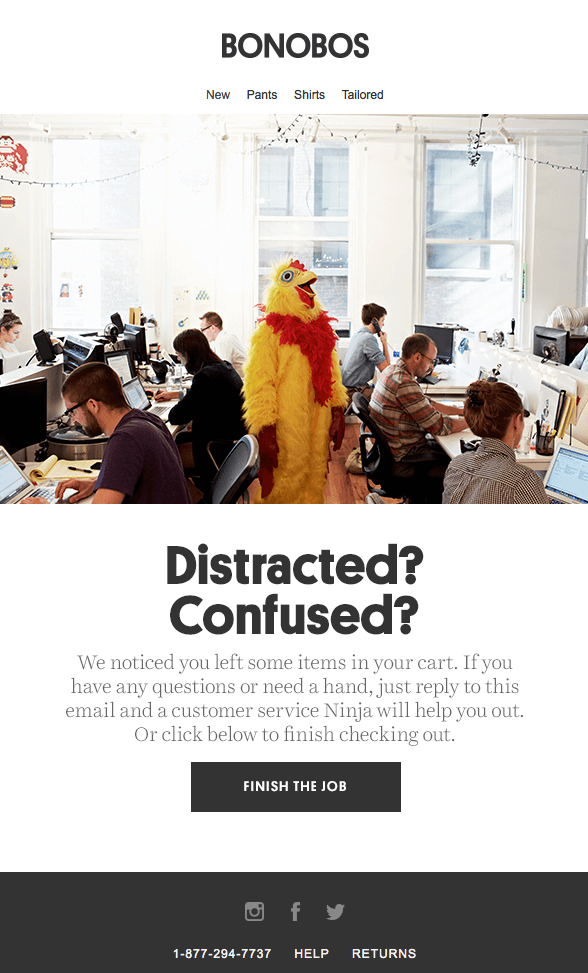 7. Provide inspiration

Cart abandonment emails aren't just a great opportunity to close a sale; they're also a good opportunity to increase a sale.
Consider showing customers additional products they might like. You can provide a few products that are similar to what's in their cart or show accessories that go along with the product.
Let's say a customer put a digital camera in their cart. You might show a small case and an SD card to save photos to as additional items the consumer might like.
Here's a cart reminder that makes additional product suggestions: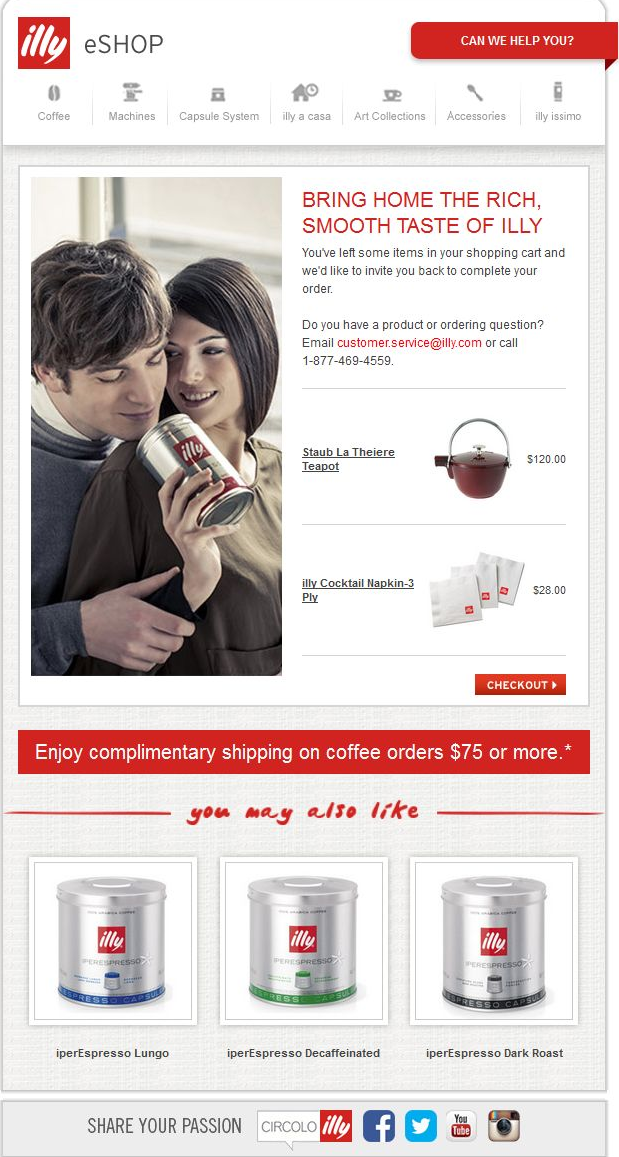 Tips to send effective cart abandonment emails

To make sure your cart abandonment emails are as effective as possible, use these additional tips:
Send a series of three emails

Research shows one email reminder isn't enough. Brands sending three emails saw a 56% increase in revenue compared to those sending just one email, according to Experian. Three is the magic number.
The first one might be just a reminder, the second might include a link to customer service to ask questions about a product, and the third might include a discount code or coupon to apply to the purchase.
Wondering when you should send those three emails? Don't worry, research provides the answer. Send one email each day for three days starting on the day the cart was abandoned.
Experian looked at the best timing for abandoned cart emails and an email on Day 1, 2 and 3 had the best transaction rates. Sending emails on Day 1, 4 and 7 had the second highest transaction rates, but they were still half that of emails sent consecutively on the first three days.
Use automation to trigger emails in real-time

https://www.pinpointe.com/blog/email-autoresponders-how-do-i-set-it-and-forget-ithttps://www.pinpointe.com/blog/email-autoresponders-how-do-i-set-it-and-forget-it not only make cart abandonment emails easy to send but it also increases their effectiveness. Research shows cart abandonment emails that were triggered in real-time, soon after a customer left the site, had a 62% higher transaction rate than bulk emails that were sent later on.
Cart abandonment emails don't require a lot of text. Create a simple message that serves as a reminder and explains any incentive that you offer. Your text should complement the images that you're showing, hopefully of the products that were left in the cart.
Personalize the subject line

Cart abandonment emails provide a personal interaction between a brand and customer. You're showing a customer the items he or she left behind, which is unique to that customer.
Take your personalization to the next level, by including the customer's name in the subject line. Personalized subject lines garner 26% higher open rates, so taking the extra time to add a customer's name to the subject line is the final touch to a highly tailored email.
Wrap up

Cart abandonment emails are an essential part of any successful email marketing strategy. To create and send these personalized emails, you'll need an email service provider like Pinpointe that provides the support and automated tools necessary to create them with ease.
Learn more about Pinpointe's cart abandonment emails and start capturing your lost sales today.
Pinpointe Newsletter
Join the newsletter to receive the latest updates in your inbox.
---