ON-DEMAND WEBINAR | Create the Ultimate Marketing Trifecta: 13 Tips Around Email, Content & SEO
Table of Contents
To succeed as a marketer in today's evolving digital landscape, you have to deploy a variety of different tactics.
When you combine email, content and SEO, you have a perfect marketing trio that's capable of attracting and retaining customers – now and in the future.
In this on-demand webinar, Pinpointe and marketing content specialist, Lisa Furgison McEwen, show you how to combine these three elements to maximize your marketing reach.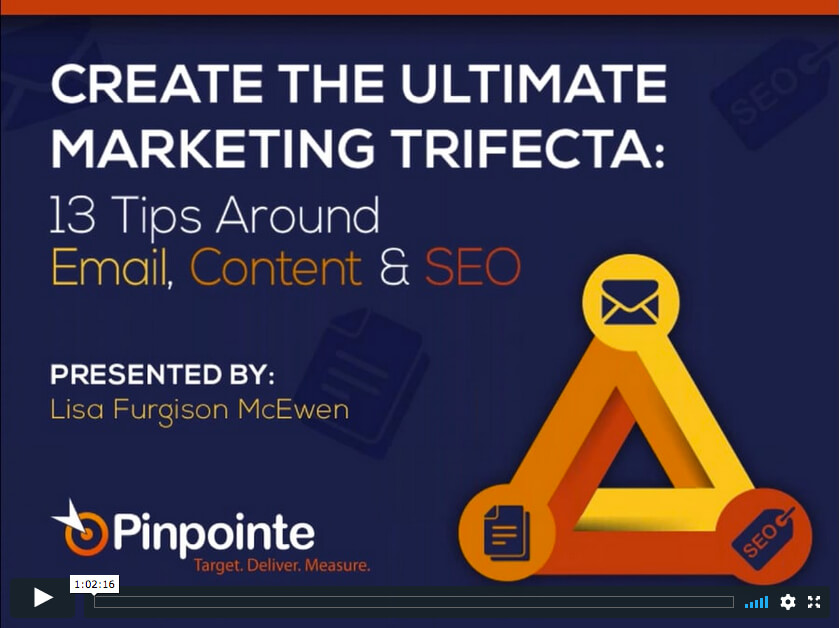 After viewing this webinar, you'll also understand:
The connection between email, content, and SEO
Why it's important to use all three marketing tactics together
Tips to make the trio work seamlessly
Examples to inspire your own marketing strategy
And more…
Plus, you'll get a list of tools & resources covered in the presentation.
If you're looking to get the most out of your content and create a powerful marketing trifecta, this is one webinar you'll want to watch.
---
PRESENTER

Lisa Furgison McEwen
Content Creator
McEwen's Media
Pinpointe Newsletter
Join the newsletter to receive the latest updates in your inbox.
---