[On-Demand Webinar] BIG Ideas to Improve Your Email & Digital Marketing ~ Presented by Jeanne Jennings
Table of Contents
Want BIG ideas on how to rock your email campaigns and improve your email marketing tactics?
Jeanne Jennings shares the ideas that earned her the title "Top Email Marketing + Design Thought Leader on Twitter" by Litmus.
In this on-demand webinar, Jeanne Jennings explains how you can make REAL improvements to the performance of your email campaigns and take full advantage of how effective email marketing can be.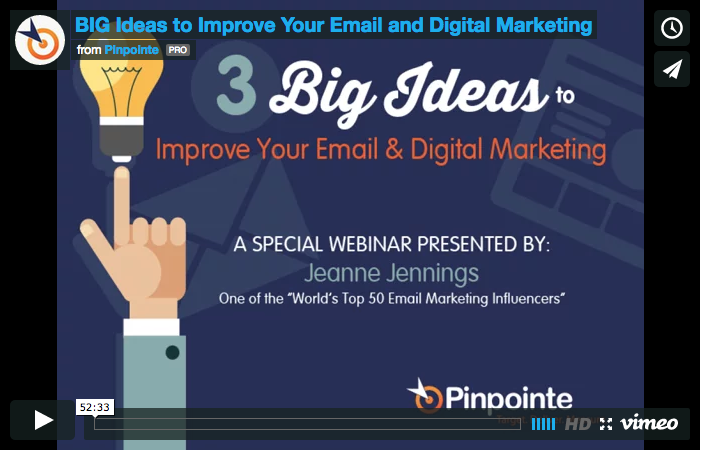 Leave the webinar with practical advice you can start leveraging right away to improve your email marketing, along with an increased enthusiasm for email marketing and enough ideas to become an email marketing rock star in your organization.
A Glimpse of the Ideas Covered:

4 ways you should be gathering data
Multitude of ways to boost response
#1 feature that will improve productivity & bottom line results
Biggest reason that technology doesn't deliver as anticipated – and how to address it
15 types of marketing tests you should be doing
A simple way to 'bake' testing into your regular marketing program
Plus more +++
---
About Jeanne Jennings
Jeanne Jennings is a recognized expert in the email marketing world. Along with being a sought-after speaker and author, recent industry accolades include being named one of:
the World's Top 50 Email Marketing Influencers (Cision, July 2014).
the Top Email Marketing + Design Thought Leaders on Twitter (Litmus, January 2015)
She is also Managing Director, Digital Marketing for Digital Prism Advisors (www.dprism.com), an advisory firm that helps medium- to enterprise-sized organizations transform their business strategy, data practices and technology to be successful in the digital age.
Jeanne has over 20 years of experience in the email and online marketing and product development world; she began her career with CompuServe's Business Services Group in the late 1980s. For more details, visit her LinkedIn profile or her Blog (www.JeanneJennings.com).
Pinpointe Newsletter
Join the newsletter to receive the latest updates in your inbox.
---