Solving the Mystery Behind Email Marketing Subscriptions
Table of Contents
As an email marketer, research is important to you, or at least it should be. There are too many variables when it comes to email marketing and for that reason, testing, tracking, and research are critical to successful campaigns. Only then, can you get closer to offering content that results in a pleasing number of subscriptions, high open rates, and even higher click-through rates.
GetData is an independent research program that's a part of GetApp, the marketplace for business cloud applications. They have shared a ton of  valuable research on email marketing techniques throughout the years. More recently, they've conducted extensive research to better understand how users react to different email marketing techniques and answer a question that keeps many hard core email marketers up at night: Why do readers subscribe and/or unsubscribe from your email marketing subscriptions?
As you may have guessed, the research isn't cut and dry. There are different segments of readers and some of the mystery still lingers, but the below findings can help you get a better idea of why readers subscribe as well as why they hit that unsubscribe button as say goodbye to your communications efforts. Below, we have summed up what GetData found about email marketing subscriptions.
Reasons to Subscribe
How to entice readers to make that first step in engaging with you is as powerful a question as "Why the sky is blue?" Powerful and mysterious at the same time. Check out the chart below with GetData's findings.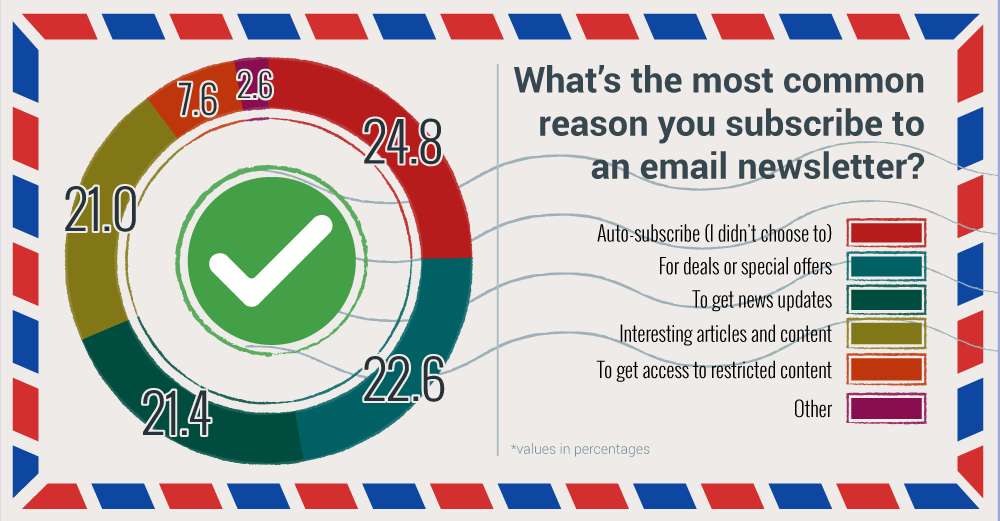 The results help us pinpoint a few key factors, but also makes you ponder the question, "Why did your subscribers begin to take notice and why do they continue to engage with you?"
If you can be proactive with your own research and polling, you will be able to get personal and provide the best value to your subscribers for the long-haul.
As for the results, men and women varied greatly in this area with men claiming to be added accidentally the most at 26.8% while 26.9% of women signed up for deals and special offers as the primary reason. There may be something said to the fact that women are savvy shoppers. Deals and special offers were number four on the men's list after news updates and interesting articles or content. Those two areas were highly favored by women as well. Out of both men and women, only 7.5% sign up for emails based on receiving access to restricted or exclusive content.
Bulleted key findings from the research were:
Nearly a quarter of mailing list subscriptions are accidental where readers claimed they did not choose to subscribe.
Women are more likely than men to subscribe to get deals and special offers.
Getting access to restricted content is the least likely motivator for mailing list subscriptions.
Read through complete data from this research study, but make sure to review the reasons for unsubscribing first!
Reasons to Unsubscribe
So you jumped the hurdle of getting readers subscribed (or accidentally) subscribed, but how do you keep them engaged with your efforts? In addition to reviewing the studies in this blog, get to know your readers a little better through your own due diligence of LinkedIn profile research or creating tagged lists within your email marketing database of where and how you received the leads to help you create a relationship that can be nurtured down the line. You can also view our recent blog article 'Why People Unsubscribe from Emails And How To Persuade Them To Stay.'
The GetData study asked over 500 US-based respondents from a panel of Internet users, between the ages of 25 and 44 with an average inferred annual income of between $25k-$100k why they unsubscribe from email newsletters. The results were not segmented by gender, as findings were similar across the board. Receiving too many emails was the number one reason readers unsubscribed (nearly three times higher than any other cause) at 46.4%, creating a huge gap for second place of spammy-looking emails coming in at 17.2%. Irrelevant content came in third at 15.8% while too much or too little content was last at just 4.3%. Finally, 9% didn't realize they were subscribing and was the main reason they hit that button.
Bulleted key findings from the research were:
Receiving too many emails is the #1 reason people choose to unsubscribe, and it makes sense in our world of email marketing clutter!
Subscribers are unlikely to give 'spammy' emails a chance, so make sure to pay close attention to design and those mobile details.
Quantity of content is not an issue, as long as it's relevant.
Read through complete data from this research study and make sure your content meets the demands of your readers by maintaining email marketing management best practices, such as targeted lists, mobile-friendly and well-designed emails, as well as continuing your own research, testing, and tracking methodologies relevant to your business. After all, this data is just data until you allow it to teach you the keys to improving your own business.
Pinpointe can help you create and maintain email marketing best practices to better solve the mystery of email subscriptions.
Pinpointe Newsletter
Join the newsletter to receive the latest updates in your inbox.
---