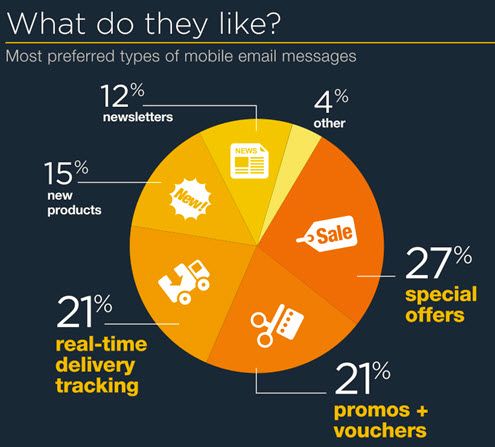 Mobile + Email Marketing Automation = Better Results
Table of Contents
If you've been using business to business email marketing software for at least six months, we have good news for you: According to eMarketer, a research and analytics provider, nearly one-third of emails sent in North America during the first quarter of 2013 were opened, representing the highest total rate in years.
Email open rates reached an impressive 31.1 percent in Q1 2013, while non-bounce rates hit 96.4 percent. That's up from open and non-bounce rates of 27.4 and 96 percent, respectively, the previous quarter.
The fact email users opened more messages in the first three months of the year – an actual reversal of email open trends, can be attributed to two important factors, eMarketer explained: the growth of mobile and email marketing automation. Let's take a minute to look over the stats.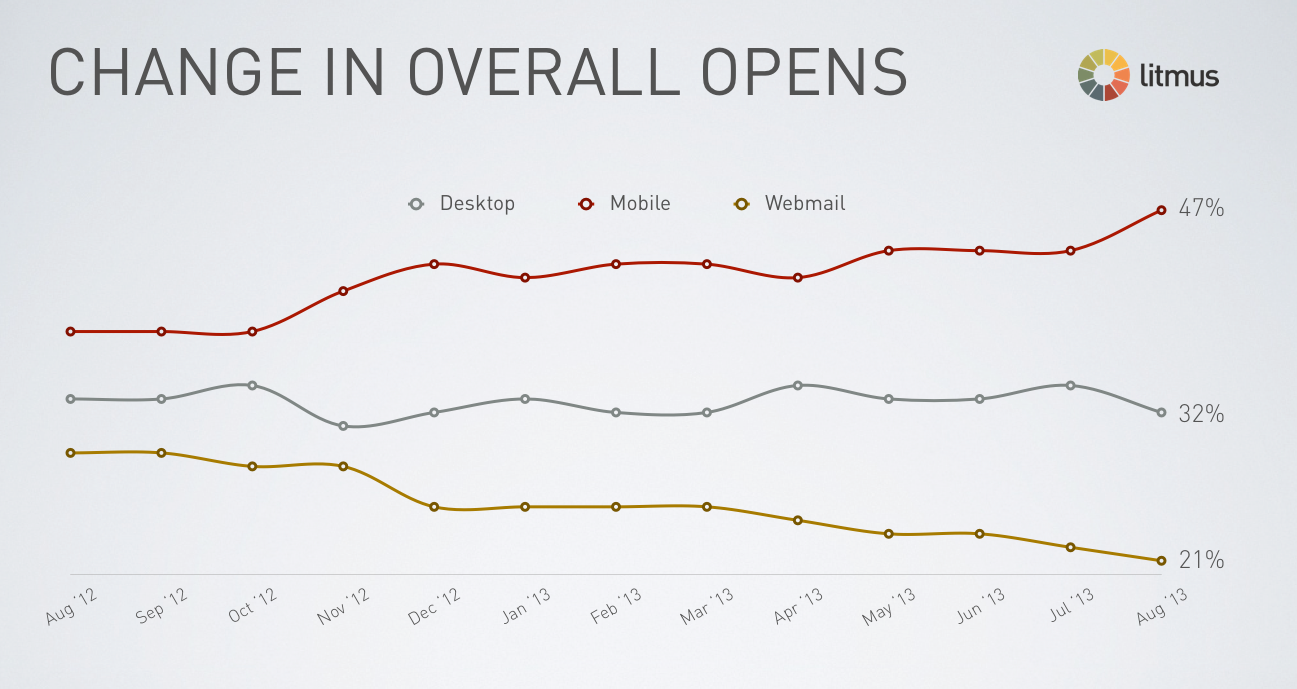 (Data, image courtesy Litmus, August 2013)


The Gist of Mobile Email Marketing

It's no secret that optimizing for mobile is among top email marketing best practices. Reliance on mobile technology has gone beyond mainstream, as people depend on their smartphones and tablets constantly throughout the day to access email. Compiling findings from BlueHornet, Knotice and Epsilon, eMarketer outlined a couple of important stats about mobile email:
71.8 percent of email users ages 24 to 40 read their email messages throughout the day.
Mobile devices accounted for 41 percent of total email opens in the second half of 2012, representing a major jump from 27.4 percent during the same period in 2011. (Update: recent data from Litmus shows mobile emial open rates in Q2 2013 topped 46%).
Here are a few more fun email marketing stats from the Email Monday blog:
Mobile may account for anywhere between 15 % – 65 % of your business' email campaign opens, depending on your audience.
23% of emails where images are loaded are from mobile devices (69% are from desktop and 5.5% from tablets) — image load rates are still higher on desktop devices which makes sense, since moblie viewers may forgo images to conserve bandwidth.
Overall, 44 % of email is opened on mobile devices. (consistent with the 41 % ~ 46% reported by eMarketer and Litmus recently)
Yet only 12% of email newsletters curently use responsive mobile email design techniques to optimize layout for mobile devices (

–

Equinux,

June 2013)

Email campaigns are more likely to be opened on a mobile device over the holiday season (45% of holiday emails were opened on mobile devices in 2H 2012)
Mobile Email Preferences- Give 'em What the Want
Knowing what your audience want to get on their mobile devices might help you improve your audience targeting and segmentation. So what kind of stuff do mobile users want to get on their mobile devices?
The top preferences are special offers (27%), vouchers (21%) and realtime tracking (21%) are most preferred email types to receive on mobile. Newsletters are the fifth most preferred type with 12% of respondents saying they like to view that email type on their mobile the most. (Courtesy Edialog "The future of mobile messaging.")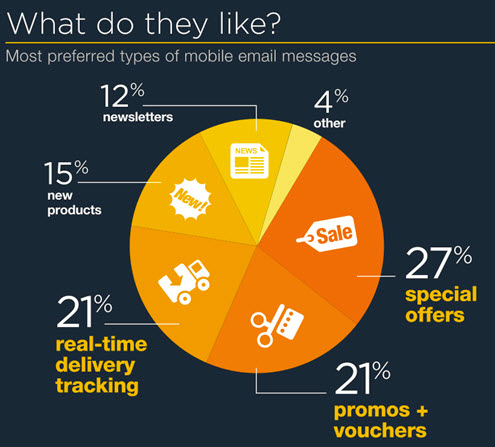 (Data, image courtesy eDialog, Litmus
)
Email Marketing Automation Facts and Stats

Hopefully you're convinced that effective B2B email marketing strategies have to take mobile into account. Now let's look at marketing automation – specifically using landing pages / forms where intereted prospects can be automatically added to your email list, and email autoresponders (aka drip marketing campaigns) to automate email sequences (watch our webinar with industry expert Tamara Geilen for some in-depth, drip-marketing examples.)
"To drive greater engagement with email, whether on desktop or mobile, companies are using marketing automation via triggered, drip-marketing campaigns," says eMarketer, explaining businesses use these solutions to respond effectively to users. In fact, account owners opened half of all triggered emails sent in North America in Q1 2013.
Automated email sequences helped to drive overall response rates higher:
Triggered emails received click rates of 23 % in October 2012.
Messages that were triggered and personalized had 29 % click rates (at Pinpointe -our customer's automated emails sequences almost always outperform all other campaigns.)
Companies have taken note of the effectiveness of email marketing automation. Fathom, a digital marketing analytics agency, reported that:
Businesses that automate lead management, on average, increase revenues, by 10 percent.
92 % of smaller businesses intend to increase marketing budgets to include marketing automation.
As mobile email and the use of marketing automation have helped businesses achieve greater open rates, there are few ways you can ensure your permission based email strategy effectively reaches your marketing goals.
We'll Say it Again: Optimizing for Mobile Email is a Must

We've already blogged a bit about how you can jump-start your mobile email efforts, so we'll only discuss the topic briefly. Here are two key tips to consider:
Know your audience: While the stats on mobile email use are impressive, it's always important to remember the point of any marketing strategy: to engage a specific audience in what your brand has to offer. So, ask yourself, "How mobile are my clients?" If you're using the best email marketing software, you have access to helpful analytics tools to answer this question. Because avid smartphone users respond better to certain email qualities like brevity and the inclusion of bullet points, you can segment and target your audience based on their mobile habits, as well as other factors, and provide them the best content experience.

Give your strategy a once-over: People read emails very differently depending on what device they're using. While they may check their inbox on their smartphone seemingly incessantly, they're likely skimming. In fact, many people begin reading an email on their phone and then finish it later on a computer or tablet if the message is important enough to read through. For a mobile audience, it's a good idea to focus on making emails as readable as possible and follow up, which is easy with the right drip marketing solutions.
Do Email Marketing Automation the Right Way

While it's clear that marketing automation is both effective and popular among businesses today, as with any tool, it requires focus.
According to BtoB Magazine, a survey of marketers at B2B companies found better conversion rates, click-throughs and Web traffic were among the benefits of using marketing automation. However, the top challenges these professionals face include poor integration with sales and marketing initiatives and inadequate data collection. To confront and surpass these challenges and others, here are three email marketing automation tips, based on the marketing automation mistakes the Marketing Trenches stated many companies make:
Make a plan, stat: Many companies believe the steps of marketing success are investing in automation software and making millions. Unfortunately, this isn't a dependable plan. Before launching your first drip marketing campaign, you have to determine what your goals are, whether they include lead generation, lead nurturing or sales increases. From there, it's important to make a calendar, do the right audience research and determine how you'll measure success. And of course, you have to frequently monitor these metrics to keep your marketing efforts on the right track.

Get sales and IT involved: As BtoB's study participants pointed out, a lack of congruity between sales and marketing makes automation tough. In addition, because we are talking about software after it all, it's a good idea to get IT in the loop as well. Getting marketing, sales and IT on the same page means departments can agree upon lead generation priorities and strategies, as well as deadlines and progress tracking.

Of course, content is king: Your email marketing strategy can't go anywhere without strong content that is relevant to your clients and intriguing. In fact, email open rates are certainly aided by mobile optimization and the right marketing automation software, popping subject lines and unique messages about information that is important to your client base will keep them invested in the relationship they have with your business.
Pinpointe Newsletter
Join the newsletter to receive the latest updates in your inbox.
---