Lower Your Email Bounce Rates with Re-engagement Campaigns
Table of Contents
The road to email marketing's famed 40-1 ROI is littered with the mistakes of many well-intentioned marketers. This road is lengthy and has a plethora of potential mishaps, and even just one blunder can affect an entire email strategy and negatively impact your results. One common sign of a failing email campaign is high bounce rates. Re-engagement campaigns can help with this.
Before anything, you'll want to identify whether emails on your bounce list are hard bounces, in which an email permanently bounces back due to an unknown address or non-existent domain or soft bounces, an intermittent, temporary condition which is a result of the recipient's server due to an overcrowded mail box. Once you have this information, you can then develop a successful email strategy to remedy the problem. Below you'll find some ideas how to accomplish this.
Maintain good list hygiene
The first thing you need to do to reverse your bounce rates is go through and clean up your list. Adopt a mindset where you don't neglect your email list but rather are more diligent about monitoring your opt-ins, key metrics, and bounce rates. Successful email marketing isn't a "set it and forget it" proposition. Instead it takes cultivation and constant monitoring to see results.
Learn more by reading our article 7 Email List Hygiene Best Practices for a Fresh & Clean List.
Remove or keep inactive subscribers?
It goes without saying that if someone hasn't opened an email from you in six months or a year, they probably aren't interested in your product or service. Does that mean you need to fully give up on them? Maybe…maybe not, as there are a few pros and cons.
Now, the old school of thought says to roll up your shirt sleeves and try to reacquire those inactive subscribers through more email marketing. The con with this is that if you keep sending emails to disinterested and inactive customers, the ISPs will recognize it and eventually start sending those emails to the spam folder. In other words, it can harm your overall email deliverability.
There are a few tactics you can use to try to re-engage these subscribers before giving up on them. It may be worth it, as it costs five times as much to acquire a new customer than to keep an existing one, even if they are inactive. If your opt-in practices are ethical and effective (hopefully they are), that alone can buy you some time to reengage inactive customers with a re-engagement campaign. Follow the next steps to learn more.
Target lists for re-engagement campaigns
Once you've determined whether your bounces are due to bad addresses, ISP blocks or other reasons, it's time to re-qualify your active subscribers. That means re-engaging all those recipients who've fallen by the wayside.
Clarity is key. When designing any re-engagement campaign, you'll want to ensure that each email makes the subject clear and informs the reader how exactly to take action. Your email message should unmistakably ask your contacts if they still want to receive marketing messages from your organization. Don't muddy the message by offering a number of options and explanations—a simple "yes" or "no" will do. Below is a great example of this from Virgin Trains.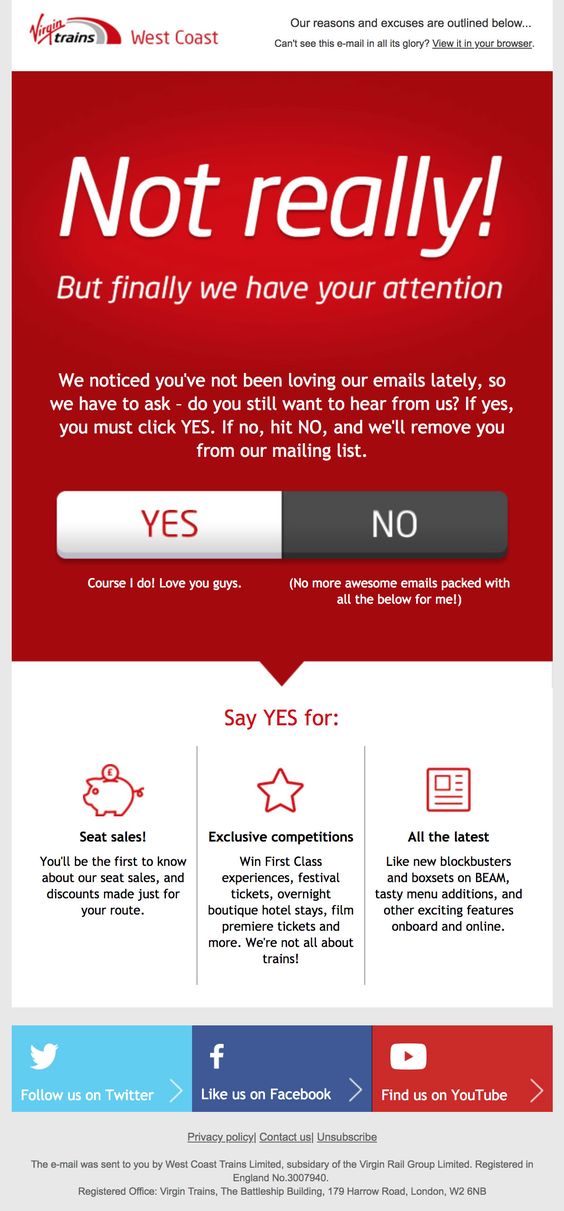 When sending out your campaign, make sure both options should include a call to action (CTA) – preferably in button form- with the "yes" CTA linking to a confirmation page, while the "no" CTA would automatically transfer them to an unsubscribe link. You can further clarify this by adding a note at the bottom stating that if the reader doesn't take action within a week, they will automatically be unsubscribed from your mailing list.
But there's no need for these emails to be boring and bland. Get creative with the process as the brands below did with their re-engagement campaigns. But, always bear in mind the importance of clarity. It's more crucial than ever, especially in the age of consent and GDPR.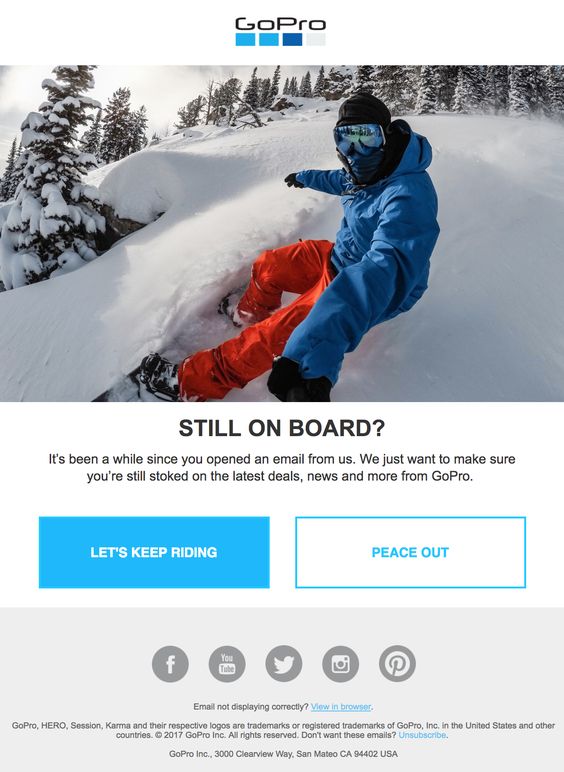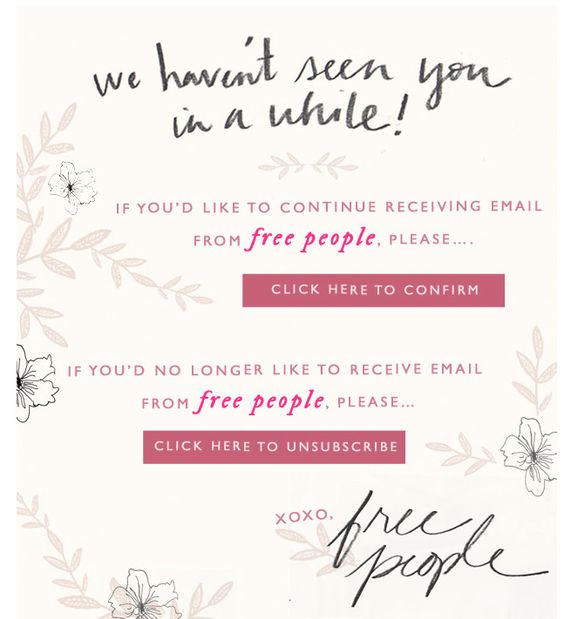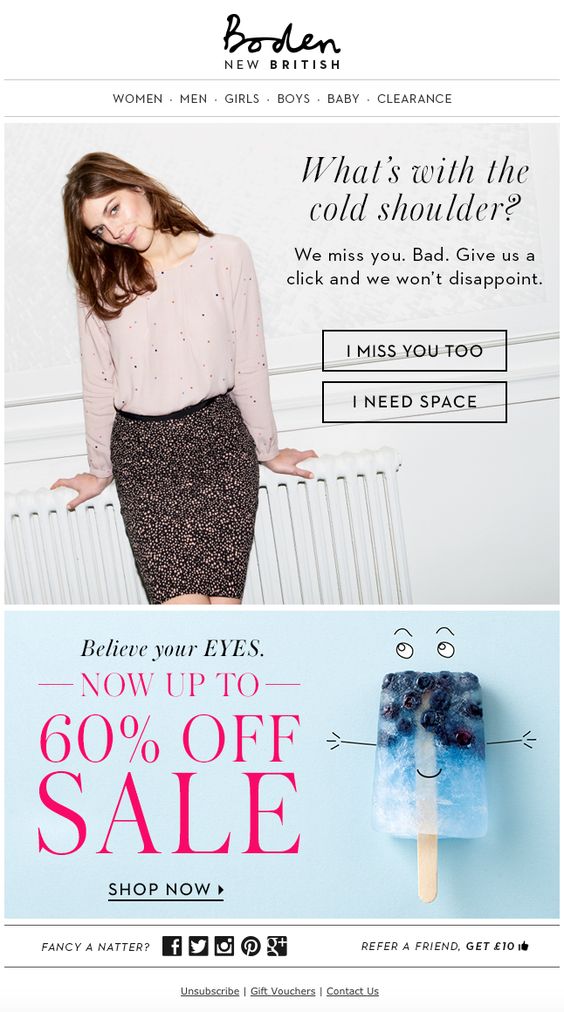 Target active subscribers
To really lower your email bounce rates (and boost click-through rates), it can't just be a one-pronged approach of re-engaging inactive recipients. You need to focus on active subscribers as well. For those who are interacting with your brand, now might be a good time to ask for audience feedback. Find out what they expect from you and how you can further meet those expectations. As a side note, this will also help with the re-engagement strategy for your inactive users, as audience feedback is always helpful.
Implementing a services/products renewal campaign is also a good strategy. To do this effectively you need to stay on top of how rapidly your customers exhaust your particular product or service. For an example, if a customer has purchased a year of your IT service, then set up triggered emails in the last few days of their membership. This will not only remind them to re-up their contract, but it makes it quick and easy to do so as well.
Below is an example from Carbonite, which take this one step further and provides an offer for renewing early.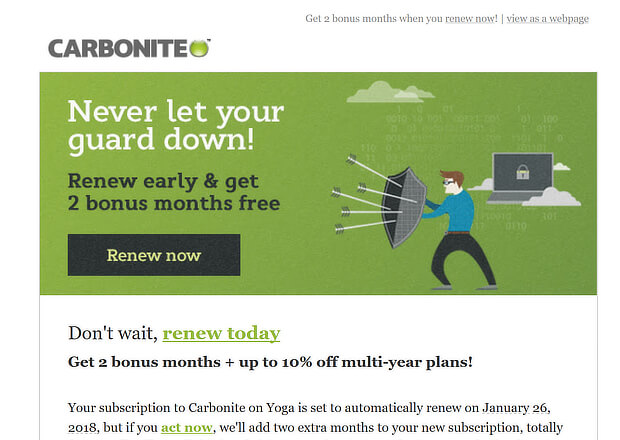 These type of campaigns are great opportunities for cross-selling and up-selling, too. Simply add tailored recommendations for other products, services, and deals within the reminder email. And, in each of these emails, let the customer know their patronage is highly valued. Everyone loves being treated like a VIP from time to time, so don't be scared to treat your active engagers this way.
Conclusion
By utilizing re-engagement campaigns, you can target inactive users while focusing on your active subscribers. This will lower bounce rates and help ensure your email strategies are successful. You can also take advantage of some of the email autoresponder and segmentation tools out there to assist in this endeavor. Doing so will eliminate a lot of the busy work and help your email strategies succeed.
Pinpointe Newsletter
Join the newsletter to receive the latest updates in your inbox.
---