How To Effectively Use Email and SMS Together
Table of Contents
As a business owner, you already realize the importance of staying in touch with your leads and customers. If your marketing techniques are up to par with modern technology and proven strategies, then you are already using either Short Message Service (text message/ SMS) or email marketing in your business communications. But, have you thought about how you can use the two together to optimize success?



Why Do Companies Use Both Email and SMS

Email and text message marketing are two of the easiest and most effective ways to stay in touch with your fans and customers no matter how large the contact list. They can be used for lead generation, sales conversion, and relationship building at any stage of the buyer's journey. Your customers can easily opt in to mailing lists that automate the introduction, education, and sales for nearly any product or service niche. Frankly, both SMS and email marketing create easy-to-implement sales funnels for business.
What Makes Text Message Marketing Different From Email

SMS marketing can be used for many of the same outcomes as email, but their varying traits separate the tasks that each can be used for. Here are the distinctive communication differences between these two forms of outreach.
Length of the Message

Email marketing is reserved for lengthy text – delivering a notable amount of information at one time. Text messages tend to be more succinct in content (160 recommended characters). Use SMS for shorter and email for longer, more involved messages.
Message Format

Emails contain subject lines, headers, body text, multiple images and links, and can include more than one call-to-action. SMS messages are brief, containing only a sentence or two with a single call-to-action. Use email messages for more complex formatting and SMS when you want to keep it simple.
Time Between Delivery & Receipt

Emails are generally opened within 24-48 hours after they are sent, when they are read. Text messages, on the other hand, are usually read instantly (and text messages have have an astounding 98% open rate). Since text messages are read faster – and more often – than emails, leverage SMS to gather information or send urgent CTAs.

How to Leverage SMS & Email Together

Because of the major differences between email and text message marketing, there is no way to gauge one as more effective than the other; each has its own set of benefits. There are tasks that can be accomplished via email but not SMS, and vice versa. Using the pair to complement one another is an excellent approach.
Bar Vision (a company offering a free pour system for liquor, mixed drinks, and beer) received a rush of new contacts when their company was featured on the popular television show, Bar Rescue. Seeking a a quick method to gauge interest level and segment their contact list, they explored several approaches. In the end, they decided to supplement their current email communications with text messages. Once they began using both communication channels in various campaigns, they found that SMS helps to convert readers that aren't engaged by email.



Generate Email List Leads with SMS

All contact lists should require that leads opt in to receive communications. One way to generate new lists is through text message: "To receive updates about this event, and see photos taken at the conference, text ADDME to 123455." Visitors won't need to access your website in order to subscribe to your list. Employ SMS as opposed to forms for live events and in other situations where visiting a landing page would create an extra step.
Cross-Channel Marketing

Make sure everyone sees your invitations, whether to events, newsletters, or online promotions, by sending a brief text message to SMS subscribers and a more involved email message to your list with a CTA directing readers to the targeted landing page. Cross-channel promotion for your events and other campaigns is important because it helps to extend your reach.
American Eagle Outfitters implemented a cross-channel promotion strategy for their 12 days of the Legendary Gifts holiday campaign. They used SMS messaging and email marketing to promote products, drive traffic, and acquire new leads for future promotions. They ended up connecting with more than 8 million total email and SMS subscribers in less than two weeks.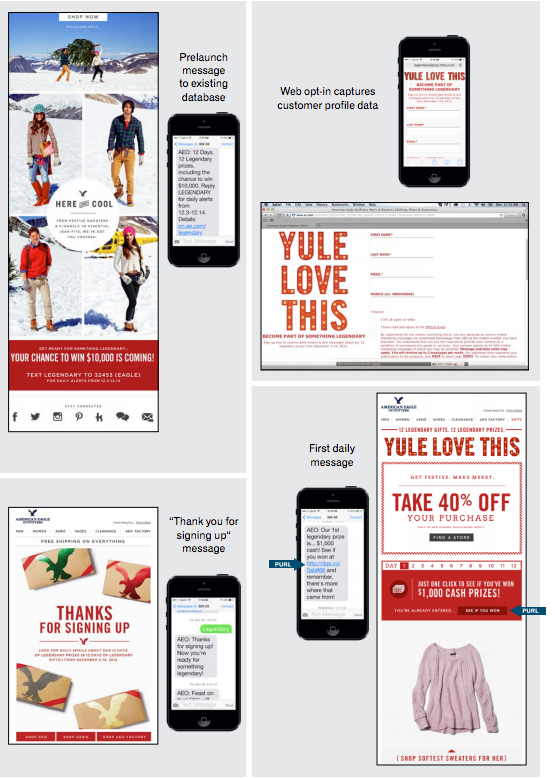 Learn More About Your Leads

When seeking bits of new information about your leads, SMS can provide a more convenient approach than email: "So we can better serve you, we'd like to know more about your household. Tell us, do you currently have pets in the home. Respond with YES or NO." Since more contacts will read SMS than email, and a simple one word response can generate automated segmentation, this can be the best approach.
Conclusion

When you want to compliment your email newsletter or promotions with SMS, you first need to understand which types of communications each channel is best suited to. Start using them together in order to acquire more customers, promote your products effectively, and gather information for your market research.
[Tweet "How to Effectively Use Email and SMS Together"]
Pinpointe Newsletter
Join the newsletter to receive the latest updates in your inbox.
---