How to Create and Email Great Content to Your Customers
Table of Contents
If you're only emailing coupons to your customers, it's like owning a fast car and only driving it to church on Sundays. You're not reaching its full potential.
It's time to rev up your email marketing and see what it can really do for you when you create and send content to your customers.
What do we mean by content? We're talking about things like useful articles, infographics and eBooks that your customers find entertaining and helpful.
To help businesses create great content and distribute it via email, we'll talk about the advantages, talk about the types of content that you can create, explain how to email it to your audience, and give you some tips to maximize your response rates.
Let's get started.
The advantages of creating and emailing great content

What's in it for you? Here are the benefits of creating content:
Drive traffic and conversions
By sending potential customers to specific locations on your website, like a specific product page, you'll increase site traffic and conversions. Conversion rates are nearly six times higher for those using content compared to those that don't.
Become a resource for customers
By creating content, your customers will think of you as a resource. As customers continue to check your blog for new and useful content, you'll build trust and brand awareness.
Affordable marketing option
Creating content is a great option for businesses with a tight budget. Research shows content marketing is 62 percent cheaper than traditional marketing.
Give customers what they want
Customers want to learn about brands, but they want to do it in their own way and on their own time. Eighty percent of people appreciate learning about a company through custom content.
When customers like the content they receive, they'll share it. They'll help you market your product.
Types of content you can create

Customers expect you to provide a variety content when they sign up for your email list. While an email about an upcoming sale is great, 48 percent of subscribers say they'd like email content to be more informative, according to a survey from Technology Advice.
What kind of content can you create that fits the bill? Here are five types of content that you can create:
Create a handy list for your customers to read. List articles, sometimes called listicles, rundown a series of ideas that your customers can relate to. Examples of titles might include: Top 10 Ways to Style Your Hair This Summer or 5 Common Mistakes Photographers Make.
The idea is to create a list that's connected to your business. It should be entertaining, yet informative. Try creating a list of tips, tricks or hacks that are relative to your audience.
Research shows list articles are one of the most popular kinds of content a business can create. Lists, on average, get about 12,000 shares on social media, second only to infographics. (We'll talk about those in a minute).
Coincidently, the magic number for lists is ten. Lists that contain ten ideas received four times more social shares than any other number, according to data from BuzzSumo. The next most popular number was 23.
Infographics are hot right now. They top the list of most shared content by BuzzSumo, averaging 14,000 social shares. If you're not familiar with what an infographic looks like, check out this one from Pinpointe that highlights the use of autoresponders.
Essentially, an infographic is a visual way to display something. For instance, a non-profit might create an infographic that shows how donations are used, or a landscaping company might create an infographic that shows step-by-step instructions on fertilizing a lawn.
Worried about not having the skills to create something like this? Not to worry. There are dozens of do-it-yourself tools that make infographic creation a snap. Check out Canva or Piktochart.
Consumers are hungry for information, so why not give it to them by creating how-to articles? This kind of content has a lot of possibilities. You can create how-to articles that help customers use your product, trouble shoot common problems or offer inspiration that's related to your business.
For instance, a digital camera shop could offer how-to articles on photography. Articles like How to Use The Macro Focus on Your Digital Camera help customers use the product. Articles like How to Reboot Your Camera After The Battery Dies, offers problem-solving techniques, and articles like How to Shoot the Best Portrait offers inspiration for customers to use your product more.
Product or brand education
You can create content that teaches customers about your product or service too. For instance, you might explain the benefits of your product, share testimonials from satisfied customers, create an article that explains why your product is better than the competitors or write a piece that shows customers how simple it is to use your product or service.
You can also create more in-depth content, like a customer guide, eBook or white paper. These pieces of content provide serious information to a targeted group. For instance, a do-it-yourself graphic design platform might create, The Ultimate Guide to Making Sharable Infographics. The guide would offer information that's aimed at beginners who are trying the free version of the software and need a little help making the tools an everyday resource.
This kind of content is longer than your Top 10 lists or how-to articles, and offers more statistics and details than you'd find in a blog post.
A lot of businesses choose to gate this content. Before a potential customer can download your eBook, they have to go through a "gate," which is usually a contact form. The form asks the subscriber for his or her contact information, including an email address.
Contacts that come from gated content are often considered high value leads because the customer clearly wanted the information if they took the time to fill out the form. Businesses can focus on those contacts, and hopefully land more sales.
Fifty-nine percent of marketers say lead generation is their biggest content goal, and gated content plays a vital role in that goal.
How to email your content

Once you've created great content, you need to distribute it. That's where email comes in. Here are some tips to email your content to subscribers:
You can combine several pieces of content into a newsletter and email it to your subscribers. Here's a great example from SurveyMonkey. Notice the email highlights three pieces of content, which all live on SurveyMonkey's blog.
The newsletter gives subscribers descriptions of each article and a link that connects them to the blog where they can read the entire piece.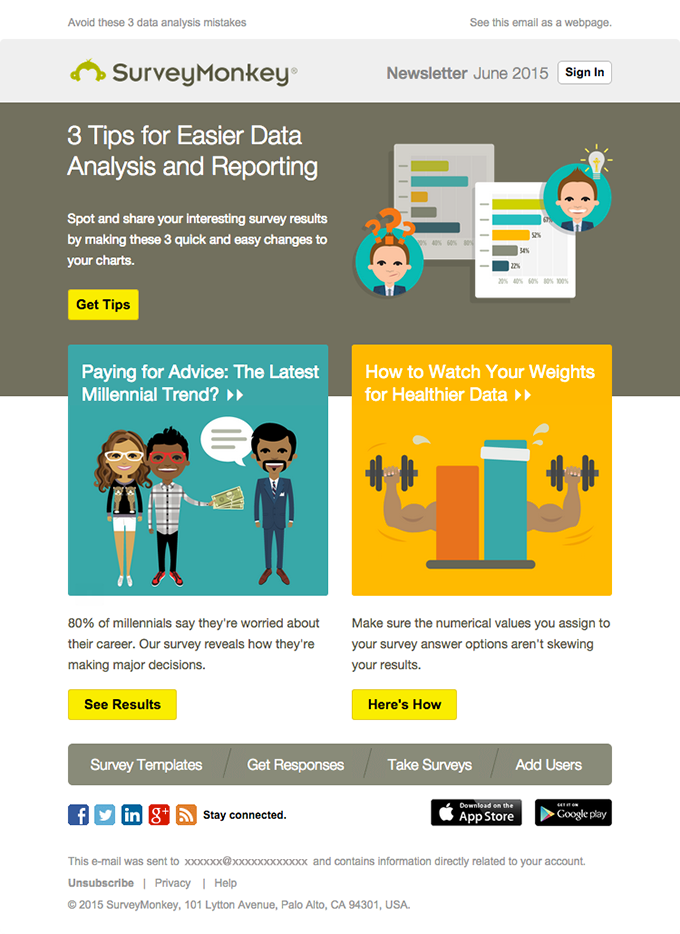 Deliver educational content directly to inboxes
When you create educational content, you don't have to make it a college essay. Keep it quick and simple, which allows you to email the entire piece to subscribers.
Here's an example of an educational email from Hootsuite. They explain how easy it is to get started in this email.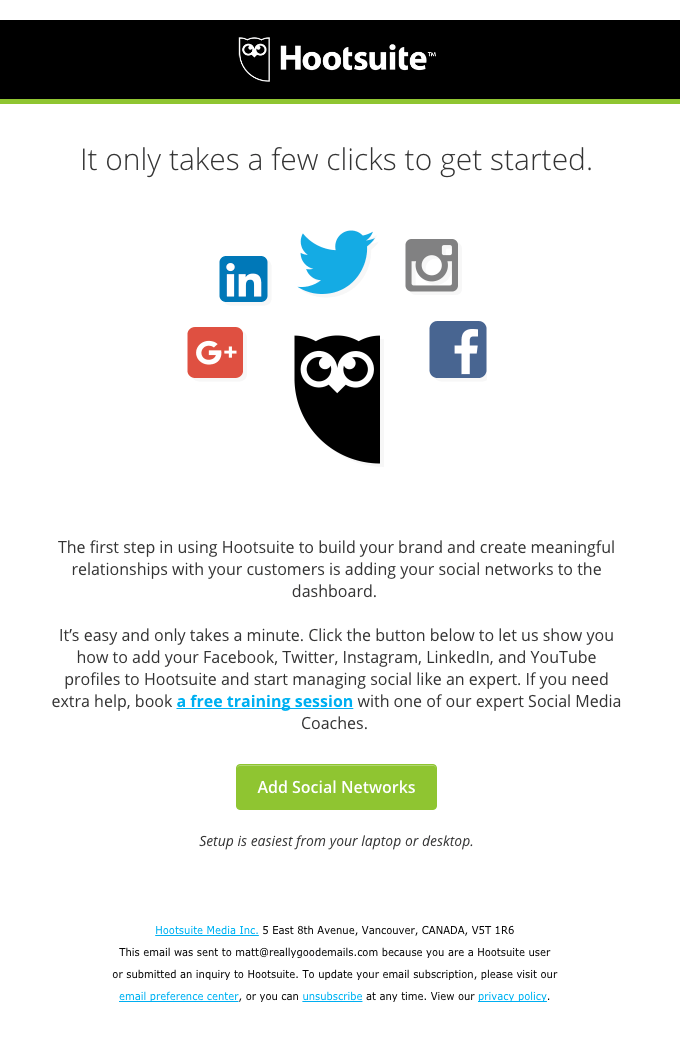 Send a teaser to an infographic
Post your infographic on your blog, then create an email that encourages customers to check it out. Here's an example from SmarterHQ that gives subscribers a taste of what the infographic is about and encourages them to click a link to see the entire piece.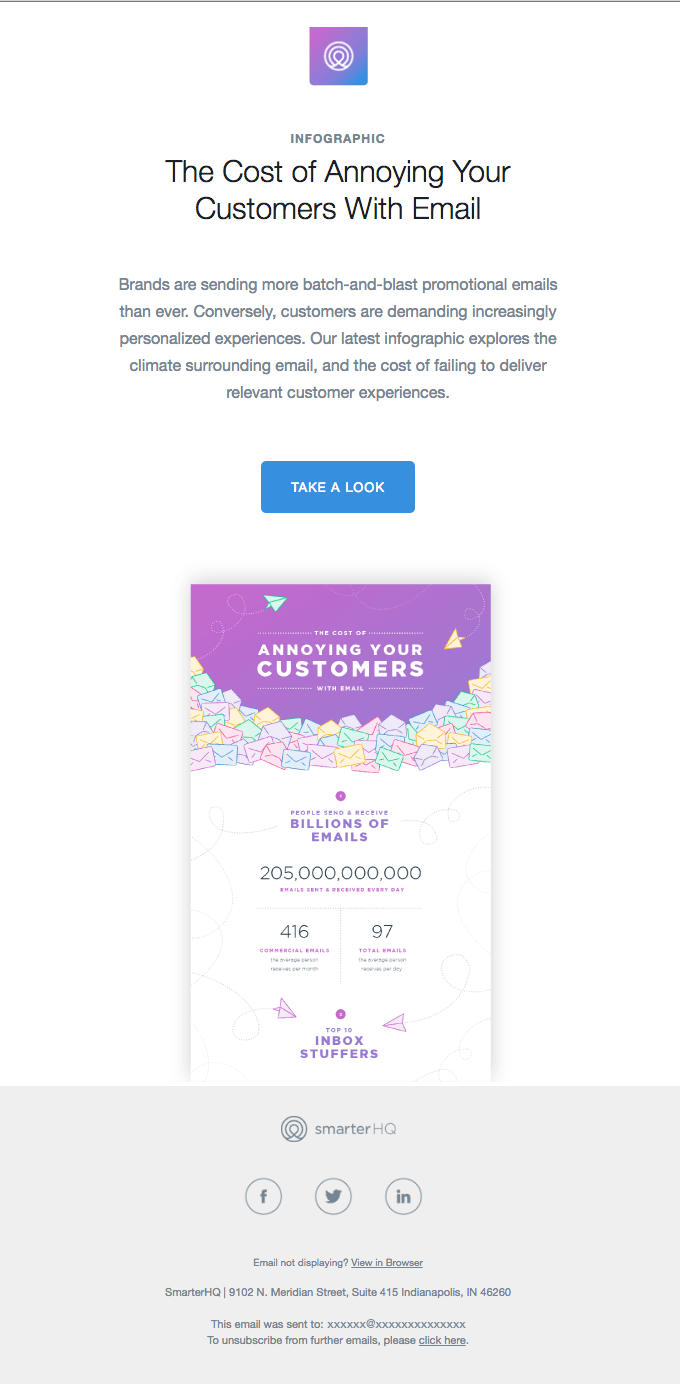 Email a link to your downloadable eBook
Remember that gated content that we talked about? Why not send an email that let's subscribers know about your eBook, whitepaper or guide? In the email make sure the call to action is a link that takes subscribers directly to a landing page where they can download the content after filling out the contact form.
Here's an example of an email that encourages subscribers to download a report: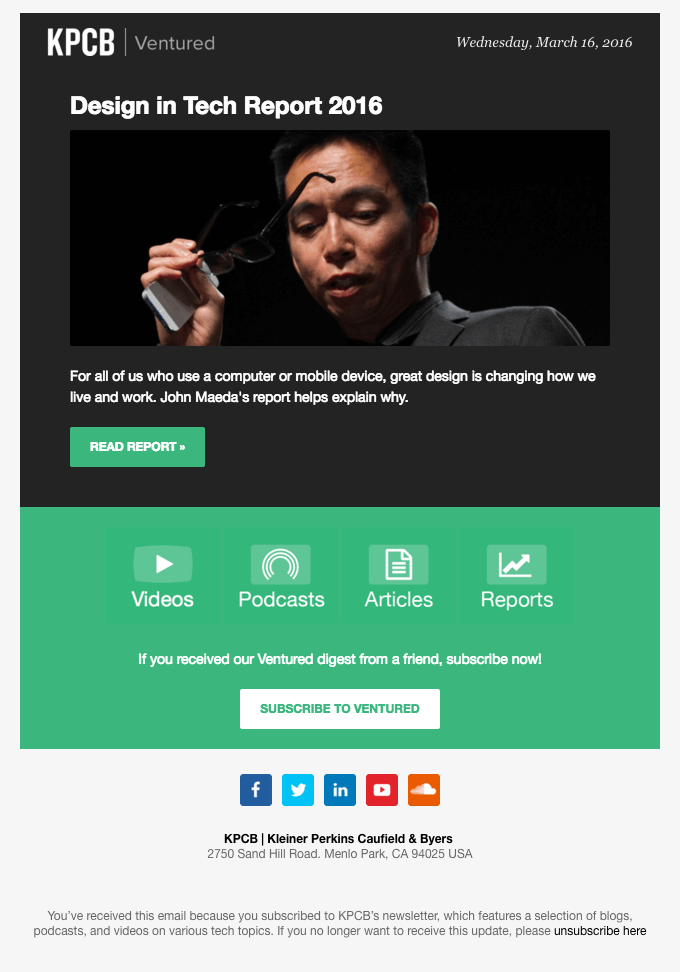 Tips to get the best response rates when emailing content

Use these handy tips to make sure your content gets read:
Don't send every piece of content to every contact. Segment your list, and send specific content to specific groups.
For instance, if your eBook targets new customers that are intrigued by your product, you'll want to segment your list so only your newest contacts receive the email.
When you're inviting customers to check out your content, the email should be visually appealing. Research shows colored visuals increase a person's willingness to read a piece of content by 80 percent.
Send content-promoting emails with regularity
It's important to create and email content on a consistent basis. You want your audience to get used to reading your content and interacting with your brand on your website and blog.
If you're sending out a newsletter that teases content, consider doing so on the first of every month, or another regularly scheduled time that works for you.
With this handy guide, you'll be on your way to creating and emailing great content for your customers.
Pinpointe Newsletter
Join the newsletter to receive the latest updates in your inbox.
---