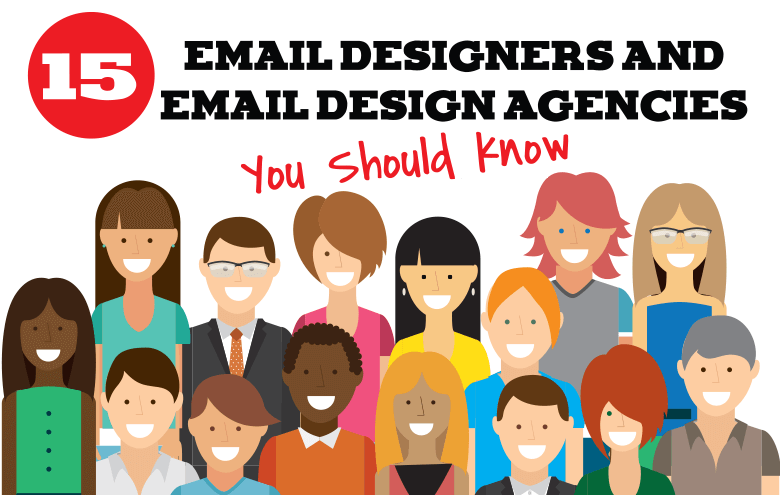 15 Amazing Email Designers and Email Design Agencies You Should Know
Table of Contents
Looks matter. Whether it's fair or not, looks can get you noticed or ignored in a split-second. Consider the constraint web designers work under: They have 6-10 seconds to make an impression. That's how long it takes for first-time visitors to assess what the site is about and how trustworthy it is. If the site fails that "blink test", the user leaves.
Email users might be a little more tolerant, but not much. Here's a chart that shows how long people will view an email message on different platforms: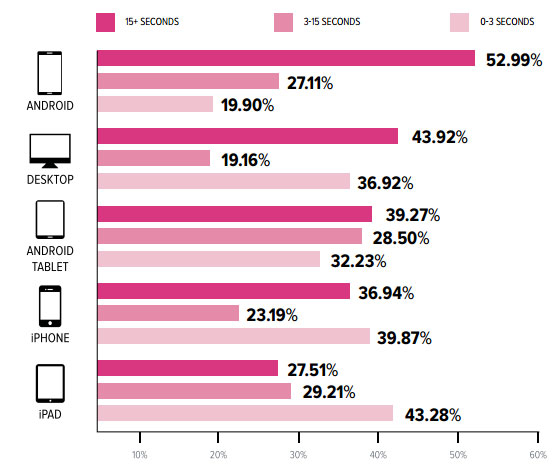 The graph is from Movable Ink's "US Consumer Device Preference Report: Q2 2014.″ It shows that for most devices, almost a third of users will spend less than three seconds with each email. More than half will spend less than 15 seconds.
To survive that short an attention span, and the accompanying delete button, your emails have to look good. While Pinpointe does provide thousands of email design templates, we thought you might find it interesting to see a round-up of some of the best, most cutting edge and widely talked-about email designers and email design agencies.
Please note: We're not saying these are "the best in the industry," though all of them have won at least one award. They're just really good. If you don't know their work already, it's time for an introduction.
Twitter: @ActionRocket
Specializing in: Email and mobile. They aren't limited to one particular industry. Clients include "brands, agencies and email platforms".
Short Biography: Action Rocket is an email marketing creative agency out of London. They offer everything from complete email strategy and execution to one-off work. They can, for example, design and code an email template for you, so you can use it with any email service provider.
If you're up for one more thing in your inbox, their weekly newsletter, EmailWeekly, is a smart choice. It's a roundup of email design and strategy articles from their email sites and from across the email design community. If nothing else, consider subscribing and then saving their emails in a folder so you can show them to your in-house designer.
Sample email: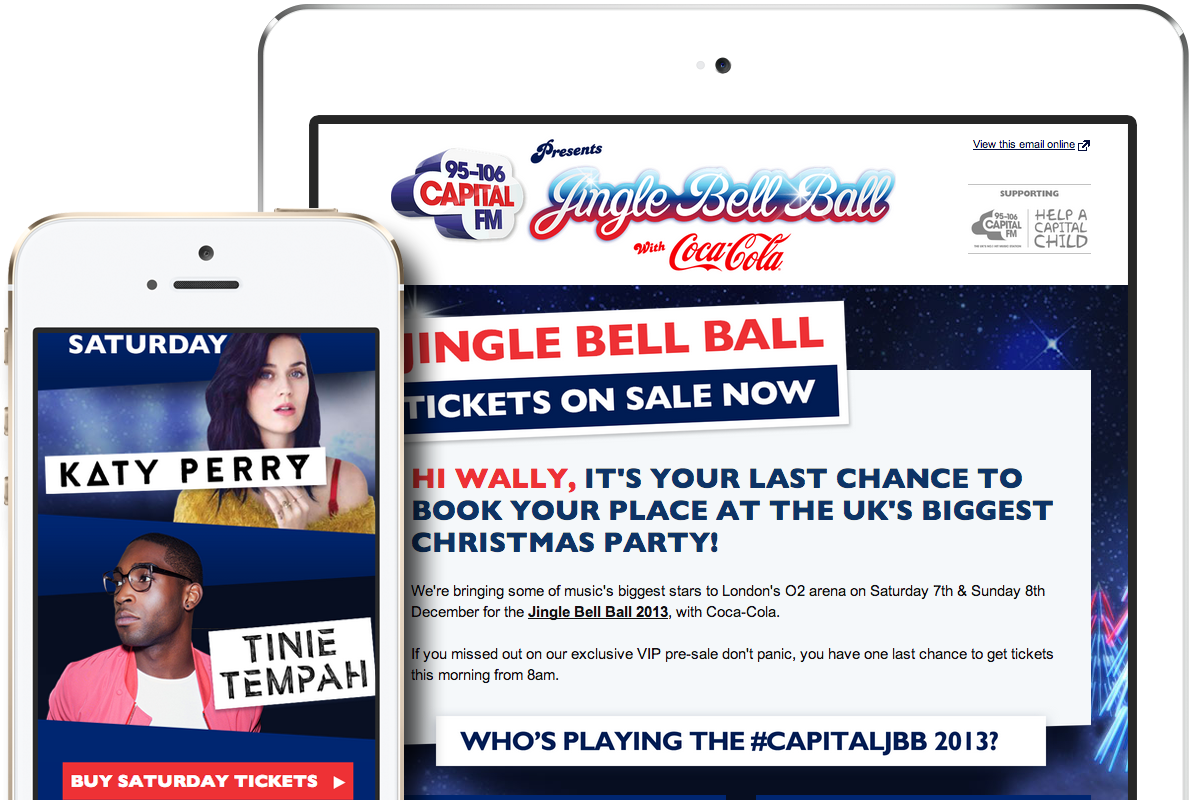 Twitter: @eROI
Specializing in: Email, websites, social media.
Short Biography: This Portland digital agency creates stunning emails, websites and social presences. Just last week they celebrated 12 years, which is no small achievement. They are, as you could guess from their name, focused on results, so they have a lot of enthusiasm for data driven campaigns. Clients include Condé Nast, KeyLogic, and Sharp.
Sample email: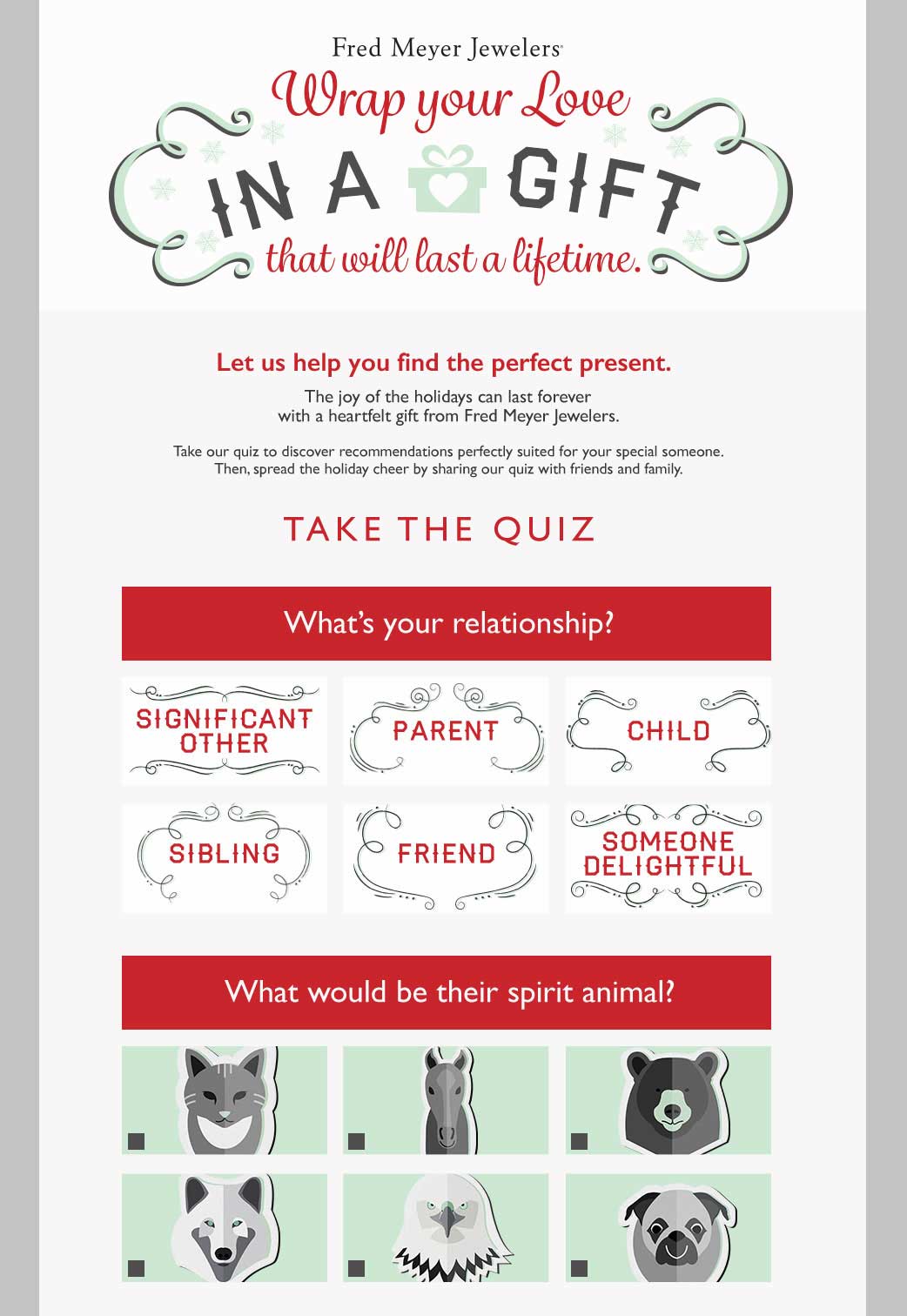 Twitter: @stylecampaign
Specializing in: Responsive email design.
Short Biography: StyleCampaign is headed by Creative Director Anna Yeaman, a widely-respected, lifelong student of interface design. Most blog posts on the site are written by Anna. StyleCampaign has a video posted right on its homepage that will give you a good introduction to responsive design, both in terms of the constraints designers have to work within, and for the opportunities they have to expand what emails can do. StyleCampaign's clients include Rackspace, Monster, Costco and Hugo Boss.
Sample email: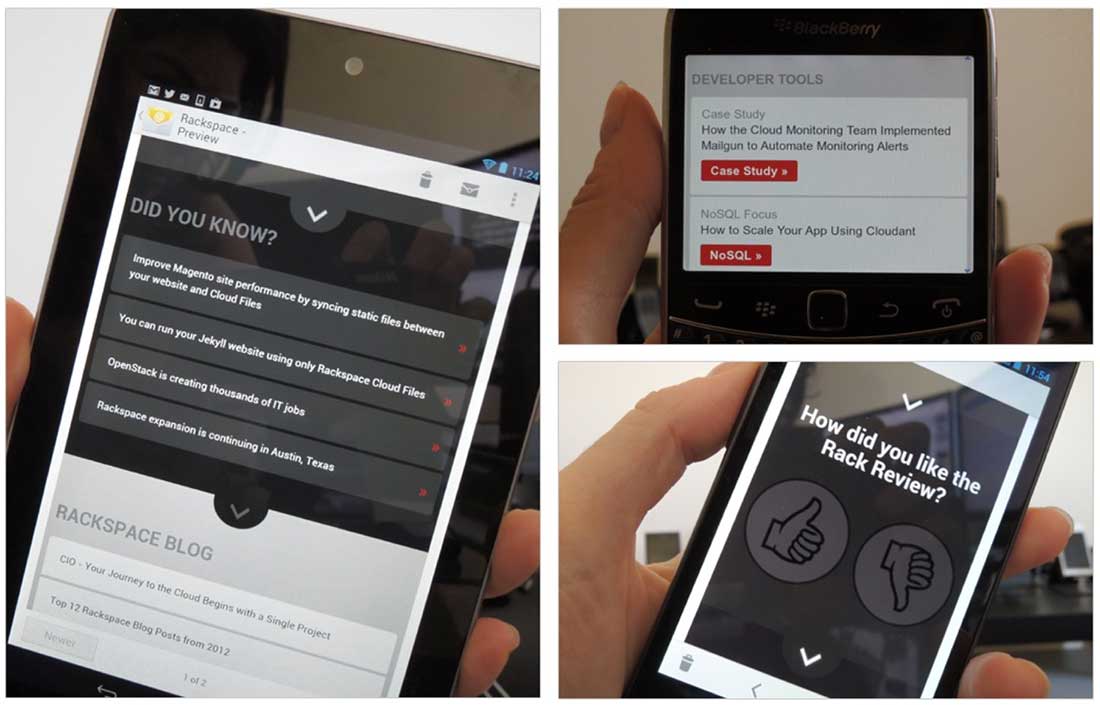 Twitter: @CLKDigital
Specializing in: Responsive emails and websites, logo and banner design
Short biography: Louisa is an award-winning email designer out of Cardiff UK. She largely works with UK organizations an is one of the few solo designers on this list. Her clients include conservative corporate accounts, nonprofits, cultural events and software developers. This is someone who truly thinks cross-platform, and works from that mindset from the start. She's also on Elance.
Sample email: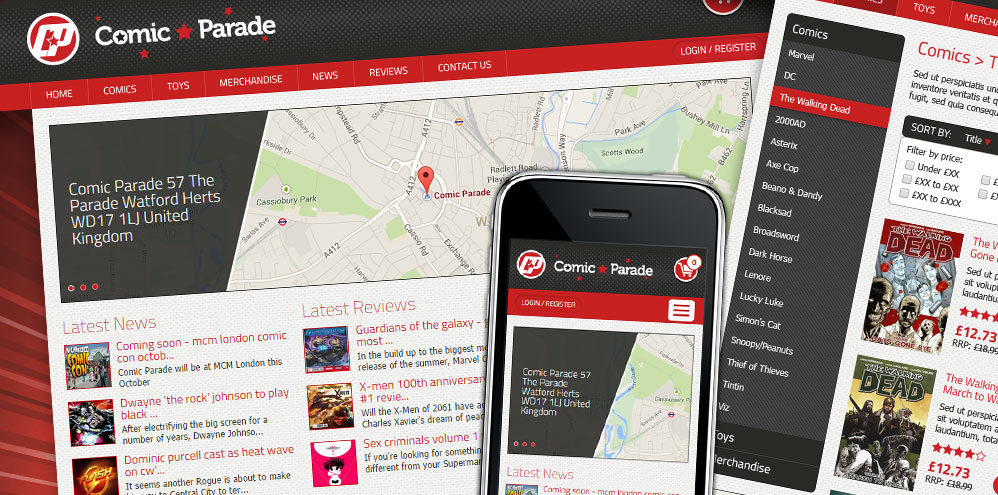 Twitter: @EvanDiaz
Specializing in: Email, print and illustration.
Short biography: Evan is "Head Email Nerd at LuckyRedPixel.com and VP Creative services at InboxGroup.com" according to his Twitter profile, so he may be too busy to take on any additional work. But clearly he's deep in the trenches of email and interactive design. If you want to hire him, it's probably best to reach out via LuckyWebPixel, which is a smart boutique email marketing agency with offices in Orlando Florida. Either way, Evan is one of the thought leaders other email designers listen to.
Email sample: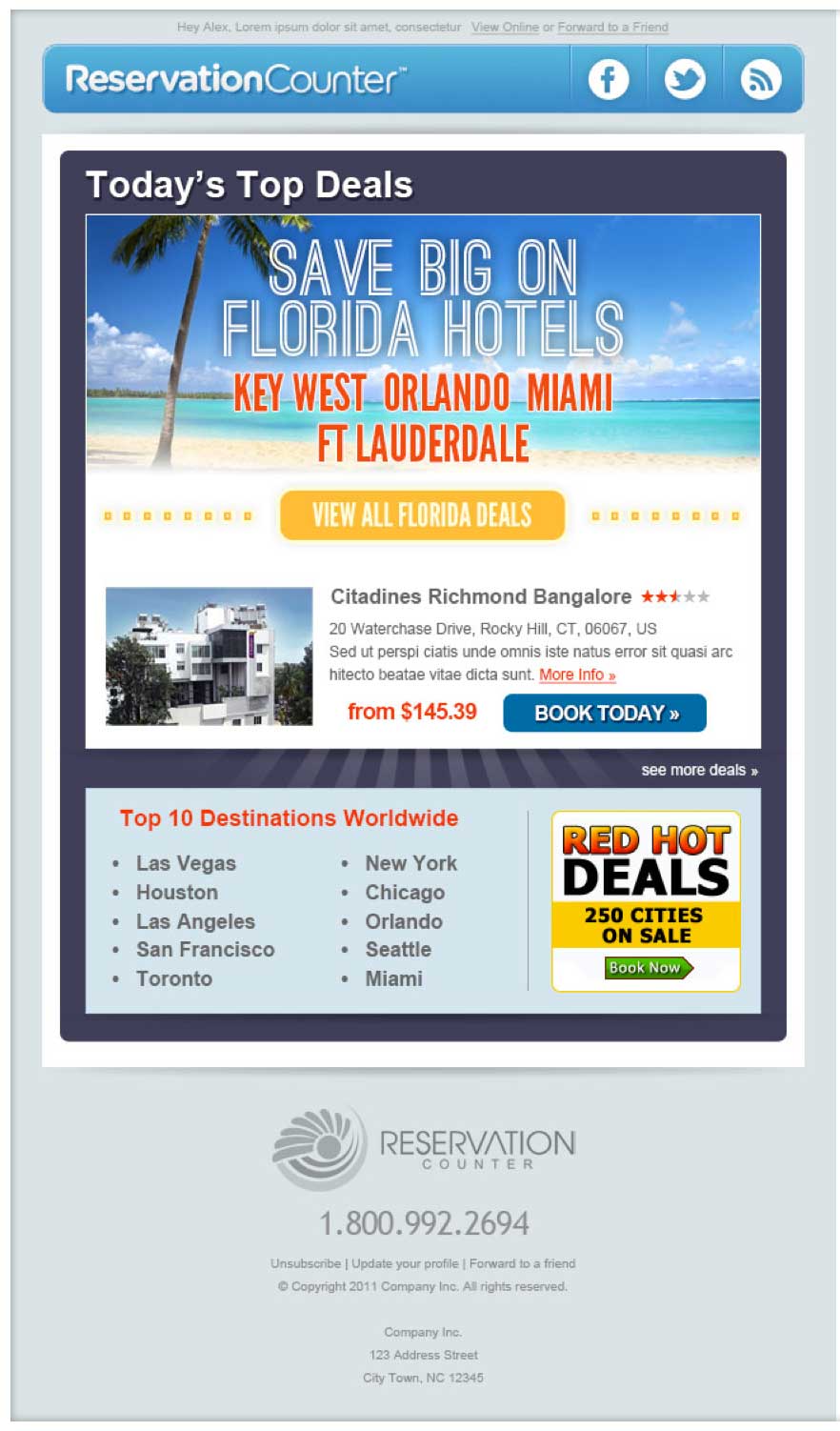 Twitter: @ShawScott
Specializing in: Email, social, mobile and web campaigns.
Short biography: A small agency of about fifteen different creatives, Shaw + Scott has clients in a number of industries, though they have particular strengths with travel and retail. Check out their two free ebooks, "Evolving the Inbox Look Book" and "Going Responsive" if you want cutting edge information from people who are actually coding, designing and sending emails every day. Also check out their Pinterest account, where they've got an extensive portfolio posted. Clients include Virgin America, Orbitz, Alaska Airlines, Art.com, REI, W, Snapfish and Holland America Line.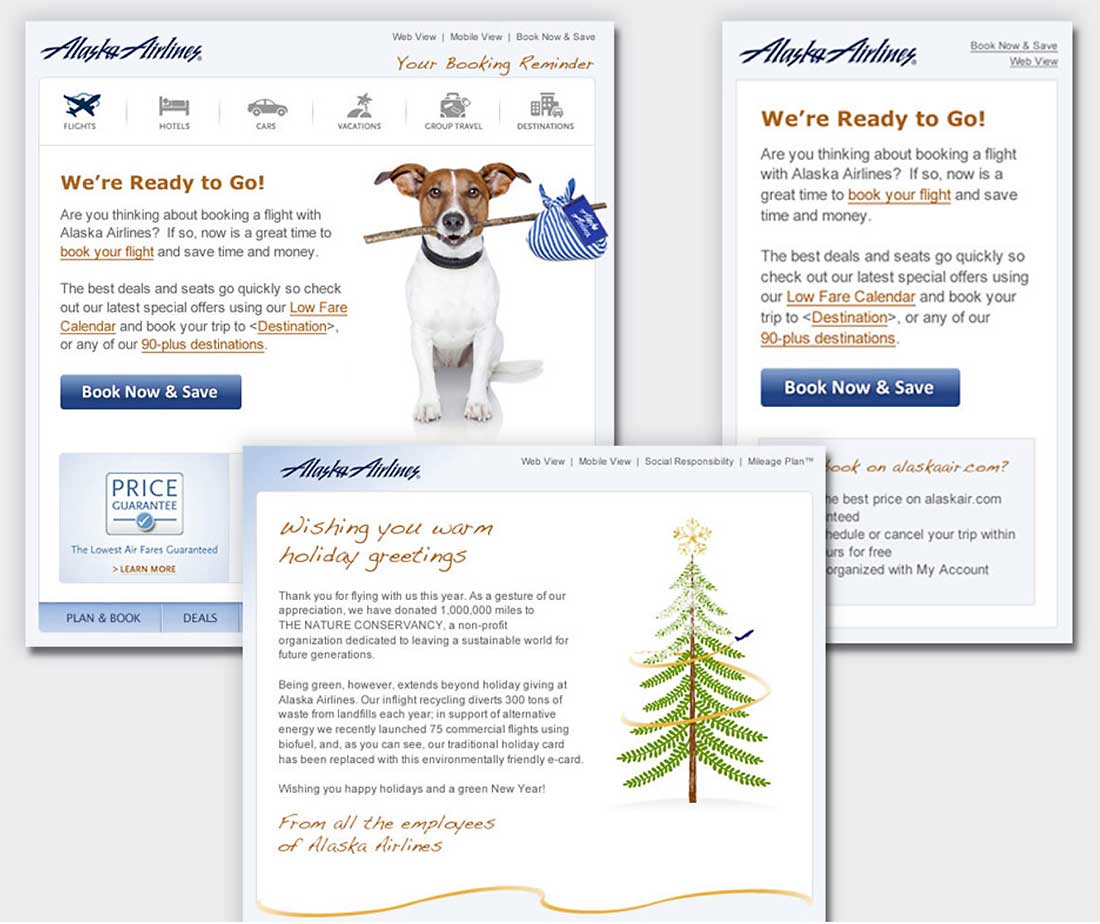 Twitter: @movableink
Specializing in: Responsive email.
Short biography: Moveable Ink is an email marketing agency, creative boutique, and also one of the major thought leaders in email marketing. Consider signing up for their email updates, both so you can keep up with their blog, and to see their interpretation of an email newsletter done right. They offer complete, cutting-edge responsive email design services, the most noteworthy of which is agileEMAIL. It is real-time, dynamic content for email, though that's just the start. Based in New York.
Email sample: Moveable Ink increased the click-through rate by 93% for AutoTrader with this email.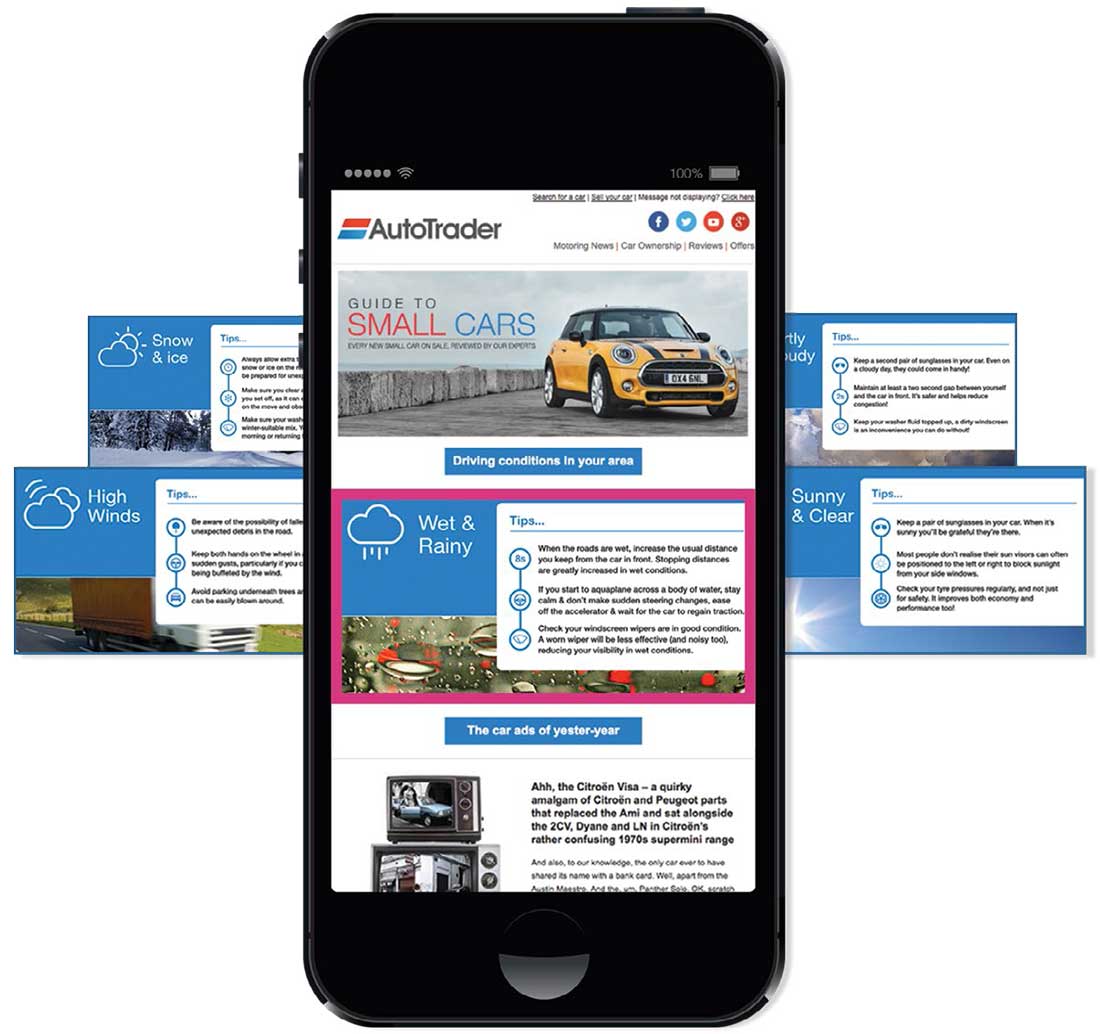 Twitter: @orchardagency
Specializing in: Email marketing services, including multi-channel marketing and overall digital strategy and consulting.
Short biography: This agency is focused entirely on email marketing, but they add some critical email marketing components, like landing pages for their emails, data capture forms (to get emails) and more. They're based in Melbourne Australia. Clients in The University of Melbourne, Callaway, Nintendo, and MyBudget.
Email sample: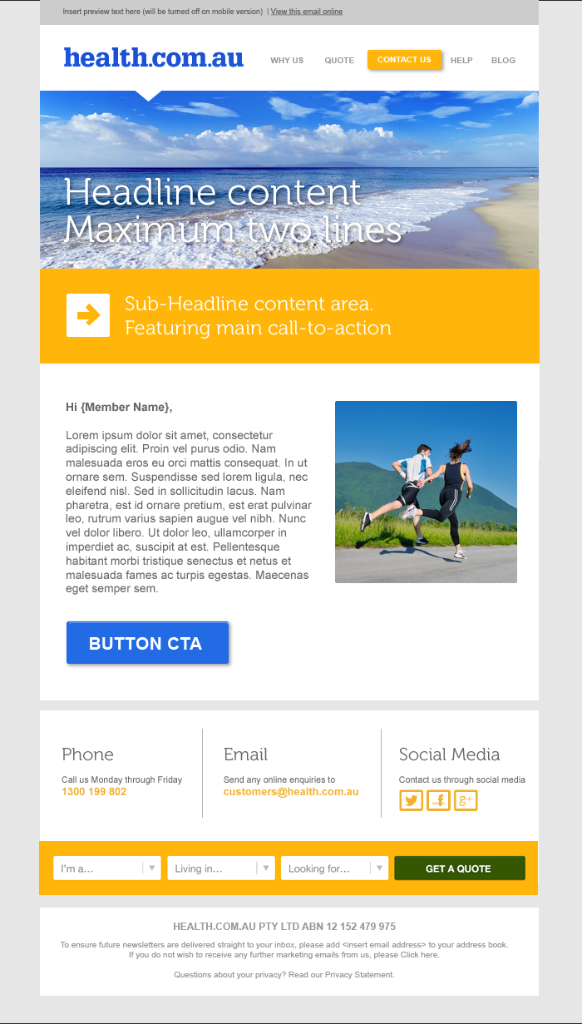 Specializing in: Websites and email messages.
Short biography: This one-person shop is made up of Frederikke, a web and email newsletter designer based in Victoria, Australia. Clients include a winery and a nonprofit retailer.
Email sample: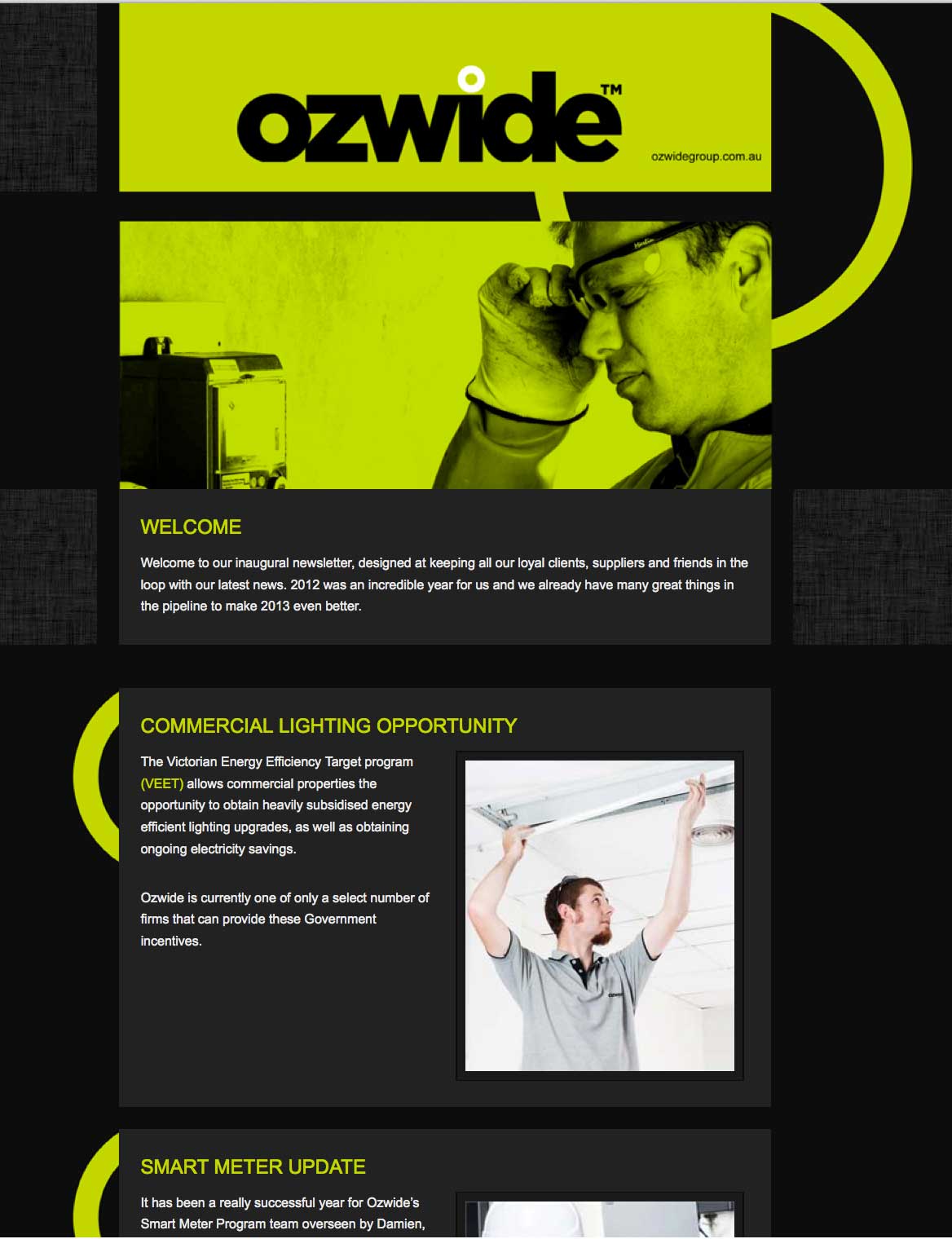 Specializing in: Email and websites
Short biography: If you're in the real estate or travel industry, Adachi is worth a look. They have a long list of clients in property management and sales. They do appear to outsource some of their design work, but if you need to put together all the pieces of an email campaign, or even a complete email program and stategy for a real estate or travel business, they know those sectors extremely well.
Email sample: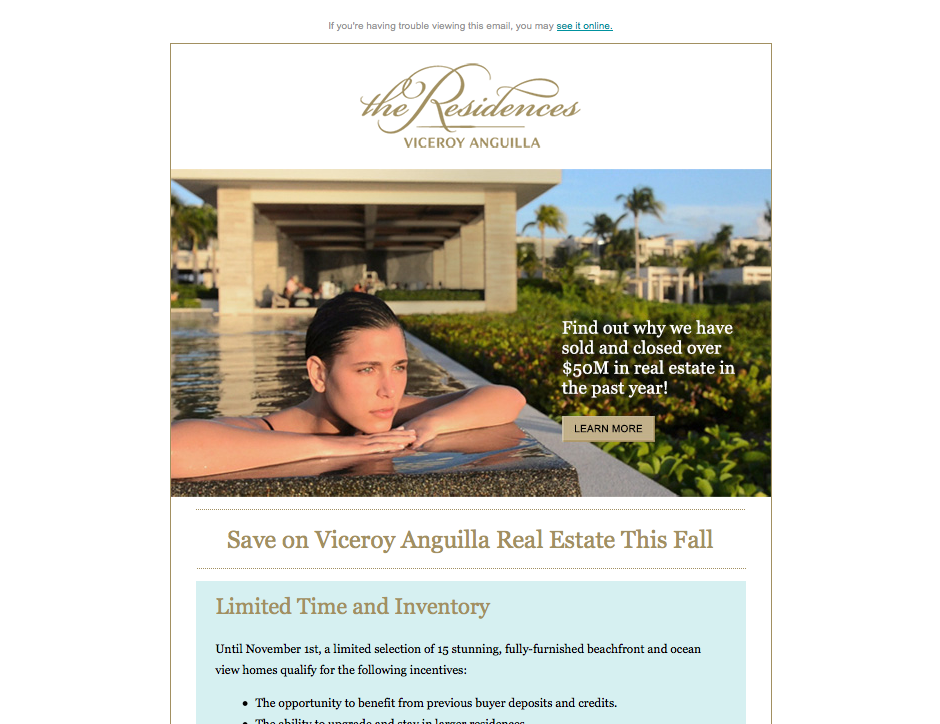 Twitter: @emailmonks
Specializing in: web and email newsletter designer
Short biography: The Monks are up there with Moveable Ink in terms of how well-known and respected they are. The company's blog is pretty close to a must-read for anyone in email marketing. Every few months they put out a terrific infographic, too. Services include taking your email design and coding it for 40+ email clients in 8 hours. They also do landing pages. Email Monks has more than 2,000 customers around the globe. Also check Webby Monks and Commerce Monks. Offices in the US, the UK and Australia (lots of email design going on in Australia!).
Email sample:




Twitter: @RodriguezCommaJ
Specializing in: 100% email, with advanced coding knowledge and wide access to what's going on in email design
Short Biography: Jason is currently community manager at Litmus, where he hosts an awesome podcast with fellow email code geek Kevin Mandeville.
In addition to his work at Litmus, Jason also maintains a blog on his pwn site, and recently published the ebook Professional Email Design. It's available in multiple digital formats for $29. Given how busy he already is, this is one email designer that probably is not available for hire, but he is definitely a thought leader among email designers and mobile strategists. It couldn't hurt to buy a copy of his book, and give it to your favorite inhouse email designer.
Twitter: @Paul_Airy
Specializing in: Email design, but particularly email typography
Short Biography: While some of the designers listed here lean toward the technical, Paul Airy leans toward the design. Not that he's even a little short on technical acumen, however – just get him talking about the complexities of getting type to render correctly. He did a talk just like that (simplifying things a bit for the non-coders) with Litmus recently.
Airy is the engine behind Beyond the Envelope, "a HTML Email, Research, Design and Development Laboratory" in the UK. If you can afford to hire the best of the best, this should be one of the places you look into.
Twitter: @skoobly
Specializing in: Email coding, design and strategy
Short Biography: Clinton heads up Mailpop, a Canadian email marketing services firm. They offer design, coding, strategy and deployment help for companies in need. Clinton also blogs here and there for different email authority sites, and typically makes the lists of who's who in email marketing design.
Twitter: @joon82
Specializing in: 100% email design
Short Biography: Kristian is employed by iris Worldwide as a HTML Email/Studio Developer, but he also maintains his own site. His minimalistic but flexible designs are highly regarded in the email marketing world. He's London based and has experience with other types of digital design and print design.
Email Sample: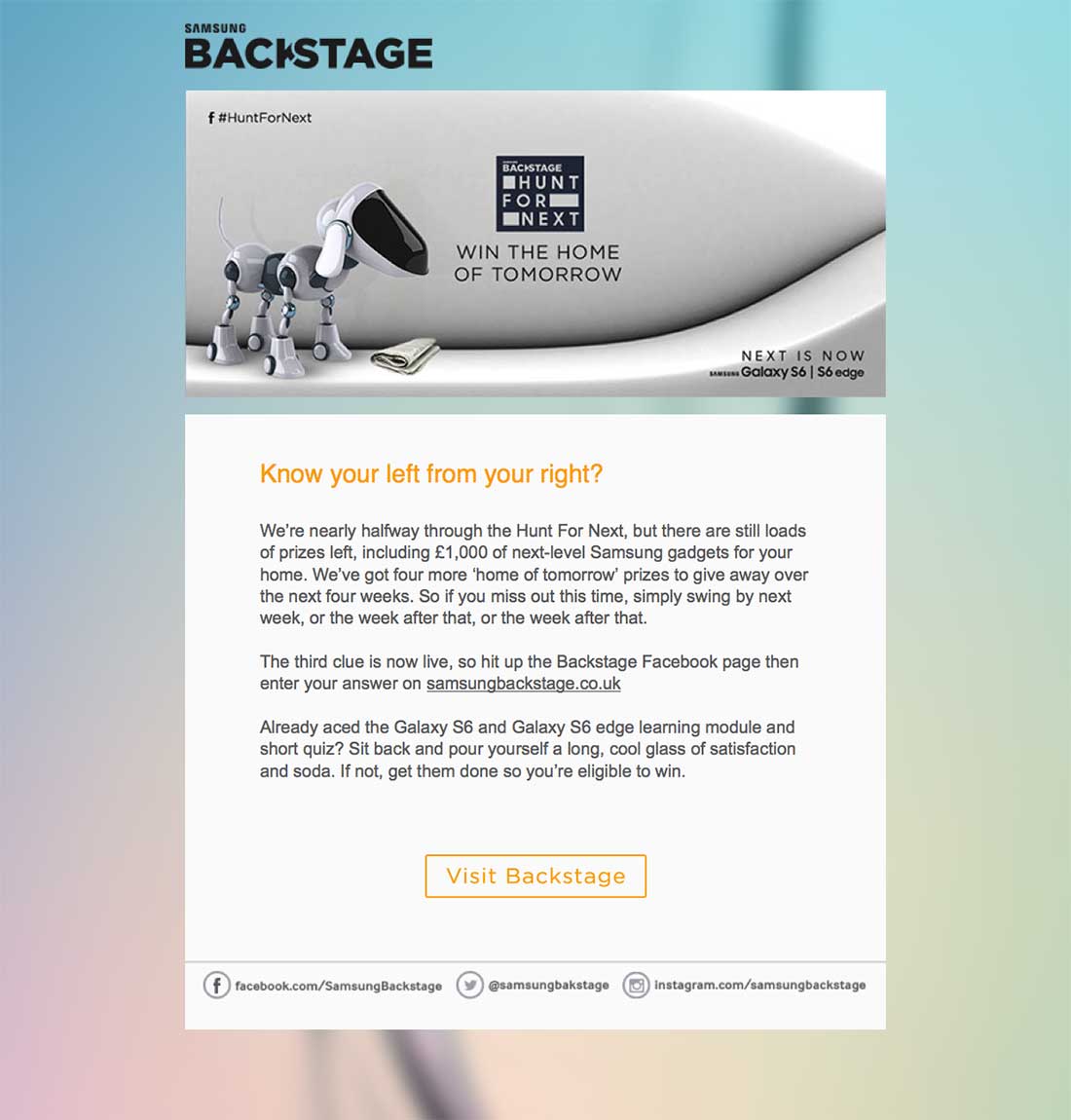 That's just a few of the people who deserve to make the list of "must know" email designers. If you'd like to nominate someone for this list (even if it's yourself), tweet us your vote. Our Twitter handle is @Pinpointe.
Pinpointe Newsletter
Join the newsletter to receive the latest updates in your inbox.
---