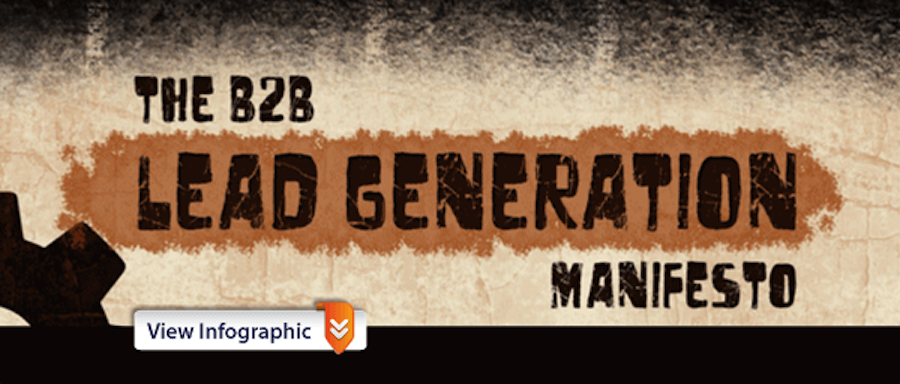 B2B Lead Generation Manifesto [Infographic]
Table of Contents
B2B lead generation…many companies have spend hundreds of hours creating the perfect strategy on this, and oftentimes it revolves around marketing content. Yet, content for business-to-business (B2B) marketing purposes has to be a lot of things – remarkable, educational, and valuable to name a few. Only then, can you expect to draw in leads and keep those leads engaged. Yeah, it's a lot of pressure and adding to that pressure are the millions of other businesses trying to do the exact same thing. But, if you follow a certain process to fully optimize your B2B marketing content strategy, you will have a much better chance of coming out ahead. Read on to master the B2B Lead Generation Manifesto that is…CONTENT MARKETING!
Create The Ultimate B2B Lead Generation Marketing Content

Engaging content can be a number of different formats. Choosing the best format really depends on your marketing goals, but here are the top five to keep in mind when thing about B2B lead generation:
Ebooks and whitepapers can lead you to acquisition of new customers by establishing yourself as a thought leader. The education that comes through ebooks and whitepapers will ultimately prepare your prospects to make the right decision.
Blogging with a strong call-to-action (CTA) to landing pages is a great way to get new customers. 81% of marketers manage and maintain active blogs that provide valuable content. Jump on this bandwagon with a complete strategy in mind! Nothing is worse for your image than an inactive and outdated site with the last blog posted 5 years ago.
Videos can be truly effective in generating leads. Try putting clear and concise CTAs directly into the end of your videos, and including annotations or overlays on YouTube to improve your success rate.
Infographics are highly shareable and visually appealing assets that increase the exposure of your brand. Try to include them in your blogging strategy and link to landing pages in order to generate leads. Check out our page of informative email marketing infographics to get a better idea.
Webinars provide high value, hands-on training that people can experience from the comfort of their own home. When people want to attend a webinar, they must part with their name and email, which means you gain a new lead for each webinar participant.


Optimize B2B Lead Generation Pages

Creating ultimate content is just the first step to bringing in leads. Just as important is making sure you have steps outlined to make your content accessible and sharable. Test out these 4 ways to maximize your conversion rate for B2B lead generation:
Give them a prize– Make sure to match the value of your giveaway with that of the level of data you are asking for. For example, don't have a form with more required fields than the number of pages in the ebook you're giving away.
Try before you buy– Increase trust levels by offering a free preview of the best part of your content. Demos are a great way to do this and is a fast track to a strong relationship with your consumer for

B2B lead generation

.

Social Proof– When promoting a webinar, show the amount of registrants to encourage others to join in and reach out for customer referrals/testimonials on social media. Nothing speaks louder than happy customers!
A/B Split Testing– As a marketer, you know the importance of split testing: nothing is a 'sure deal'. Keep testing different versions of your landing page against the original to find what works best.
Post Conversion B2B Lead Generation Follow Up

Even if you've created the best content ever and optimized your landing pages to a 'T', you still need to follow up with leads after conversion. Here are just a few ideas to keep the relationship with your consumers strong and keep your B2B lead generation efforts moving through the sales cycle:
For webinars: Even if all of your registrants do not attend, you at least have the ability to reach out to them with a recording and invite them to the next one.
Free value: People love free stuff, so give them more to check out after conversion, like another ebook or whitepaper.
Social signals: While your lead is at their warmest, take advantage of properly optimizing your confirmation page with social sharing and following widgets. You can also make all your email campaigns social to make it easy for the lead to engage with you.
Don't Forget About Mobile in Your B2B Lead Generation Strategy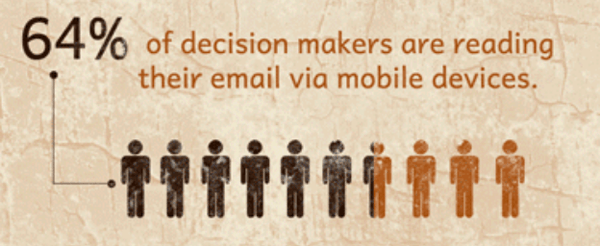 That's right…64% of decision makers are reading their email via mobile devices. Don't miss the boat! Add these rules to your process in order to reach them with these B2B lead generation tips…
Make CTA buttons big enough and easy to tap. Don't underestimate the power of CTA button copy. Those few words in that rectangular button can have a huge impact on clickthrough rates.
Do not link to a homepage. Unless you have a responsive site, resizing the screen on a smartphone is annoying and will increase your bounce rate tremendously.
Forms should be short. Identify the fields you absolutely need to follow up and drop the rest. Note: 85% of people would rather provide an email for an ebook vs paying with a tweet (25%).
Click to call. In addition to the form, include a clickable phone number.


Nurture Your Leads with B2B Lead Generation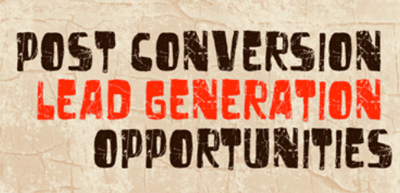 By sending useful and consistent information to your leads via email over a longer period of time that relate to their industry or niche, you will develop trust so that the contact will automatically think of you and be comfortable contacting you when they are thinking about the subject matter in question.
If you ignore nurturing leads, you are missing out on big opportunities in B2B lead generation. In fact, 79% of marketing leads never convert to sales because of the lack of lead nurturing. Nurtured leads make larger purchases than non-nurtured leads and are also more likely to make more purchases in the long run.
---
B2B content marketing may not be the easiest enigma to crack, but you've heard it time and time again: 'Content is King' and if you're going to create stellar content, then you might as well optimize the entire process to see actual leads at the end of the tunnel!
Download the B2B Lead Generation Manifesto Infographic and follow the 5 steps to manifesting leads through content marketing today.
Pinpointe Newsletter
Join the newsletter to receive the latest updates in your inbox.
---