Assumptions You Can Make Based on Email Addresses
Table of Contents
What does your mother know about your subscriber's email addresses? Apparently, A LOT!
Well, your mother may have said it best: "The way you present yourself says a lot about you." The way an email address looks can say a lot about you too.
As a marketer, it's important to take notice of email addresses in your contact database and learn what assumptions you can make based on email addresses. It could mean the difference between identifying between the passive and inactive subscribers to your email list. It could also mean offering up more relevant content that your subscribers will engage with.
Think of how you view an email that comes in with a fishy email address or a bogus company name. You judge and make the immediate assumption that you shouldn't waste your time or effort replying back to them. Well, you may be wasting a lot of time and effort marketing to the email addresses in your contact base and not even know it.

Contact management is becoming more and more of an automated part of business, but it's still crucial to maintain some manual order of checking things only you can look for. With that said, you can automate searching for emails with info@ or sales@, but there is a lot more where prefixes come from!
Take a moment to think about how you chose your email address. Your company email address was likely given to you based on the domain and configuration of your name. But what about your personal email address or side business? If you tie in your favorite sports team, lucky number, or even your name, that says a lot about you personally. It may also easily reveal your age and/or gender.
ISPs take things a tad further. The major domains include Gmail, Hotmail, Yahoo, AOL, and Comcast and can, surprisingly, reveal certain characteristics of your audience. The most revealing conclusion is age based on when these different domains came into production. For example, Gmail was introduced 7 years after Yahoo and Yahoo was introduced 20+ years after AOL. You can draw some basic age conclusions from simply knowing when the domains began. Hotmail, Yahoo, and Gmail cover the 25-40-year-old range and AOL and Comcast include 40-60-year-old population.
There are some other judgements you can make based on the ISP of an email address and Doug Gross at CNN took an interesting approach to do so. Basically, he concluded that AOL and Hotmail seem dated to many, while Gmail or your own domain name might seem hipper: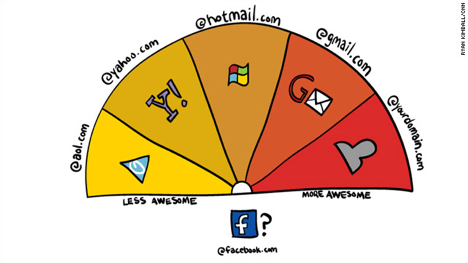 Age and gender are both very important characteristics to know about your subscriber base depending on what you're selling, but what about interests? How can you identify what they'll be drawn to?
Amy Lee at Huffington Post shared a few email address stereotypes based on what domain users are on. Gmail users, for example, are ahead of the curve: 66 percent of them "love" gadgets and gizmos, compared to 42 percent of AOL users and 47 percent of Hotmail and Yahoo users. And 31 percent of Gmail-ers are early adopters of new technologies at about twice the rates of the others. I encourage you to read her full post as it shares a very detailed portrayal of users…entertaining, but I wouldn't write it all in stone!
The suffix in an email address can reveal the location of your audience. .ca, for example, is the internet country code for Canada, .au is Austrailia, ae is United Arab Emirates and so on! Check out the full list of country codes here.
.org and .edu don't necessarily share location, but it tells you the type of person or company you're dealing with. .org suffixes are usually given to government entities while .edu is used for college and university email addresses.
So why do all of these conclusions and hypotheses even matter? Sometimes us marketers are left to our detective skills to find out more about our customers and prospects, but it's important to realize that the technology of today can paint a much clearer picture of who you're talking to.
If you look for more information on selecting a professional email address, you can check out the blog article The 3 Rules to Choosing a Professional Email Address from FitsSmallBusiness.com.


Back to your mother's wise words. She also likely said, "Don't judge a book by its cover."
Manually reviewing contacts is a good start, but A/B testing, audience polling, and segmentation can all turn these assumptions into strong data. Strong data means strong marketing and strong marketing results in sales!
A/B Testing and Beyond:
Based on what you have learned about your audience just by looking at their email address, create a few variables of your content. Send your Gmail users a more tech savvy message or call to action while keeping it more basic for the AOL users. Then see what results come in from those email sends.
Pinpointe isn't limited to just option A and option B, its email split testing is very flexible so that you can test as many different variations as you please. But don't go overboard! Multiple messages mean a lot more to track and decipher. More data is generally good, but not if your inundated from doing more marketing down the road. If you are conducting split testing to see what overall message works best, Pinpointe can also automatically calculate the winning email variation based on the email stats.
Audience Polling:
Surveying your audience helps you take assumptions to the next level. Using the data in the article above will help you get a general idea and now you can hone in on the details that matter most for your marketing goals and for offering the right product and/or service to your audience.
Remember to keep those surveys short and sweet and very easy to complete. If your audience is going through hoops, you won't have much data to work with.
Segmentation:
None of this due diligence will mean anything if you don't properly segment your list. It's amazing the amount of work it takes for marketers to get this far and then, they have nothing to show for it because they don't update and segment their contacts. As I said before, the importance of knowing your audience is being able to offer relevant content that urges them to buy from you. Segmenting your list makes it easy to do just that.

I find that the most problem with segmentation is the vast options that marketers can choose from. Do you want to segment people that clicked on a link in an email or that have .edu in their email addresses? The key to starting out is starting out small. Get familiar with segmentation and what it means for your business before diving in head first. Pinpointe's Behavioral Targeting makes segmentation easy to set up. They have a segment builder interface that walks you right through the steps.

Your mother's wise words ring true when making assumptions about email addresses, but in order to become wise yourself, you need to do the work for your list, your business, and your goals. Take these words of advice and turn them into powerful data and insight into your email subscriber list!

[Tweet "Assumptions You Can Make Based on An Email Address"]
Pinpointe Newsletter
Join the newsletter to receive the latest updates in your inbox.
---