9 Holiday Emails Even Santa Can't Resist
Table of Contents
Holiday emails are now season, and this year consumers are in the mood to spend. The National Retail Federation predicts holiday sales will increase by 4 percent this year, with the average shopper spending $935.
While St. Nick gets his sleigh ready, you can do the same with your ho-ho-holiday emails.
What do holiday shoppers want from your emails? Research shows 73 percent of consumers pick a retailer based on where they can get the best deals, but discounts aren't the only thing you should send this season.
To help provide email inspiration that gives your sales a Yuletide boost, here are nine holiday emails that even Santa can't resist, and a few tips to make the season go smoothly.
Black Friday and Cyber Monday deals

Black Friday is the kickoff to the shopping season, so you can't talk about holiday marketing without covering emails for Black Friday and Cyber Monday.
About 151 million consumers went to stores or shopped online over the Thanksgiving weekend last year, spending an average of $299, according to the National Retail Federation. Here's a look at several emails you can send during these holidays:
1. Big savings holiday emails

Consumers are expecting deep discounts over the weekend, so don't disappoint. Consider dropping prices on a popular item, cut prices storewide or offer a smaller discount on items that aren't usually on sale.
Here's an example of a great deal for Black Friday from Best Buy: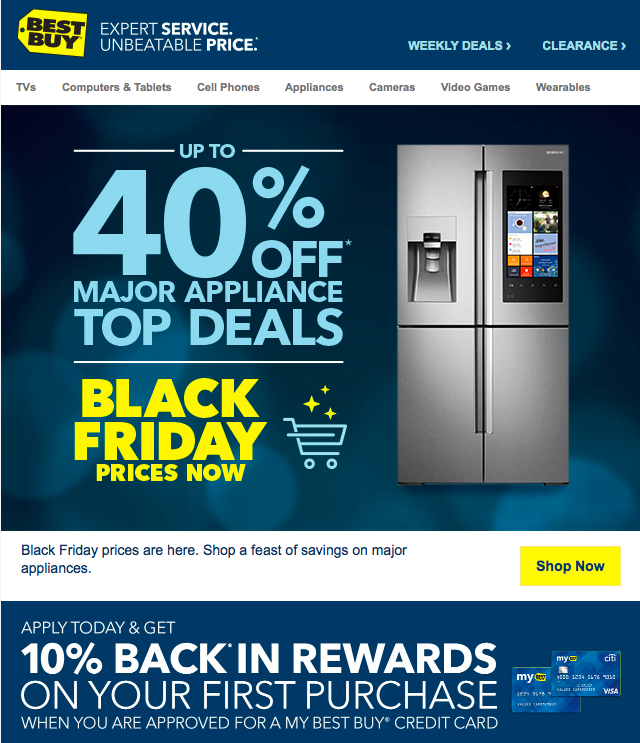 2. Early savings holiday emails

Don't limit your deals or discounts to Black Friday or Cyber Monday; consider offering them to consumers in advance too. Here's an example from ToysRUs: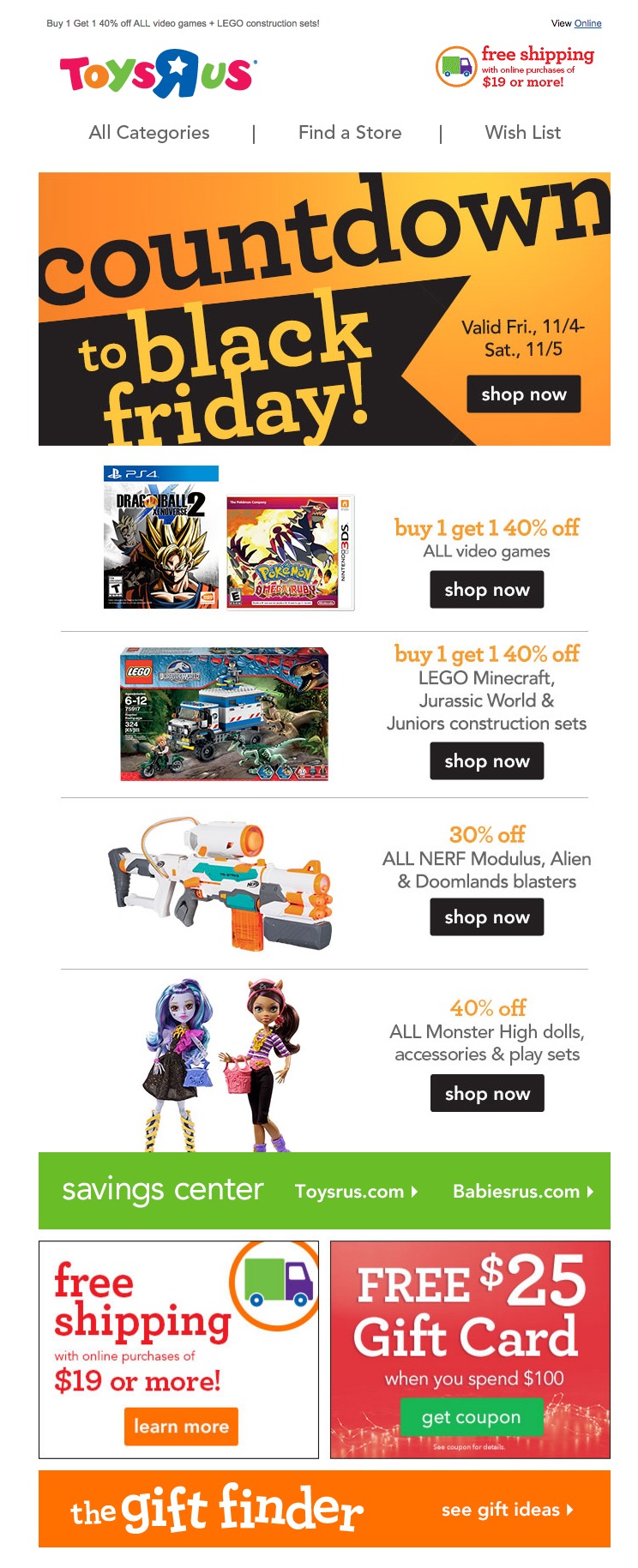 3. Hourly deals email

Celebrate one of the holidays with special deals that change every hour. Radio Shack gave this a try on Cyber Monday with 24 deals in 24 hours. Here's the email:
4. Last chance email

When the savings are about to expire, send an email to give customers one last shot at the deal. Be sure to use urgent language that explains when the deal runs out. Consider using phrases like, "Last Chance," "Time is almost up" or give a specific time frame like this simple email from Herschel does: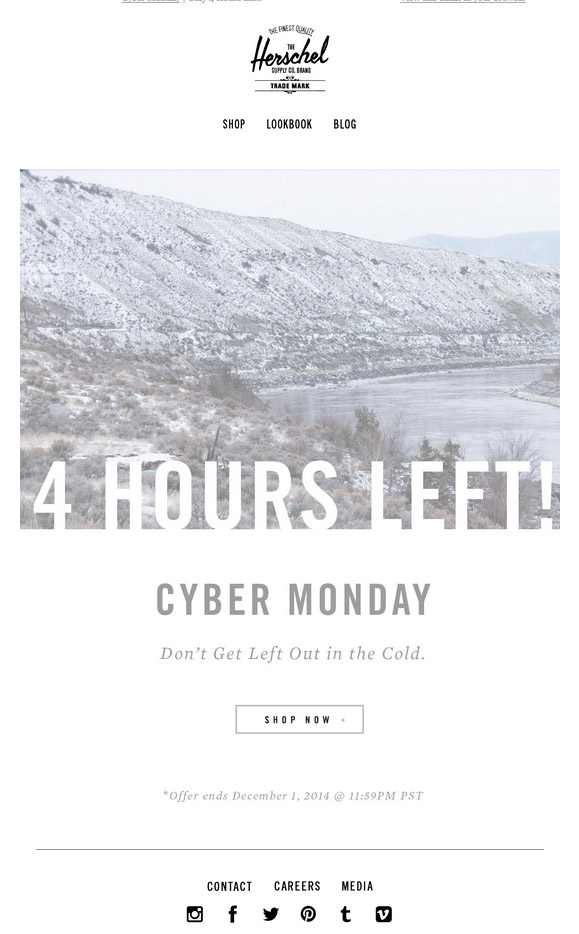 Additional ideas for holiday emails

5. Holiday preparation email

Keep in mind, holiday spending isn't delegated to gifts alone. There are a lot of additional expenses that consumers acquire to prepare for the holidays. For instance, consumers will spend $53 on decorations, $26 on greeting cards and postage and $107 on food and utensils to prepare holiday meals, according to the National Retail Federation.
To capture your piece of the pie, try to think of ways to help your customers prepare for the holidays that are outside the traditional "give this gift" email.
This kind of email opens up more possibilities, especially for businesses that don't sell typical products. A cleaning service, for example, can offer to help consumers get their home ready for guests. A computer repair service could market refurbished hard drives – something that doesn't exactly scream 'holiday gift' – as a place to keep the hundreds of photos taken during the holidays.
Here's a great prep-for-the-holidays email from Jet.com: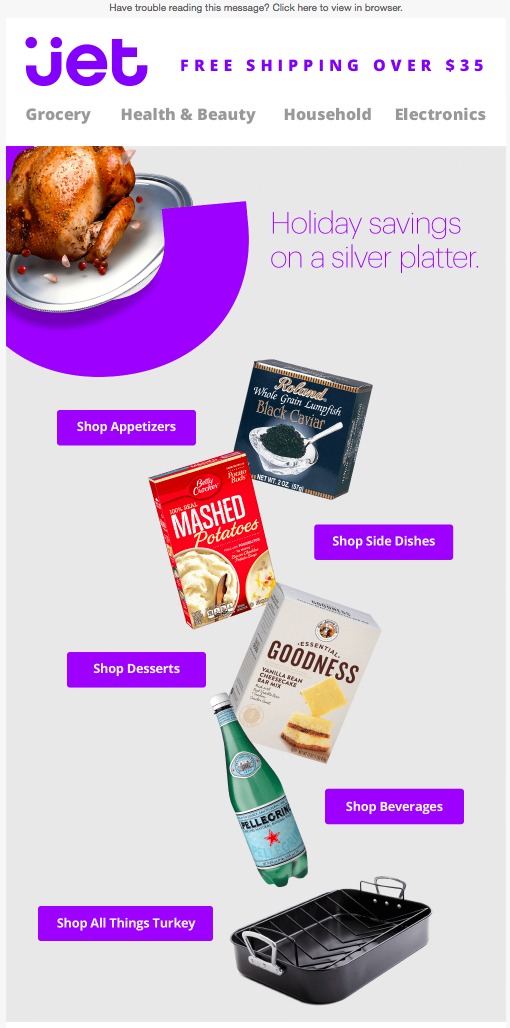 6. Hassle-free holiday emails

The holidays are all about spending time with family and sharing memories, but these precious moments aren't always stress free. In fact, 38 percent of consumers say their stress level jumps during the holiday season, saying lack of time and money is problematic, according to the American Psychological Association.
In response to the sometimes-crazy nature of the holidays, consider creating an email campaign that helps people enjoy a hassle-free season. Explain how your products or services can save time or money, and in turn, alleviate stress.
Or, offer a service that makes the holidays a little easier like free gift-wrapping or free shipping.
Pet Supplies Plus, for example, sent its customers a deal to "unhassle the holidays" with discounts on items to help travel with pets during the busy season.

7. Charitable giving email

Is your business partnering with a charity this season? If so, get your customers involved by telling them about the charity or cause via email.
From donating money at the register to collecting slightly used clothing like coats, explain how customers can participate.
Some businesses are hesitant to ask customers to support a cause. They don't want to burden customers, or seem as though they're begging for help.
Actually, 83 percent of consumers want brands to support causes. And donating at the register is a common and expected practice for consumers. Seventy-two percent of customers have made donations at the register and felt good about the brand after doing so, according to Cause Marketing Forum.
Below is a great example of a charitable giving email from ToysRUs. The store is willing to donate $1 for every wish list that's created on its site.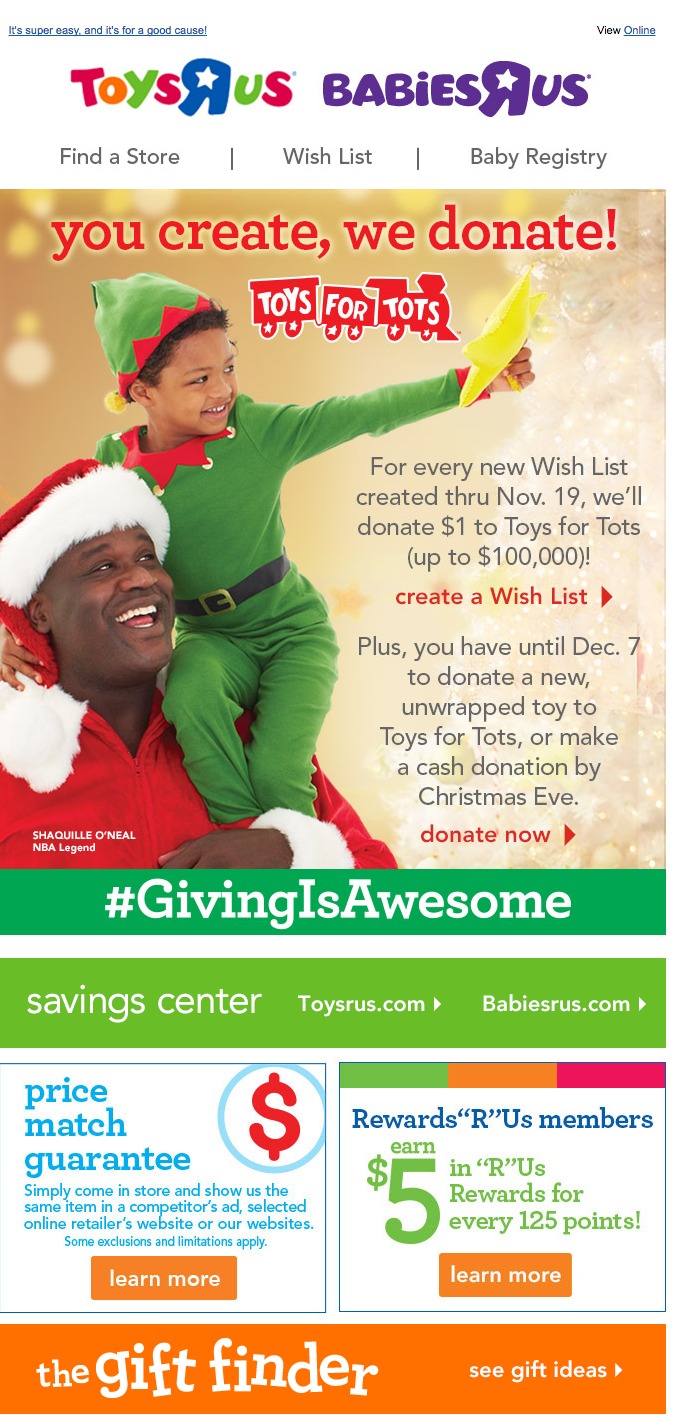 8. Holiday event email

Get your customers in the holiday spirit by hosting an event. Event marketing is a growing field, with 83 percent of marketers using events to increase sales.
You can use email to send a series of emails about the event. You can send the initial invitation, a schedule of events and a reminder to make sure customers have it on their calendar.
You should also take time to promote the event on your social channels. Consider creating an event on Facebook, which gives customers event details and let's them RSVP. (Here are instructions from Facebook on how to create an event.)
What kind of event should you host around the holidays? Consider having a customer appreciation sale, a 'Fuel up for Shopping' breakfast, a holiday happy hour, a tasting, or a signing event like this: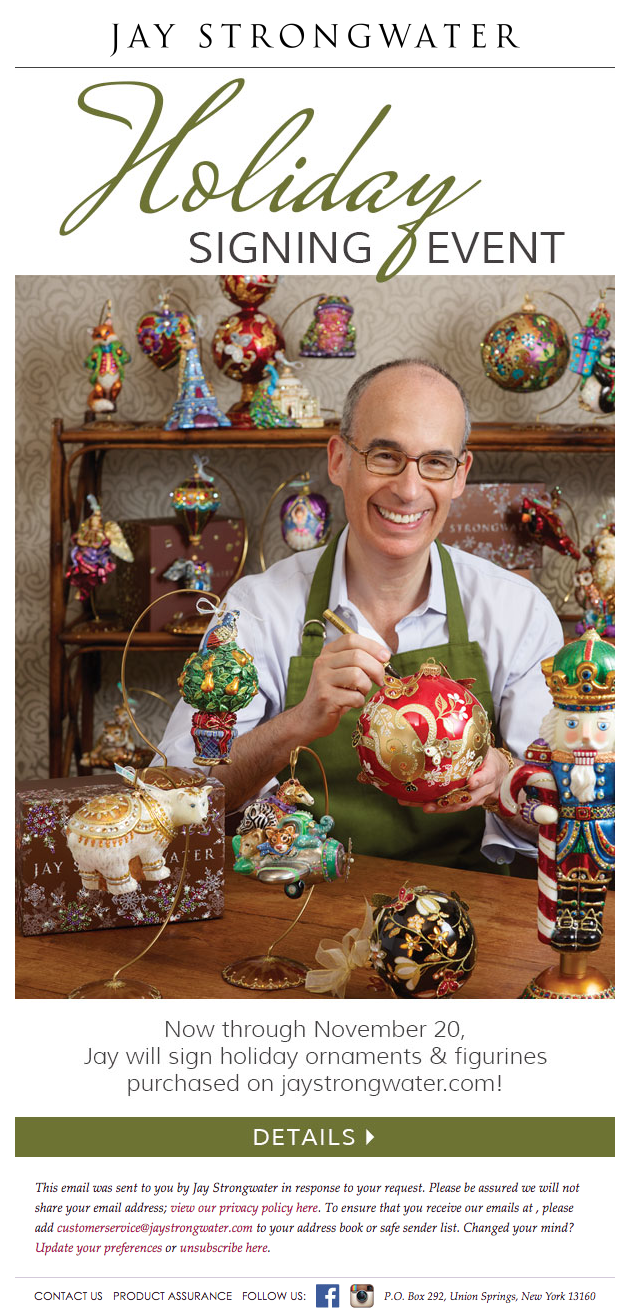 9. Gift guide email

Everyone needs a little gift inspiration during the holidays. It's hard to find the perfect gift for 90-year-old Grandma Ida, a teenager with a massive tech addiction and a husband who already has everything.
Forty-four percent of shoppers waited until the last minute to shop last year because they were still weighing gift options, according to the National Retail Federation. So, help your customers out. Give them some ideas to put under the tree.
Create a gift guide that highlights some of your best products. You can send several gift guides throughout the season by breaking them into specific categories. For instance, create guides based on gender, price or hobbies. Here are a few examples:
Gifts for Him
Gifts for Mom
Most Popular Gifts for Kids
Stocking Stuffers for $5 or Less
Gifts for Tech Junkies
Gifts for the Car Lover in Your Life
Great Gifts for Teachers
You should also add gift cards to your guides. Research shows 61 percent of people want gift cards so they can make their own purchases.
Here's an example of a gift guide from Bonobos: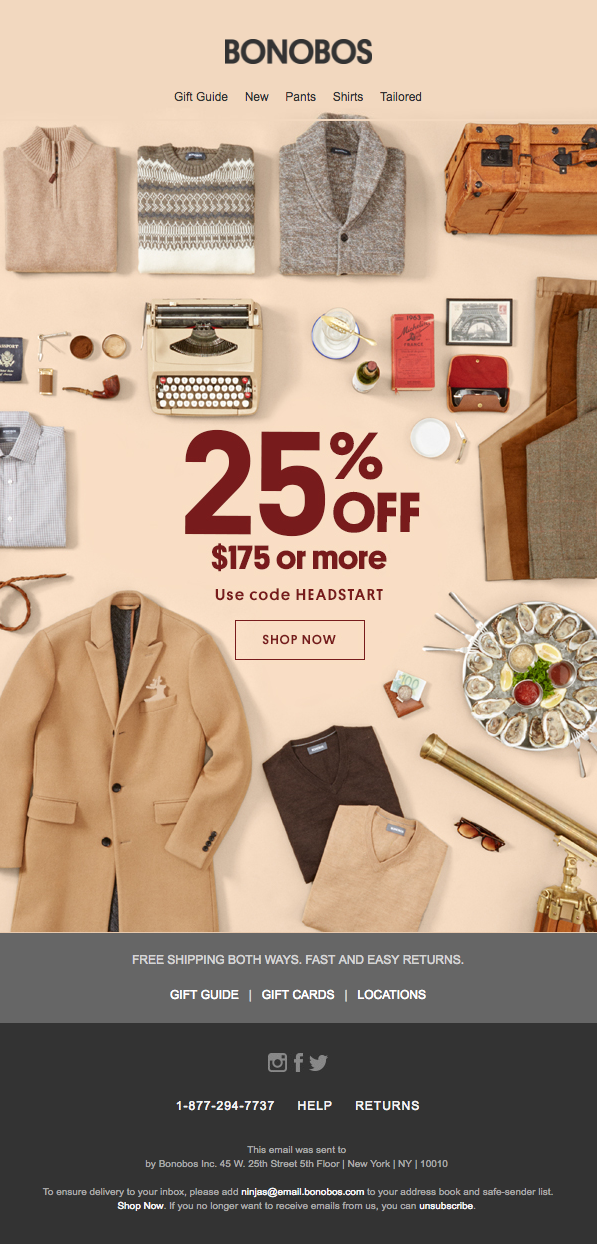 Quick tips to send elf-tastic emails

Only the Grinch sends email blasts these days. Be sure to segment your list, so only certain groups receive certain emails. For instance, segment your list by gender, income level or past buying behavior so your emails are targeted rather than launched into inboxes like last year's fruitcake.
Resend emails that go unopened
Get a little more mileage out of your emails by resending them to people that didn't open them in the first place. Freshen them up with a new subject line and hit send.
The holiday season is busy. There's never enough time in a day, so rather than letting your emails wait for another day, consider creating them in advance and schedule them for delivery on a specific date.
Get your website in shape
Your emails might take shoppers to your website, so it's time to spruce it up.
An estimated 92 percent of shoppers will go online to buy or research a gift during the holidays, so your website should look sharp. Make sure it at least lists your products and services, and is mobile friendly.
And there you have it, nine emails that your business can mimic this holiday season. Review the ideas and make a list of the emails that you'd like to send this season. With these handy email examples and tips, your sales will likely be merry and bright.
Pinpointe Newsletter
Join the newsletter to receive the latest updates in your inbox.
---