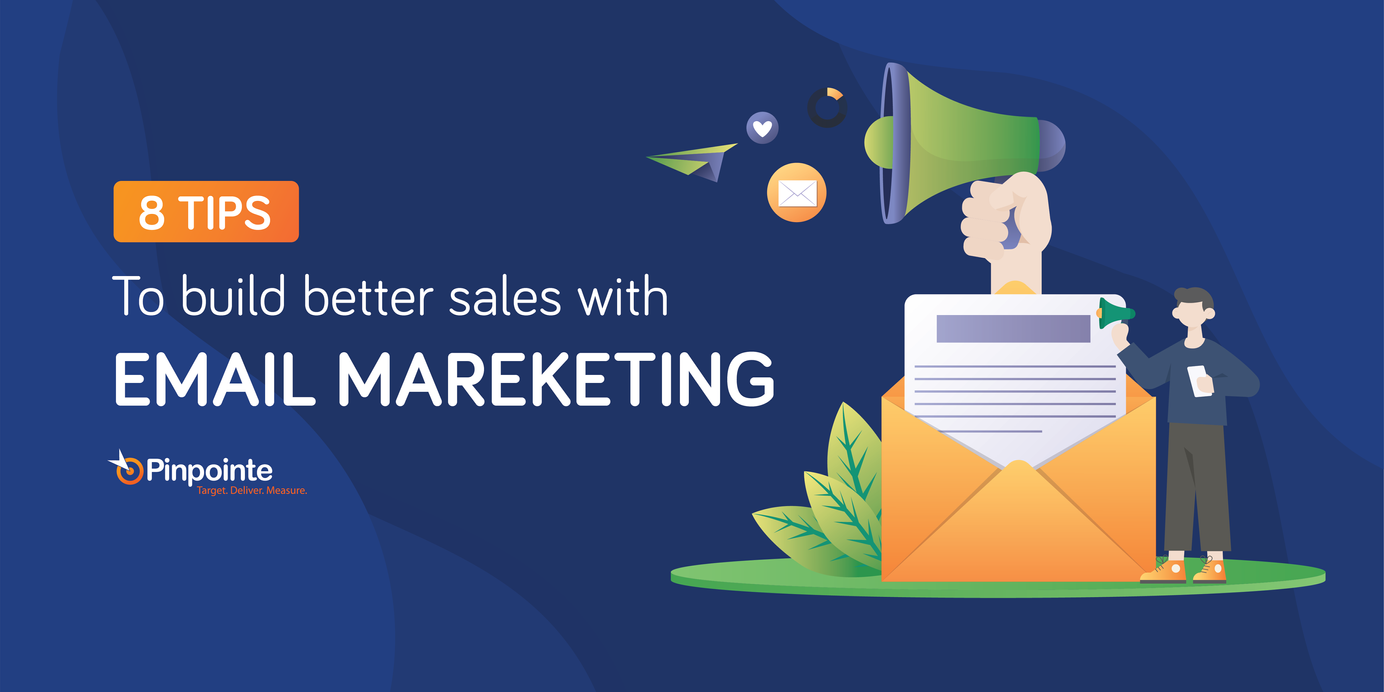 8 Tips to Build Better Sales with Email Marketing
Table of Contents
Learn How You Can Build Better Sales with Email Marketing
It is no secret that email marketing can bring in massive benefits for your business. Entrepreneurs and business owners are now admitting to the fact that sending email campaigns is an important part of their sales arsenal and can more than double their revenue in a short span of time.
There are studies that back this claim. For example, one study shows that email marketing creates more sales than Twitter and Facebook, two of the biggest social media players right now. For every dollar that a company invests in email marketing, they can earn a return of $40.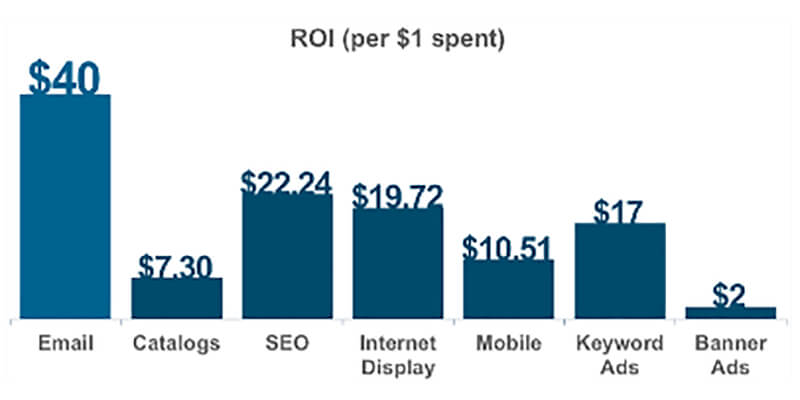 Image Source: markthemarketer.wordpress
But there's a catch to it – you have to implement the right email marketing strategies.
This is why you need to buckle up and carefully take notes as we let you in on the latest email marketing statistics and tips. 
8 brilliant email marketing tips to boost your sales
1. Know Your Target Audience
Knowing your target audience is a priority as it will catapult your email marketing campaign to success. The emails that your subscribers are getting from you should be relevant to their personal interests. It would be a huge mistake for you to send the same email to all your subscribers as each individual in your email marketing list is different. Sending relevant emails to subscribers can increase revenue by 18% as compared to sending generic emails.
So how do you send the right email message? How do you know that the content in your email is relevant to your recipients? How to make sure your subscribers read your emails?
Three words – email list segmentation. It is all about dividing your email list into more targeted, smaller sub-groups. When you segment your email list, you will be able to target your subscribers according to their individual preferences. It also gives you the opportunity to personalize the way you promote your products and services.
You can segment your list according to gender, location, occupation, age, interest, etc to aid you in sending personalized emails. This, in turn, will increase your chances of boosting your sales in the long run.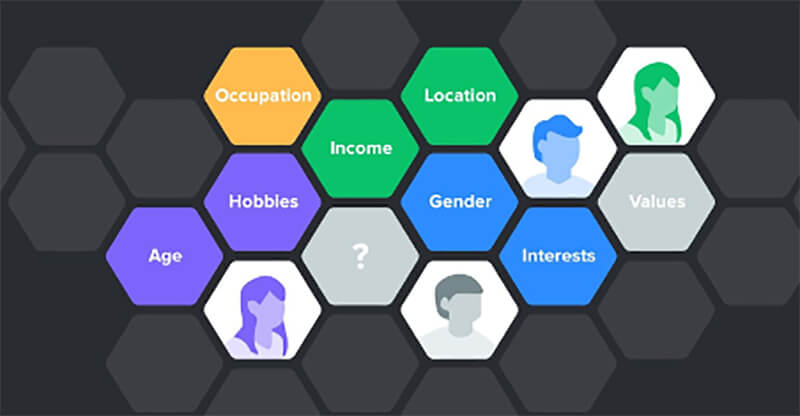 Image Source: MailerLite
2. Welcome Emails
The first impression you will make on your customer is through your welcome email. Make good use of this one-time opportunity to make a great impression and build a lasting relationship with your customers.
Follow these tips to perfect your welcome emails:
Offer loyalty points and rewards
Give an engaging introduction  to your brand
Place effective CTAs
Insert contact information
Insert social media buttons
Remember to highlight the features (and eccentricities) that make your brand different. For Virgin America, this means highlighting their "I love you" symbol as a gesture to show folks that they care about their customers. Their playful "welcome aboard" copy with a catchy "grab a seat" CTA also showcases Virgin America as a fun-loving and hip brand.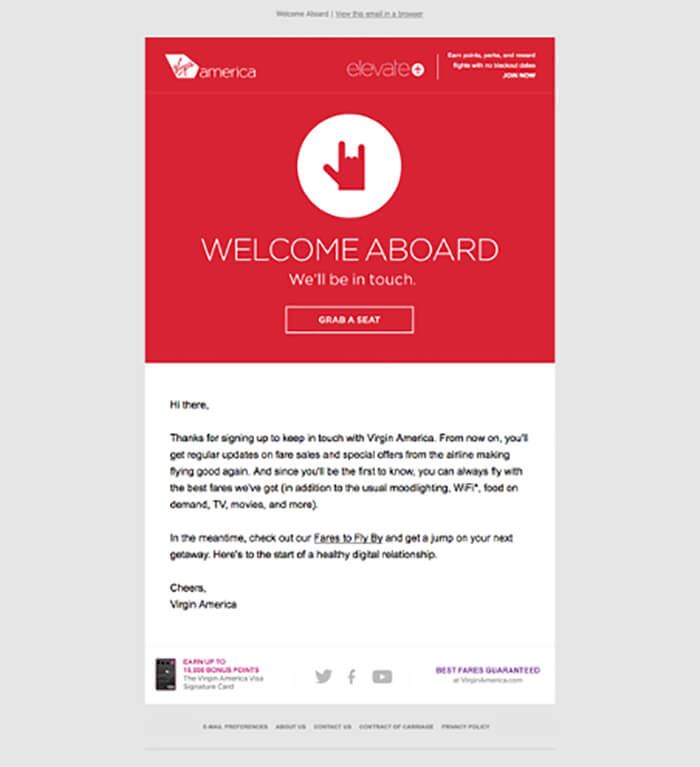 Image Source: Virgin America
Keep Your Emails Personal
If there's one thing that makes customers run in the opposite direction, it is receiving generic emails from brands. By showing that there's a human being behind your brand, it will help build trust among the customers.
When you blend emotions with localization and personalization, it will drive sales beyond your expectations.
Here is how to keep your emails personal:
Address them by their first name
Set up behavioral trigger emails and automated replies
Keep your emails educational
Send emails at the right time based on the recipient's location and time
Come up with innovative ideas that will get your customers to have a personal association with your brand. This, in turn, will drive maximum sales. For example, send greeting cards on special occasions like a personalized discount coupon on birthdays so that they feel special.
Take a look at this birthday reward offer by Starbucks. By taking advantage of a personal occasion, it makes their brand relevant by generating interest.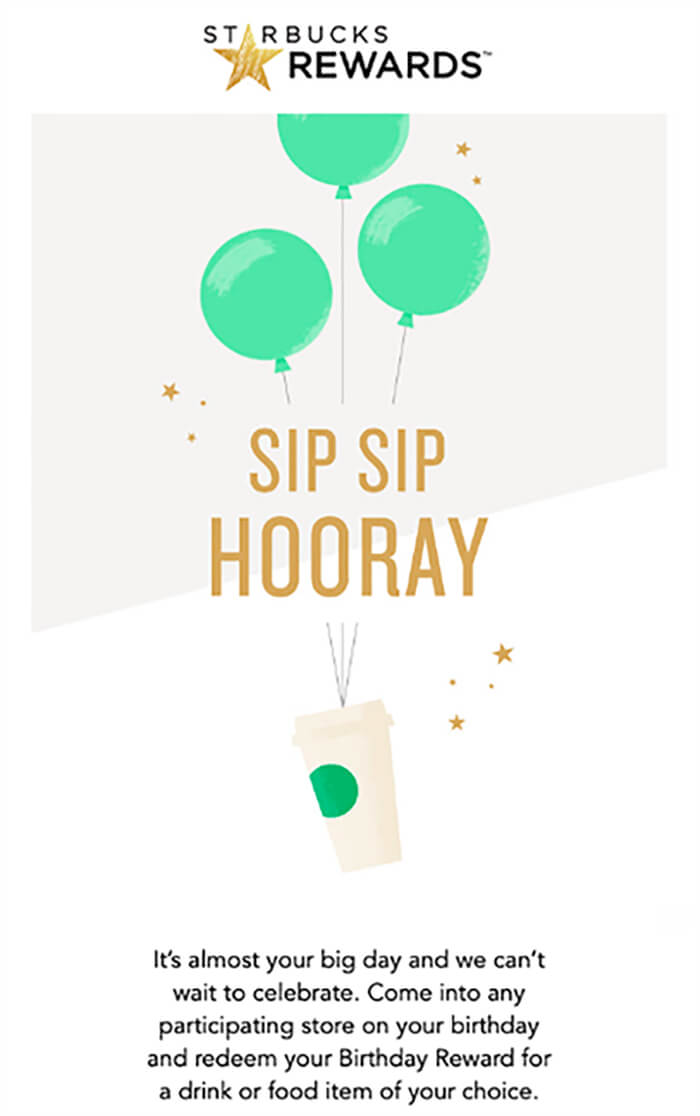 Image Source: Starbucks
4. Send Emails Consistently
One of the biggest fears that businesses have is being considered a spammer. But this should not be an issue because you are sending out email messages to individuals who have willingly subscribed to your email list. Do not hesitate to send emails regularly because this will increase your number of sales.
Studies show that people check their emails at least once a day and this is great news because this gives you the opportunity to grab your target audience's attention.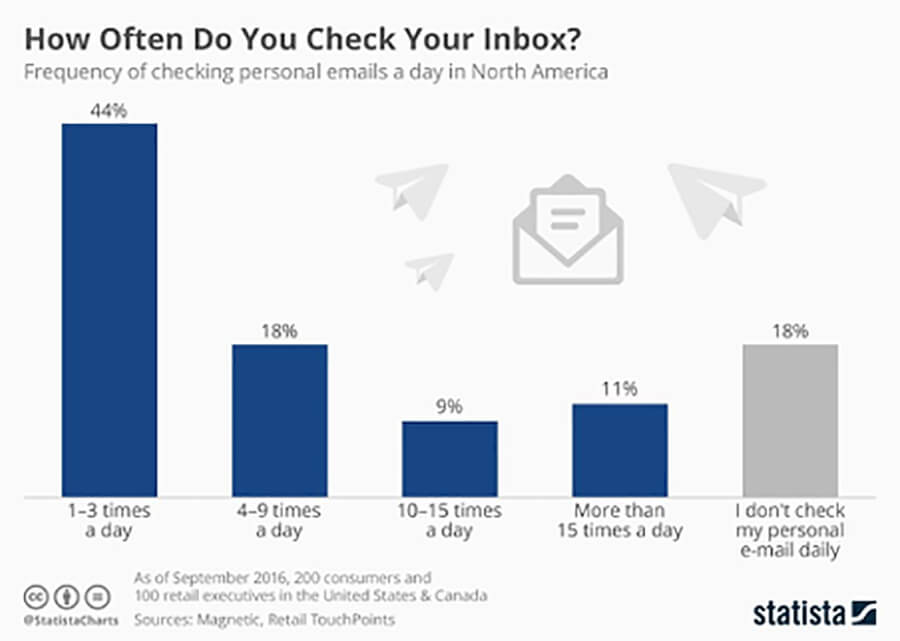 Image Source: Statista
5. Come Up With a Killer Subject Line
Your subject line is the opening, main headline of your email. Avoid any of the shady, gimmicky stuff and keep it straightforward. Your goal is not just to get your recipient to open that one email but to build a lasting relationship of trust so that they keep opening your emails over and over again.
Studies show that your subject line determines the open rate of your emails. What is inside won't matter if they don't open your email in the first place. So it only makes sense to invest in it as it will improve the outcome of email marketing campaign a lot.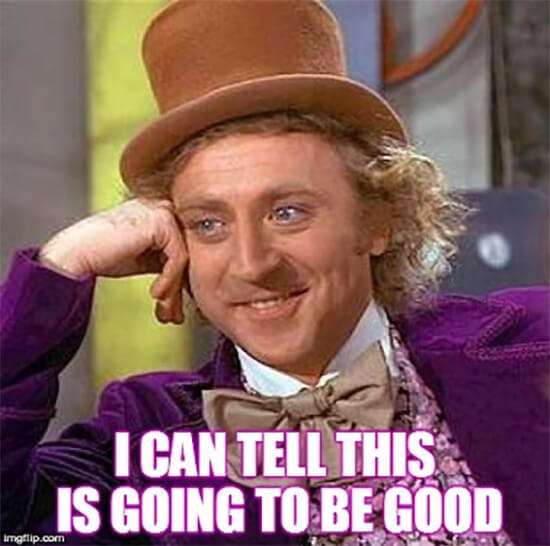 Image Source: dopl3r
Here are some key tips to come up with killer subject lines:
Connect with your customers on an emotional level. Your subject lines should be natural so that they know there is a real human being behind the email and not a robot.
According to Retention Science, you should limit your subject line to 6-10 words. Their study showed that the open rate of emails with the subject line in this range increased by a whopping 21%.
If it aligns with your brand strategy, use a little humor. Great emails are often liked and shared. Just don't overdo it.
6.  Keep Your Emails Engaging
Get personal in your emails and steer clear of fancy words and formal addresses like sir and mam. Come up with an engaging story and avoid anything generic. Let your personality shine through your email messages so that they feel you have something genuine to offer.
Some tips to keep your emails engaging:
While proofreading, cut down your text to 60%. Keep it as short and as simple as possible.
Refer to your customers as "you" and to your brand as "we".
Write as if you are talking face to face with your reader. Maintain a natural voice.
Offer value to your customers in all your emails.
Include reviews, surveys, and polls.
Incorporate videos, Gifs, and pictures to keep things fun and entertaining.
Encourage participation in forums.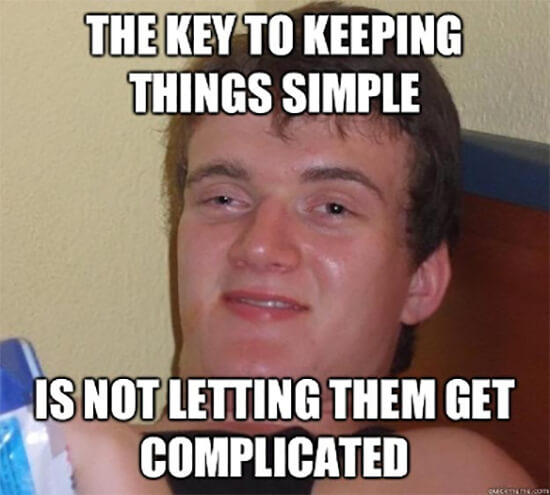 Image Source: reddit
7. Include a Maximum of 4 Links
Emails with 10 to 12 links are automatically considered as spam by giant email services like Gmail and Hotmail. This is why many emails never get to see the light of day as they are directly dumped in the spam box. But then again, you can't simply not use links as they are necessary to drive traffic. And we all know traffic equals sales. A fine balance is to maintain a healthy number of 2 to 4 links. 
8. Conclude Your Email With a P.S Note or "Call to Action" Question
There is a significant percentage of subscribers who will not read through your emails no matter how engaging it is. A clever email marketing hack that works almost every time is including a P.S note or a simple CTA question like "What's your favorite go-to breakfast?" or "Let us know what you think"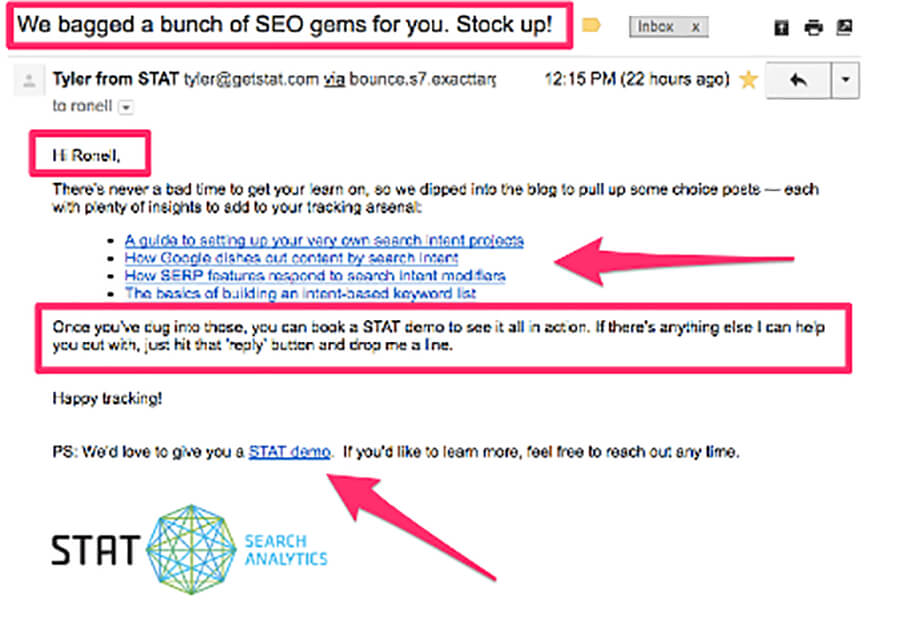 Image Source: Outsourced 
Conclusion
Email is a powerful marketing tool that will not only help you acquire new leads but will also enable you to retain your existing customers. In order to capitalize on this great opportunity to boost your sales, you have to start with a well pre-defined strategy. Careful segmentation, personalization, consistency, strategically placed links, clear CTAs, etc are the keys to a successful email marketing campaign. Follow these 8 tips to draft an effective plan that will ultimately increase your sales in no time.
Pinpointe Newsletter
Join the newsletter to receive the latest updates in your inbox.
---