8 Marketing Tips To Woo New and Existing Email Subscribers
Table of Contents

How do you woo someone you're interested in? You might start by getting to know each other over coffee, and eventually progress to dinner. Dinner becomes a night on the town, and then you're off to meet each other's parents.
Once you're in a committed relationship, the wooing doesn't stop…or atleast it shouldn't. Movie nights and dinner dates are still important to maintain a connection.
Wooing customers is a lot like wooing a significant other. You have to start slow, build a foundation and work to keep each other happy.
To help businesses woo new and existing customers, here are eight tips (along with some helpful tools) to initiate a relationship spark and keep it burning:
1. Add a sign up form to your website

When potential customers swing by your websites, offer them a way to stay connected. Put a sign up box on the main page of your site so visitors can join your email list.
You can create a quick message, or an incentive to get visitors to sign up. For example, the sign up box might say, "Join Our Email List and Get 10% Off Your First Purchase" or "Get Our Weekly Newsletter Full of Hot Deals."
Here's an example from Redbox:

Pinpointe users can follow a set of simple instructions to set up a sign up form and have new contacts flow through to their account.
You can also add a pop up or a slider to your website that accomplishes the same thing. With a pop up, for example, a small window appears in the center of the screen asking for contact information.
Apps like Pop Up Domination and OptinMonster are two options to try.
2. Add social media buttons to your website

Your website should also have social media buttons on the main page. Some website visitors might not want to commit to your email list, but they'll follow you on Facebook without thinking twice.
On the Old Navy website, for example, the social media buttons are displayed at the bottom on the company's main page.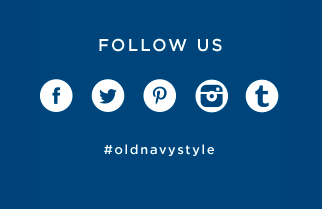 Customers can get to know you through the messages that appear in their newsfeeds. It's a good way to start a relationship, which can increase the likelihood of landing a sale.

3. Email useful content

Email marketing isn't solely for selling; it's for educating as well. In fact, if you provide educational, or helpful content, your customers are more likely to buy from you.
Research shows 87 percent of consumers want meaningful relationships with brands, and yet, 70 percent of consumers say when a brand attempts to create a relationship they're doing so only to increase profits.
To change this perception, brands have to send content that's useful to customers. What kind of content is that? Well, let's say you sell digital cameras; you could create and send an article that provides useful buying tips. An article like, "10 Things to Look for When Buying Your First DSLR Camera" is a good start.
The purpose of the article isn't to push one camera over another, or hype up a sale you're having on DSLR cameras – it's simply to inform.
This kind of content builds trust. The next time one of your subscribers needs a camera, your business will spring to mind.
PRO TIP: If your business has a blog, post helpful articles on the site and email a link. The email can provide a quick description of the article and a call to action that leads the reader to your blog. Here's an example: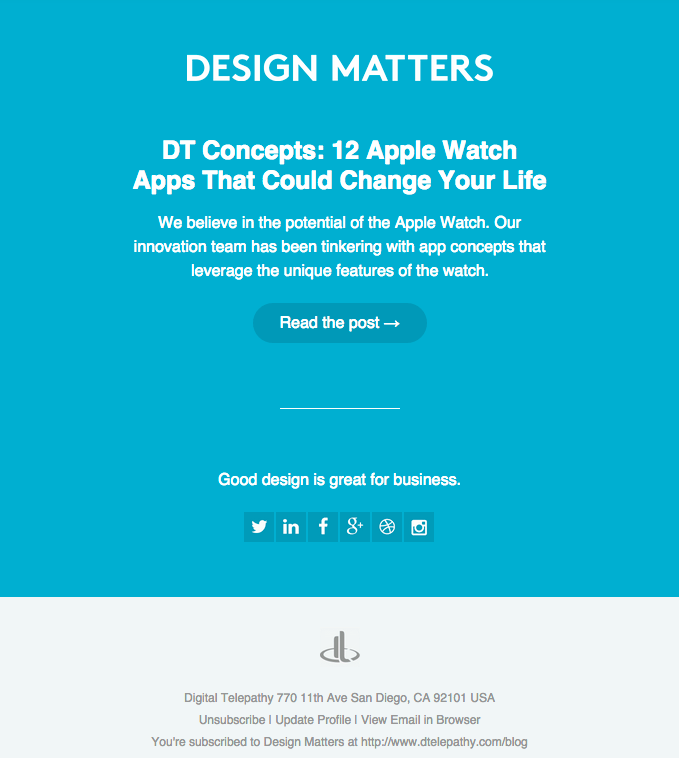 It's a win-win. You provide helpful information and your blog gets a boost in traffic.
4. Get to know your audience

How well do you know your audience? Do you assume you understand what customers want, or do you have data to back it up?
Looking at your email and social media metrics can provide some insight. You can see which emails are converting and which posts resonate best with customers, but it's like trying to get to know a customer by looking at their bar bill. Sure, it's helpful, but wouldn't it be easier to pull up a barstool and talk with the customer in person?
You're probably not going to share a beer with every potential customer, but the point is to collect information straight from customers rather than relying solely on statistics.
To collect customer information, consider sending out a survey. Use tools like SurveyMonkey to craft a 5-minute survey that provides insight into customer identity and behaviors.
PRO TIP: After gathering information, start creating customer profiles or personas. By creating separate personas, you can understand how different segments react.
For example, a cleaning company may have a group of corporate clients that need full scale cleaning services provided every night. Through research, the company finds out that these corporate clients are typically male business owners between the ages of 40-55 with salaries above $60,000 a year. They prefer to pay in six-month installments and have a tendency to add additional cleaning services in December when holiday parties take place. That is a clear, detailed persona.
Use a tool like Personapp to create specific customer profiles so you can keep each segment of your audience straight. Using these personas, you can create targeted messages for each group.
5. Segment your email list

With personas created, you can segment your email list into specific categories. For example, the cleaning company that we talked about earlier could create a segment for corporate clients.
The content that gets sent to this target can and should cater to their specific needs. So, corporate clients would get content on holiday party preparations, and maybe a promotion that offers a discount if the client is willing to pay for a full year of cleaning services rather than their typical six month payment.
Fifty-six percent of email subscribers say they unsubscribe from a list because they receive content that's not relevant. By segmenting your list and sending specific content to each segment, you won't fall victim to this problem.
6. Get personal

When you call someone for a date, you use their first name right? It seems like common sense, but a lot of businesses don't use a customer's first name when they communicate.
When you send an email, personalize the subject line, or add the subscriber's name to the email. Research shows that personalized emails have a transaction rate that's six times higher than non-personalized emails, and yet 70 percent of brands don't personalize emails.
Here's a great example of a personalized email from Care.com. Not only is a first name used, but there's a list of possible caregivers that are specific to the subscriber's area.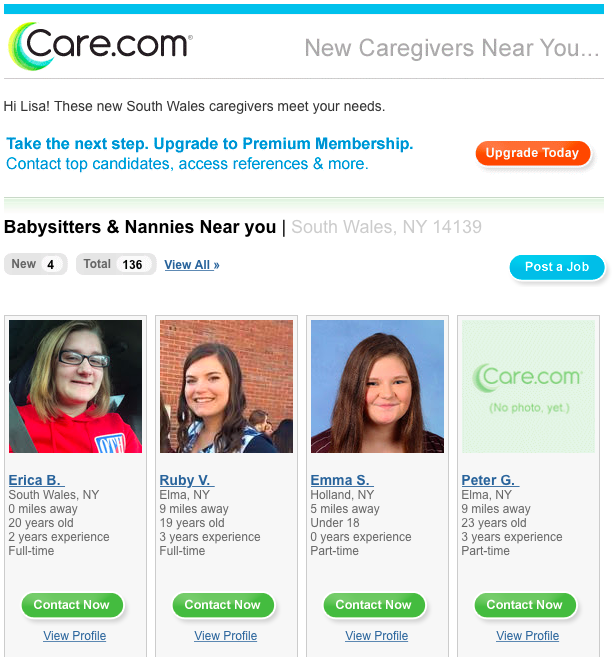 Personalization isn't just important in email; it applies to social media too. When you respond to a comment, use the person's name in your response. It's a simple way to make a connection with a customer.
7. Start conversations on social media

Social media is one of easiest ways to engage customers. You have an open platform to start conversations, ask questions and offer company insight.
Make sure you respond to every comment, not just the ones you get around to. That includes the negative comments too. Address complaints in public, but offer to continue the conversation offline.
By addressing every comment, you show customers that you care. You're taking time to speak with individual customers and address their needs. It can be time consuming, but it goes a long way in the customer relations department.
8. Rely on simplicity

From email messages to social media posts; focus your attention on simplicity. The copy and design in an email should be simple to understand and digest. Remember, the average person receives 212 emails a day, so you have to stand out in a cluttered inbox.
A social media competition should be explained in a sentence, nothing more. Blog content should have a clear title and easy-to-follow subheadings throughout.
If you have to explain something complicated, break it into steps and add graphics to simplify the process.
Wrap up

Attracting and retaining customers is an integral part of growing a business – and it all starts with a relationship. By using the tips above, you'll be able to appeal to a new audience while surprising your current customers with thoughtful gestures that keep a relationship on track.

Pinpointe Newsletter
Join the newsletter to receive the latest updates in your inbox.
---