7 Emails to Send When You're Out of Ideas
Table of Contents
To succeed at email marketing, you have to send messages on a regular basis. Whether you send four emails a month or 15, coming up with fresh and inventive messages isn't always easy.
While you try to send a variety of emails, sometimes the idea well runs dry. That's when businesses fall into an email rut and send the same promotional emails over and over again.
Don't let this happen to you. When you're out of ideas, or just don't know what email to send, use this list to help create and send something new:
1. Newsletter
Are you sending out a regular newsletter? Research shows 90 percent of customers prefer to receive updates through a newsletter, rather than Facebook.
Despite their success, some businesses assume that their customers don't have time to read a newsletter. It's true, your subscribers are busier than ever and it's becoming increasingly difficult to standout in an inbox. But, you can still send a newsletter that keeps your audience engaged.
Send a short version of a newsletter called a digest. Rather than creating a three-page newsletter with four articles, two pictures and coupon – keep it simple. Write two or three articles and put them on your blog. Create a digest that describes each article and offers a link to each.
While some businesses still send long-form newsletters with success, more and more are switching to the more modern digest. It's easier to create and easier to read, so it's a win-win.
Here's a great example of a digest:
Keys to success:
Give a brief description of each article.
Make sure the links take the reader to the full-length version on your blog.
Add an image that represents each article.
Use a clean template that provides an organized look.
2. New product
When you release a new product or service, tell subscribers about it in an email. A new product doesn't have to be something as flashy as a new iPhone; it can be anything that's new to your store or services.
Maybe you're selling a new line of makeup, adding a class to your online course schedule or offering customers a new lawn care service, no matter what the new product or service is it's a timely reason to email your subscribers.
Here's a great example that highlights a new suitcase for avid travelers: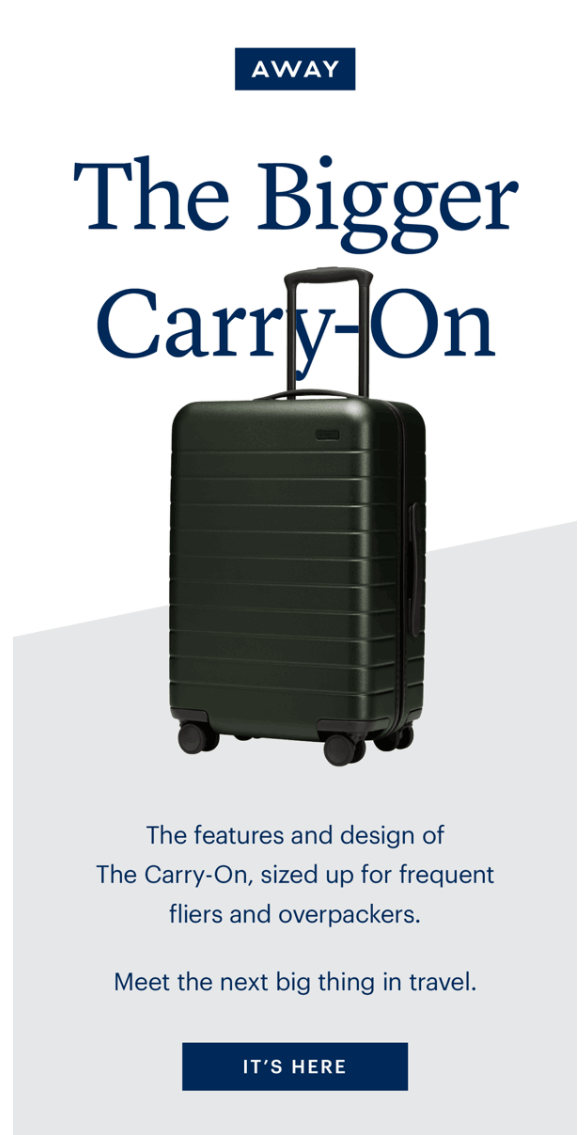 Keys to success:
Be sure to add an image of the new product or service.
Make sure the CTA leads subscribers to a landing page that features the new product, rather than taking them to your home page.
3. Featured product
You don't need a new product to reach out to subscribers; just select a popular product and feature it in an email. This is a great email to send when business is quiet. You can literally feature any product or service any time.
If you want the email to be timely, consider featuring a seasonal product as the weather changes. When spring rolls around, feature a spring dress. When winter hits, remind subscribers about your great line of toasty-warm coats like this retailer does:
This particular email highlights one product, but provides a link to their entire fall catalog. You can try something like that or you can simply encourage customers to buy the featured product.
Keys to success:
Offer a fantastic image of the product.
Consider explaining why the product is awesome, like the example above does.
Make the CTA clear and easy to find.
4. Feedback
Customers are the lifeblood of any business, so when you have some downtime it's a great opportunity to ask them what they think about your products or services.
Consider sending your customers a survey via email. You should keep the survey focused on one topic like customer service, a specific product or a new store layout. Once you've settled on a topic, create a small list of questions for customers to answer.
Creating a survey does take some time, and you'll want to follow these best practices.
Here's a great example of an email inviting customers to take a survey: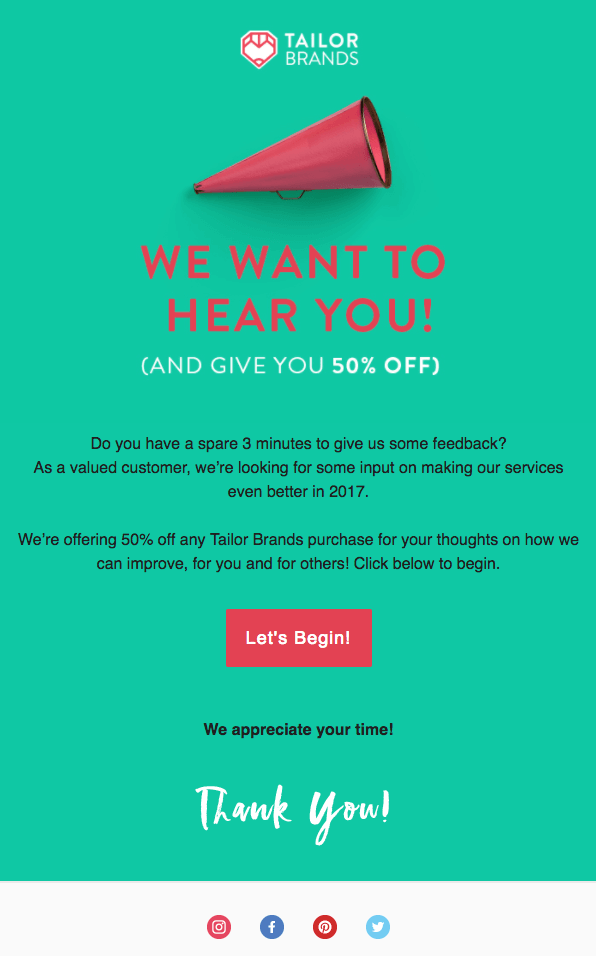 If you're a Pinpointe user, you can create surveys within your account. You can customize a survey, add your logo and use autoresponders to make the process a breeze.
Once the survey is complete, create an email to invite customers to respond. You can collect and analyze the data right in your Pinpointe account.
Keys to success:
Make sure the survey invitation tells customers how much time the survey will take.
If you're providing an incentive, clearly explain what it is.
Provide a CTA to take the survey.
5. Giveaway
Why not spark some interest in your business or product by hosting a giveaway or a contest on social media? There are two benefits here. First, you can invite current customers to participate in the contest via email, and you can advertise the contest on social media to collect new email contacts as an entry requirement.
If you need some help, try a tool like Wishpond or Rafflecopter.
The giveaway or contest should have a connection to your business. For instance, if you sell clothing giving a tablet away might seem like a great way to get people interested in your contest, but you want to attract potential customers not just people who want the latest tech gadget.
Make the prize something related to your business like a $100 in-store gift card, VIP access to a special sale or a basket of free products.
When you're hosting a contest, you need to set clear rules that explain how to enter and how to win. You don't have to include the fine print in your email, but it should be on your website for participants to review.
Your email should pique interest. Take a look at this email below that's encouraging subscribers to take a shot at winning a trip to Yellowstone National Park.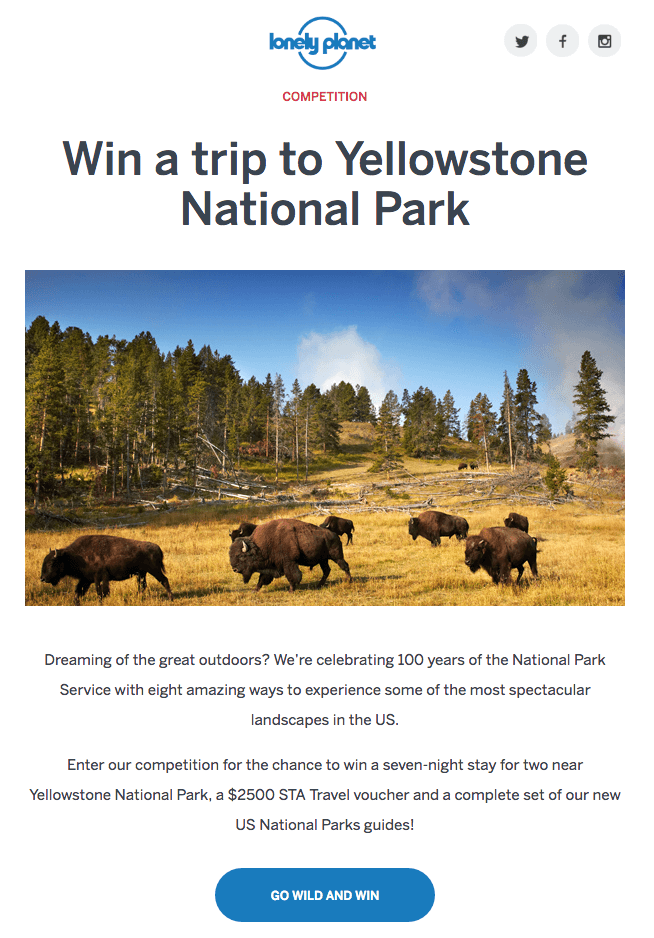 Keys to success:
Explain why the contest is worth entering in your email.
You can send reminder emails to subscribers to enter the contest before the deadline.
The CTA should provide a direct link to enter the competition.
6. Winback email
If you're short on email ideas, consider creating a campaign that wins back old customers.
Many companies don't focus on retention, even though it's seven times more expensive to attract a new customer than it is to sell to a current one. Don't make this mistake. Take some time to convince lost customers to come back with a reactivation email.
And, here's the best part, reactivation emails have a great return on investment, with an average $28.50 returned for every dollar spent, according to Experian.
To get started, take a look at your contact list and put "inactive customers" into their own segment. The definition of an "inactive customer" will vary based on your business and buying cycle, but essentially, this segment consists of customers that haven't purchased anything from you in six months or so.
The message should address a subscriber's absence. Try adding a headline like, "We Miss You," or "Come Back." You should also explain what's changed recently and offer a coupon to encourage action.
Here's a great example: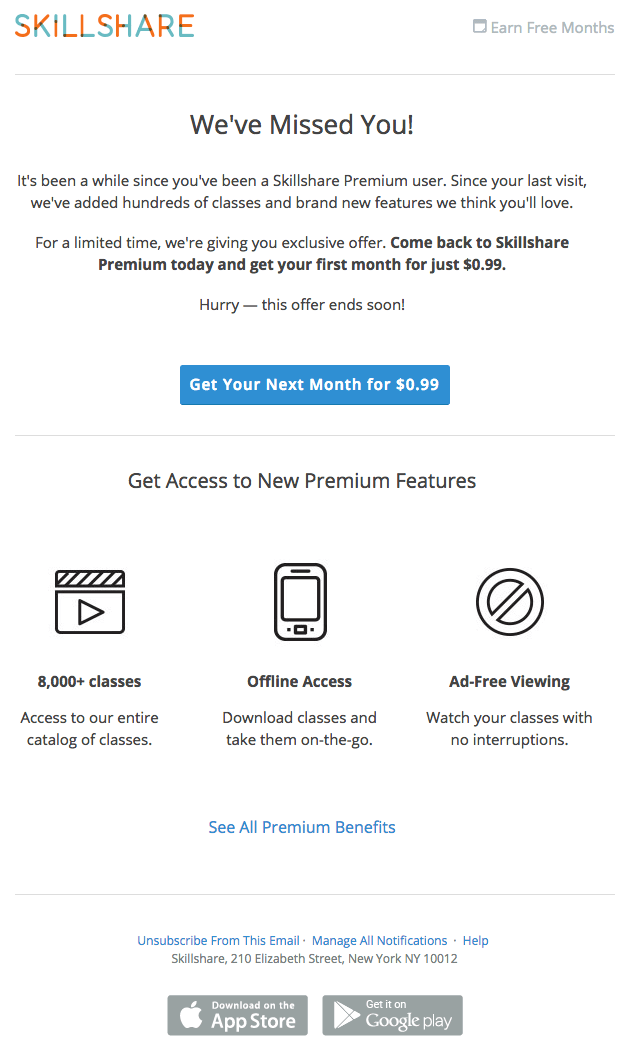 Keys to success:
Include a clear headline that addresses lost customers.
Add a deal or coupon to convince customers to come back.
Include a CTA that makes it simple for the subscriber to make a purchase.
7. Invitation to an event
If you're stumped for ideas, consider hosting an event and invite customers via email. An event doesn't have to be a black-tie affair with a huge budget; it can be something simple and small.
Host a customer appreciation event with free refreshments, a sidewalk sale, a tasting or a webinar. You can even turn a regular holiday promotion into an event and send invitations to it.
Take a look at the example below. The company is hosting a happy hour to celebrate an upcoming move.

After sending the initial invitation, you can send a variety of different emails to keep guest informed. Send an email with a schedule of events, a reminder email when the date gets close or send customers a ticket to bring a friend.
Keys to success:
Be sure to include the event details (date, time, place, etc.).
The CTA should provide a way to RSVP.
Send follow up emails as the event gets closer.
Email marketing is an effective tool, but it's obviously only effective when you're sending emails. If you run out of ideas, or are sending the same tired 20% off coupon every week, it's time to spice things up a bit. With the seven emails listed above you'll have a steady stream of emails to send to new and existing customers.
Pinpointe Newsletter
Join the newsletter to receive the latest updates in your inbox.
---