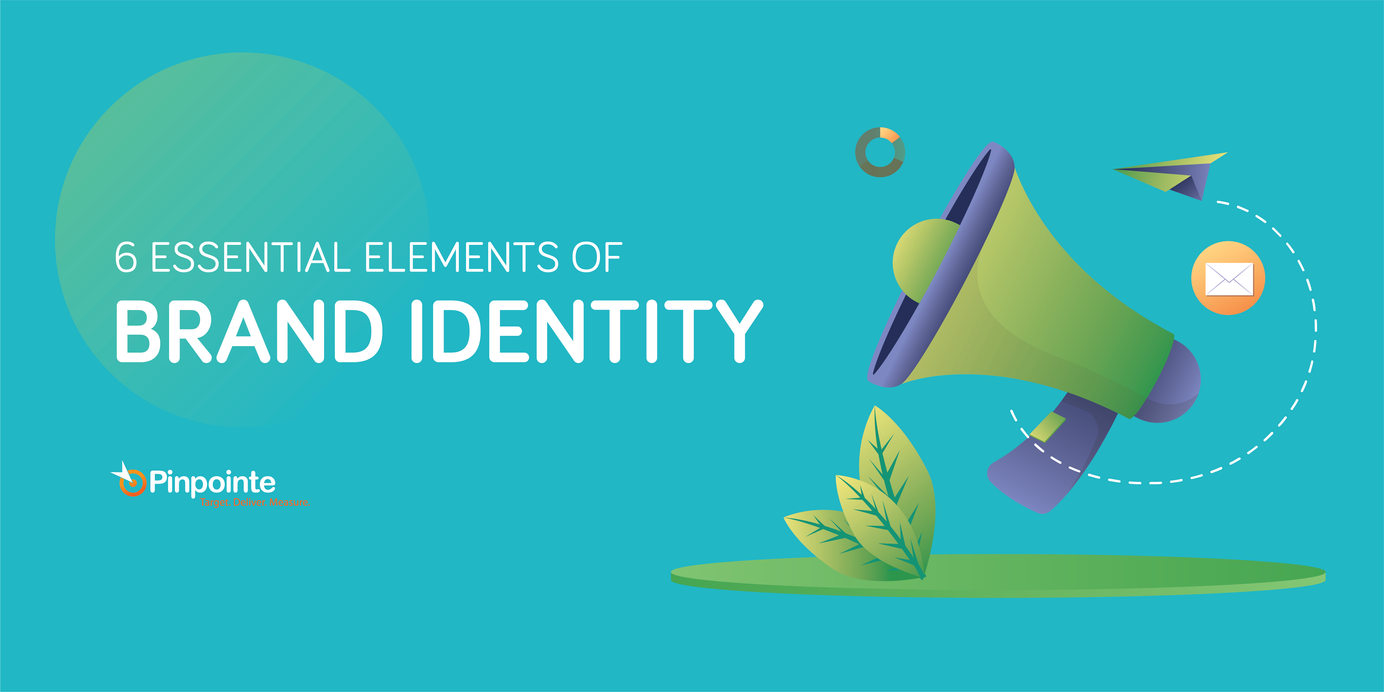 6 Essential Elements of Brand Identity
Table of Contents
"A brand is the set of expectations, memories, stories and relationships that, taken together, account for a consumer's decision to choose one product or service over another."

– Seth Godin
Companies can only establish themselves and achieve recognition when they successfully build their brand identity. If they have a strong brand identity then it can help them gain attention, trust, and loyalty of their customers. Our aim here will be to explore things brands should do to build as well as strengthen their corporate brand identity.
Important Elements of Brand Identity
Corporate brand identity is a lot more than merely having a logo. Let us go through details of what else is involved in it.
1) Wordmark or Logo
A logo or wordmark is one of the primary elements of an organization's brand identity. The logo refers to a graphical symbol and wordmark is simply the name of the company that utilizes a distinct text-only typographic treatment. More and more companies are moving to clean, modern wordmarks as they easily deliver an easily recognizable brand in a professional way without the need for other graphical elements. A few examples include well-known brands such as FedEx, Mobil, CNN, and Coca-Cola.
Below are other samples of wordmarks:


However, if your organization is using a wordmark, ensure that the words are designed professionally and use a font that resembles your brand.
Another thing to think about when it comes to your logo or wordmark…your organization should also design multiple variations so that you can use the correct one based on where you are using it. For example, you should have a reversed option when you use your logo or wordmark on dark background versus a light background.
Check out the different variations for the Linkedin logo below: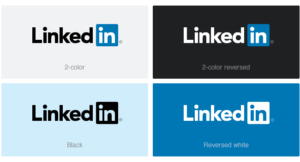 Similarly, you may require variations for square and horizontal applications or circular or square applications such as for avatars and profile pictures. However, all these variations should have the same qualities and features that your original logo has.
2) Corporate Font
You need to decide which fonts you want to use on your website and on your other marketing collateral. In many cases, your brand design agency will select a typeface from the logo itself. But, if the logo style is too decorative then it cannot be used for proposals and letters.
Therefore, it will be necessary to search for a complementary typeface that can be used in all marketing materials to develop an integrated brand identity.
For materials that are shared, like Powerpoints, your creative agency or designer should ensure that the fonts they use are available for both PCs and Macs and readily available on both systems.
3) Style Consistency
Style consistency is particularly important for images and must have consistency in their look and feel. For instance, your images can be brightly lit photos in which people are looking directly at the camera or the images may use a perceptive color palette with people not looking at the camera but rather engaged in their work.
Similarly, photos may be crisply detailed, have a soft focus, or use a zoomed in effect. Apart from photos, your organization can use illustrations, line art, or other similar graphical elements. No matter what type of images you decide to go with, all should have a consistent style across all marketing channels, whether it is online or print media.
Along with imagery, your brand colors play an important roll in brand recognition. Ideally, you should select two to three main colors to represent your brand and one to two accent colors. Your colors should be chosen based on the emotions they evoke and how you want to convey your business. For example, yellow expresses happiness while green conveys prosperity. Your creative agency may well use different shades or tints of the same color to adjust the emotions that the color represents.
MotoCMS created a great infographic that shows you how to choose your brand colors in six simple steps.
4) Shape and Form
Another important aspect of brand identity is the shape and form of different elements that represent your brand. This effective yet subtle element can be utilized for branding purpose. For instance, if your logo comprises soft edges and circles then people will react differently to it compared to when they see a logo that is square and sharp.
Different shapes and lines kindle different feelings, let us briefly go through the details here:
Round shapes symbolize things that are warm and help in creating a feeling of unity.
Shapes with straight edges evoke the feelings of efficiency and strength. In addition, the straight edges and lines resemble trustworthiness and stability.
Straight lines such as vertical lines imply strength and masculinity and on the other hand, horizontal lines express mellow vibes and tranquility.
5) Theme Lines/Tag Lines
Tag lines or theme lines help in easily identifying the brand. If the theme line becomes popular, it becomes part of brand identity and people tend to remember them for long.
Few good examples include Nike's "Just do it." and KFC's "It's finger-lickin' good". If it is a catchy theme line, people will easily remember it and associate it with your brand.
6) Other Visual Elements
When designed properly, other graphical elements can help in building and strengthening your brand identity. A few examples of these elements include the dynamic ribbon of Coca-Cola, the flower pattern of Louis Vuitton, and the pattern of Cs Coach uses.
All of these elements demonstrate how you can effectively utilize other visual brand elements as part of branding your business. These graphical elements assist in quickly identifying a brand without having to rely on words.
How Your Organization's Brand Identity Ties Into Email Design
When creating an email, ensure you use each element discussed in your email design. (You can make an exception to #6 – other visual elements, as this may not make sense unless your email includes pictures of your products that incorporate other graphical elements.) By utilizing these elements you emails will be easily recognized by your subscribers while building a strong brand presence. To get a quick review on email design, read our article 5 Critical Components of Email Design.
Pinpointe Newsletter
Join the newsletter to receive the latest updates in your inbox.
---