6 Data-Backed Holiday Emails to Send This Season
Table of Contents
Consumers are getting ready to deck the halls, which means they're getting ready to spend, spend, spend. This year, the average consumer will spend $967 on holiday shopping, that's up 3.4% from last year, according to the National Retail Federation.
Shoppers are already searching for gift ideas and hunting for hot deals, so now's the time to create amazing email campaigns that get your registers ringing.
To be successful, you'll have to go beyond emailing a $5 holiday coupon to every subscriber. We dug through a lot of holiday data, and we can tell you that consumers have high expectations this year.
To help marketers exceed customer's expectations, we've created a list of six data-backed holiday emails that every brand can send this season.
1. Gift guide

54% of shoppers made a purchase based on a retailer's suggestion

Shoppers need inspiration. Everyone has a tough-to-shop-for friend or family member on his or her list. Research shows 54% of shoppers decided to buy a holiday gift after a retailer suggested a product, according to the National Retail Federation.
The best way to suggest a product or service is through a gift guide. Think of it as a mini, digital catalog that highlights some great gifts. The guides should have great images that show off your products. You can include a small product description and a price, if you want. A call to action should take subscribers to a specific product page where they can simply add the item to a cart.
Your guides should have a theme and be sent to audience segments that make sense. For instance, if you have a group of customers that are parents of toddlers, a gift guide might be, "Top 10 Toddler Toys."
Here are some additional themes you can consider for your holiday emails:
Stocking Stuffers Under $15
Gifts for Him
Gifts for Her
5 Gifts for the Techy in Your Life
Fun, Affordable Gadgets for Teens
Here's a great gift guide from Jimmy Choo that breaks products into categories for him and her:
2. Drastic sale holiday emails

48% of shoppers make impulse buys

Shoppers are prone to impulse buys during the holidays. The National Retail Federation says 48% of people buy a gift on a whim, so why not encourage a little impulse shopping by sending a hot deal to subscribers?
It can't be a run-of-the-mill deal; it has to be something that compels subscribers to convert instantly. Try offering a deep discount on a popular product, or offer a small discount on an item that's rarely on sale. Make it something that your subscribers can't resist.
You can also try different kinds of deals that drive sales. For instance, you can run a 'buy one item, get one free' sale or consider tripling loyalty points for subscribers that make a purchase on a certain day.
Take a look at past email campaigns to see what kind of deals have had the best response rates and repeat the same kind of deal during the holidays.
Send the deal to a specific segment of customers and see what customers think of it. If it does well, you might want to send it to other groups.
Shutterfly, for instance, encourages impulse buys with this holiday email that offers 50% off everything, which is sure to grab attention and drive sales.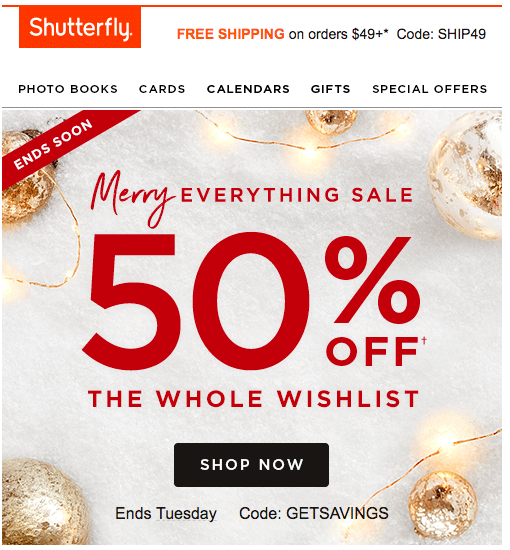 3. Holiday emails with a testimonial

96% of shoppers read online reviews

When you buy a product online, you probably read reviews, right? So do your customers. Research shows 96% of shoppers read online reviews, according to the National Retail Federation. Customers are looking for reassurance before they buy your product.
As part of your overall marketing strategy, you should monitor online review sites like Yelp and Google My Business. As comments come in, whether they're good or bad, you should respond to each one quickly and appropriately.
In addition to keeping tabs on online review sites, you can also provide the information that consumers are looking for in holiday emails.
Create an email that highlights products or services that make a great gift and provide a customer's testimonial near each one.
Here's a great example from Ann Taylor; all you'd have to do is tweak the design to fit the holiday season. The reviews give subscribers social proof that the product they're considering is a good decision.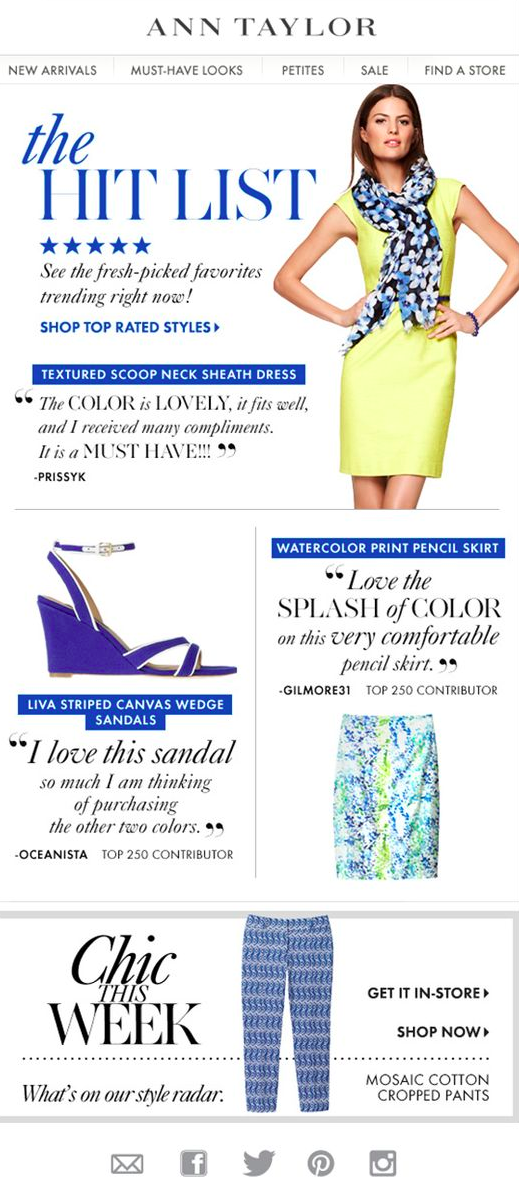 4. Exclusive online deal for holiday emails

Up to 54% of shoppers buy gifts online

Research shows surprising shopping trends for 2017. Shoppers aren't flocking to traditional brick and mortar stores to do all of their shopping, they're going online – and it's not just the young, smartphone-addicted generation that you might expect.
Take a look at the chart below, which shows online shopping is the preferred shopping method of every generation.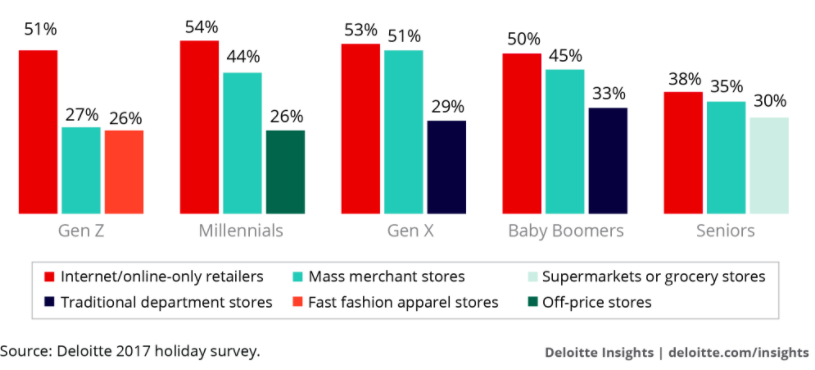 To cater to the growing number of online shoppers, consider sending an exclusive holiday offer to your subscribers.
Rather than send a generic 20% off coupon to every subscriber, segment your list and provide higher discounts for your VIP customers or give certain groups a discount that's only valid on products that they've shown previous interest in.
Sephora does a great job promoting an exclusive online shopping event for its VIB (Very Important Beauty) customers in this holiday email: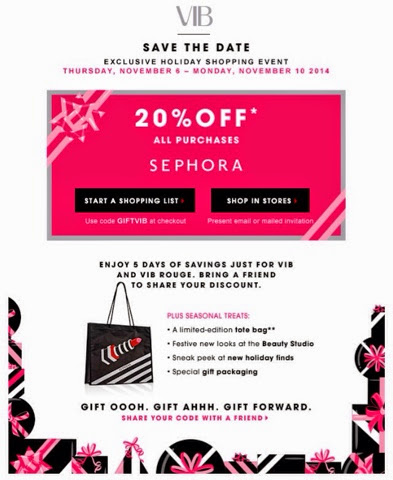 5. Free shipping offer

72% of shoppers plan to take advantage of free shipping

As shoppers scour the web for hot holiday deals, they're expecting retailers to offer free shipping. Seventy-two percent of shoppers plan to make purchases when free shipping deals are offered, according to research from Deloitte.
Free shipping has become a year-round incentive for some brands to keep subscribers buying, but if you can't swing free shipping 365 days a year, consider offering it a few times throughout the holiday season.
Segmentation works well here too. Send the offer to special groups or offer free shipping with a minimum purchase.
High shipping costs make shoppers hesitant. They start wondering if they can buy the same product locally, without paying shipping costs. Eliminate the problem by cutting shipping costs.
Make sure you add the words "free shipping" to your subject line to grab attention too. Inboxes are crowded during this time of year so you can stand out by highlighting this great deal right away.
Victoria's Secret offers free shipping to its subscribers if they make a minimum purchase in this email: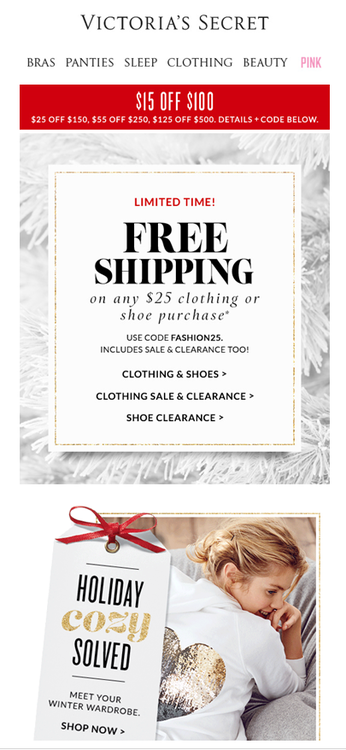 6. Abandoned cart holiday emails

67% of online shopping carts are abandoned

Shoppers have a tendency to add items to an online cart but don't actually check out. Research shows at least 67% of online carts are abandoned; a rate that likely increases during the holiday season.
About 75% of customers say they plan to return to the cart to finish the purchase, but only about 8% return on their own. Rather than leave this up to chance, brands should send cart abandonment emails that remind customers about items left behind.
There's a method to sending abandoned cart emails. Research shows sending three emails about an abandoned cart is the most effective, with a 56% increase in revenue compared to those sending just one email.
Research shows abandoned cart emails get the best response rates when they're sent on the first, second and third day after the cart is abandoned.
Should you include a coupon? It's an age-old question in email marketing. Some marketers are against sending an offer because they don't want subscribers abandoning carts on purpose in hopes of getting discounts emailed to them. Others are fine with sending an offer as long as it converts subscribers.
Research does show that a discount does boost transaction rates, with dollar-off coupons providing the best conversions, according to Experian.
Here's a great example of an abandoned cart email that offers subscribers $20 off their purchase if they complete their order:
This list of six holiday emails is a great way to reach customers and drive sales this season, but time is running out. To make sure you maximize your time, consider automating some of your emails. You can schedule them to arrive on specific dates or trigger emails to arrive in subscribers' inboxes based on their behaviors. Using automation during the holiday season allows you to reach the most subscribers without manually sending individual emails.
This year, pair automation with the six email campaigns listed above for a holiday marketing strategy that would impress St. Nick himself.
Pinpointe Newsletter
Join the newsletter to receive the latest updates in your inbox.
---