4 Must Have Email Marketing Templates for Small to Medium-Sized Businesses
Table of Contents
Small and medium-sized businesses (SMB) are always looking for ways to maximize their marketing spend. Email marketing is considered one of the most cost-effective ways to ensure these businesses are reaching their customers and prospects. Around 93% of B2B marketers are distributing their content through email marketing because sending an email campaign gives you the power to reach a place where most people visit every day – their inbox. After all, 99% of consumers check their email every day. Thus, email marketing is one of the leading marketing methods available for SMBs with budget constraints and having a few good email marketing templates in your toolbox is important.
Excel Your Business with These 4 Email Marketing Templates
Below is a list of 4 basic templates that SMBs can use to promote news, products, event promotions, and even a request for guest blogging. The best part is, once you create these basic templates, you can use them repeatedly and just swap out the images and text.
1) Newsletter Email Marketing Templates
The newsletter template is one of the most used templates in email marketing. This template helps you share a roundup of current updates and news with your subscribers. More specifically, you can communicate things like recent blog posts, accomplishments, upcoming events, team member highlights, and more.
Below is an example of the newsletter template send by a medium-sized cloud consulting company. It includes a roundup of recent blog articles, an announcement, and popular resources. In a long version, the company includes a team member spotlight –  view here.

eNewsletter created in Pinpointe
For this organization and other companies, an eNewsletter is the best way to touch base with your subscribers on a monthly basis. Learn more about creating a high converting email newsletter.
2) Event Invite Email Marketing Templates
There are a number of other marketing channels that can be used to inform subscribers about an upcoming event, but 40% of marketers believe email is the single-most effective channel for promoting an event.
Below is a sample of a successful event invite that was used by an SMB to invite folks to an annual event. The event information and registration link are above the fold and it clearly states who, what, where, when, and why. The template also lists the speaker lineup, which can be a motivator in deciding if a subscriber wants to register for the event.
Event template created in Pinpointe
To increase opens, you can add a first name in the subject line to personalize the event invite.
3) Announcement Email Marketing Templates
An announcement email template is used when you want to introduce a product launch, software release, new services, or anything else that is newsworthy. It helps you to connect with your customers and have another touchpoint with them. You can also use an announcement email template for internal company news, like announcing employee promotions or a new benefits program.
In a nutshell, announcement emails are directly related to marketing for your company-related matters and internal news.
The example below was sent out to announce the company's new website. It goes on to detail the features of the new site and drives subscribers to share the email.
4) Guest Blog Email Marketing Templates
To find high-quality guest blogs that are relevant to a business's niche is sometimes challenging, so many businesses will welcome a guest blog writer. Using your industry knowledge to write guest posts for other related organizations can help boost your company's presence and brand through outbound links. Reaching out to relevant organizations can be time-consuming, but you can save time by creating a guest blog email template.
The below example shows you a template that was used to request to write a blog article for Pinpointe. A few things to include in this template are the proposed topics and writing samples. The feedback will be depended on the way you put forward your eagerness to contribute to that company.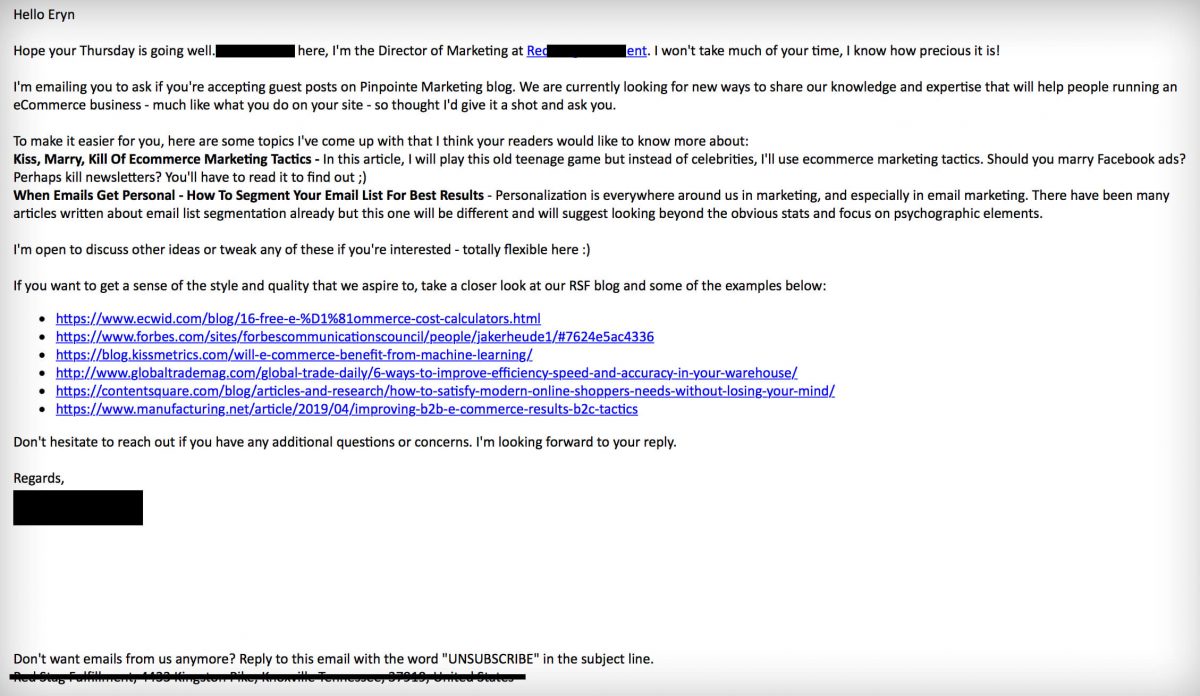 Wrap Up
For small and medium-sized businesses, email marketing plays an important role in creating new leads, generating revenue and retaining customers. If you are not currently using email marketing on a consistent basis, it may be time to reevaluate your marketing strategy.
Remember, your email is just one click away from losing your customer's interest. Thus, designing a good email template that gets your customer's attention and interest is critical. You can use the above 4 email marketing templates to gain and retain more customers.
Good luck!
Pinpointe Newsletter
Join the newsletter to receive the latest updates in your inbox.
---