How to Overcome the Top 3 Email Marketing Challenges Businesses Face in 2017
Table of Contents
The New Year represents a fresh start. People are pledging to lose weight, kick bad habits and spend more time focused on what's important. While personal resolutions are important, so are business resolutions.
This year set a resolution to overcome your email marketing challenges.
The prevalence of email continues to grow. By 2019, worldwide email use is expected to hit 2.9 billion. With this kind of widespread use come challenges.
To help businesses overcome their email marketing challenges this year, we'll discuss the three most prevalent "email hurdles" and give you solutions to handle each.
Email Marketing Challenge #1:
Not sending mobile-friendly emails

This year, businesses have to focus on mobile. Research from Experian shows 79-83 percent of consumers check their email on their smartphones or tablets. It's not something to consider anymore, it's something businesses have to act on.
If an email isn't mobile-friendly, consumers are left to scroll left and right to see the whole email, have trouble reading the itty-bitty text or can't see the images included.
Here's an example of an email that's not mobile-friendly. The email isn't readable on the screen; it's cut off.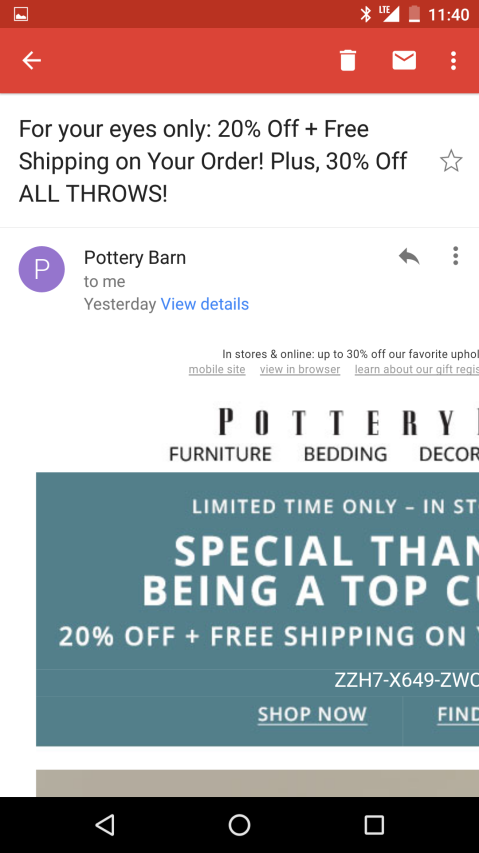 Here's what an email should look like on a mobile device:
The email fits within the screen. Subscribers simply have to scroll down to see the content, which is visually appealing and easy to read.

Solution: Use mobile-friendly templates and design tips

To start the year off with mobile-friendly emails, you can focus on these tips:
For starters, use an email service provider that offers templates that have a responsive design. These kinds of emails adapt to any device. So if a subscriber opens the email on a desktop, smartphone or tablet, the email will look great no matter what technology accesses it.
In addition, you need to "think mobile" when you're writing the email. Three or four sentences look like a novel on a small smartphone screen so keep your sentences short.
Use headlines and subheads
Use bold headlines and subheadings in your email to make the information "scannable." Mobile subscribers will likely read what's in bold, and get a sense for what the email is about before reading it in its entirety.
Write short subject lines
The average smartphone only shows about 25-30 characters, so keep that in mind when writing subject lines. Shorter is better.
Email Marketing Challenge #2:
Disappointing conversion rates

Businesses are always looking to improve their conversion rates, and 2017 won't be any different.
A conversion rate measures the number of subscribers that followed through on your call to action. In other words, they made a purchase, bought your app, filled out a form or downloaded your white paper.
While conversion rates vary by industry, the average benchmark to hit is between 2-5 percent. (Check out additional benchmark data in a previous Pinpointe post.)
Whether your conversions are above or below this mark, there are tactics you can use to improve this all-important metric.
Solution: Segment emails and use dynamic content

Businesses are competing for inbox recognition. It's not enough to have a compelling subject line, or a hot deal. Customers want emails that are specific to their needs.
The number one reason that subscribers opt-out of emails is because of irrelevant content, according to eMarketer.
In other words, mass emails or "email blasts" are a thing of the past. To get subscribers to convert, you have to create relevant, tailored content for each niche within your subscriber base. Here's how:
If you haven't done so already, this year make it a priority to segment your list. You want to break it into smaller groups that make sense for your business.
For instance, you could segment your list by purchase history, buying frequency, age, sex, income level, job title or geographic location.
A clothing boutique, for example, that specializes in women's fashion might have the following segments:
Loyal customers (Shoppers that frequent the store)
Holiday customers (Shoppers that buy only around Christmas)
Handbag Lovers (Shoppers that typically buy purses, wallets, etc.)
Professional Women (Shoppers interested in work attire)
Casual Lady (Shoppers interested in casual wear)
The more specific you can be with each segment the better. And, keep in mind, that contacts might fall into multiple segments. A Loyal Customer might also fall into the Handbag Lovers segment.
Once you have different segments, you can create content that's specific for each niche. For instance, the Handbag Lover will receive emails that focus on the arrivals of new Coach purses, tips to clean a designer bag and specific discounts for the accessories they love.
You're probably thinking, 'I don't have time to create emails for every niche on my email list.' Enter dynamic content.
What is dynamic content? Dynamic content is a box of content that changes based on the subscriber. So, let's say you want to offer all of your customers a 20 percent off coupon for an upcoming sale. Rather than creating the dreaded email blast, where every subscriber gets the same email – use dynamic content instead.
The deal can remain the same across all of the emails, but the products that are advertised as part of the sale can change to fit the subscriber.
Here's an example of an email with dynamic content from Groupon: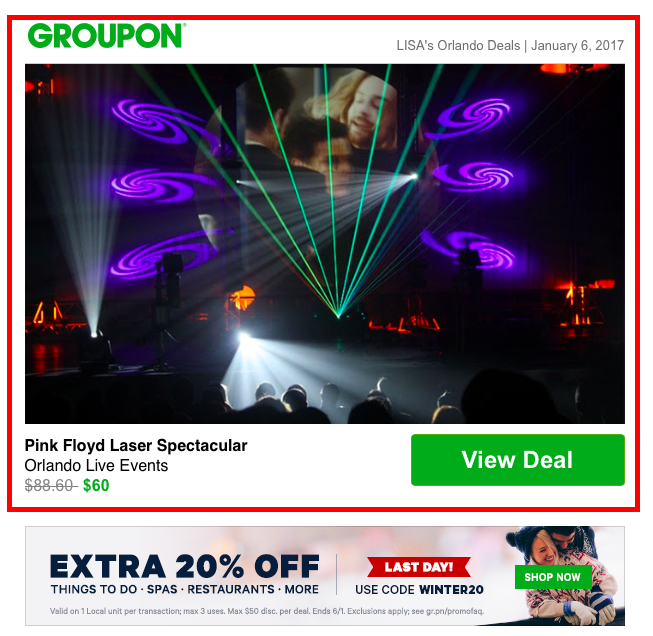 The dynamic content is in the red box. The event is based on the subscriber's location. It's happening in Orlando, so subscribers that live near the city were sent this offer, but the coupon that's below the event was used in every email.
By using dynamic content, you can create one email, but tailor it to each segment of your audience – so you'll save time.
Pinpointe users have access to dynamic content, and can use this dynamic content guide to get started.
Email Marketing Challenge 3#:
Not enough time to grow an email list

Businesses are time-strapped, and often feel as though their marketing efforts are lacking because there aren't enough hours in a day.
In some cases, business owners are wearing multiple hats. They aren't just managing schedules, employees and inventory, they're trying to build an email list, segment contacts, create tailored emails and track metrics. It's a challenge, for sure.
To help ease the load, make 2017 the year you implement handy tools to grow your list with little effort.
Solution: Use tools to collect contacts all year long

There are dozens of ways to collect email addresses, and some of them are the "set it and forget" type. In other words, you'll invest a little time setting up these tools, but once they're in place, they go to work for you.
Add a sign up form to your website
Turn website visitors into email subscribers by adding a sign up box to your website. You can collect a visitor's name and email address through a customized form.
You can even decide how much information you'd like to collect. For instance, you can ask visitors for their location or job title in addition to their name and email.
Of course, sign up forms work best when they're short. You don't want to ask for too much information or the subscriber could abandon the form.
See how to set up a sign up form on your website through Pinpointe. All of the contacts collected will flow seamlessly into your Pinpointe account.
Include a 'Forward to a Friend' link in your next email
Ask your current customers to help you grow your email base. The next time you run a sale or send some great content, ask subscribers to pass along the email to friends and family who might enjoy it.
Pinpointe users can add a referral link to an email that makes it simple for current subscribers to share an email with others.
When a current subscriber clicks on the referral link, a small form pops up asking them to enter the person's name and email address that they'd like to share it with. Subscribers can even include a little message like, "Hey Bob, I just got a coupon for 25 percent off for cleaning services and thought you might be interested in it too. –Larry"
Here's what the form looks like: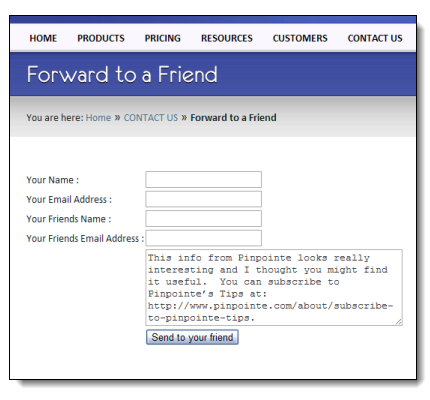 You'll be able to track who forwards the email to a friend too.
Add a sign up button to your Facebook page
Get your Facebook fans on your email list by adding a Sign Up button to your business page. The social media giant has recently added several call to action buttons to its list of features, one of which is a Sign Up button.
Here's what it looks like on a Facebook page:

To set this up, you'll need the URL to your sign up form. Once that's set up, you can follow these instructions from Facebook to add the button.
You'll be able to track how many people click on the link, and can download the contacts on a spreadsheet and upload them to Pinpointe.
Wrap up

Don't let email marketing challenges get you down in 2017. Make this the year that you take action. Use the tips above to overcome common hurdles, and check the Pinpointe blog for helpful email marketing tips all year.
Pinpointe Newsletter
Join the newsletter to receive the latest updates in your inbox.
---