11 Data-Backed Email Marketing Insights to Grow Your Business
Table of Contents
Are you a business owner who's looking for information to grow your business? You have all the help you need as this article discusses 11 science-backed email marketing insights and strategies to boost your ROI.
1) Personalized subject lines are 22.2% more likely to be opened. You're better off personalizing your email subject lines.
Adestra came to this conclusion after analyzing 1billion emails and more. The company considered character length and nine different word categories to determine exactly what works and what doesn't for B2B subject lines. Relevant subject lines are important. They attract attention no matter how crowded an inbox is. They are influential and determine if an email gets read or not.
After analyzing 200 million plus emails, Eloqua also says it's all about the subject line. And that subject lines personalized with the recipient's name and an extra data point, like location, boost email open rates.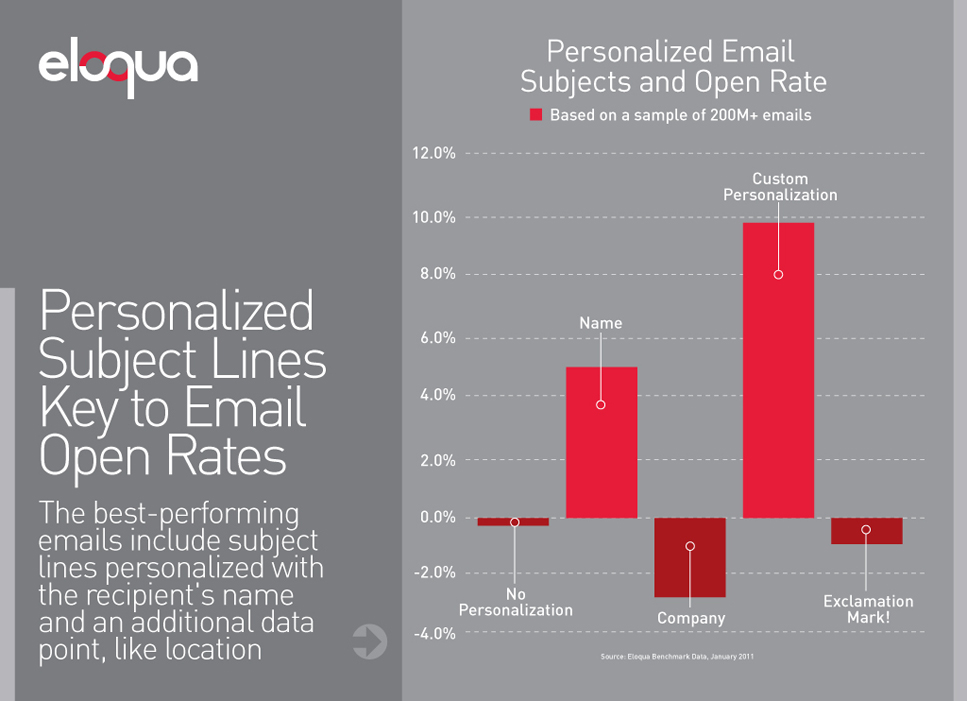 How Do You Give Your Subject Lines a Personal Touch?
Newscred suggests the following:
Refer to a customer's action
Crafting subject lines based on a customer's action works. Amazon does a good job with this. Search for marketing books and you'd be inundated with emails recommending books you should check out.
Address customers by name
Even though some patrons might find this invasive, it's worth experimenting (as some customers may feel connected to a brand because of this).
You can have a prospect's name in a subject line like the following: "Hello Alicia", "Hi there, Pam" or "Special offer for Derrick." You can also have the customer's company name like the following: "Reduce Company.com's bounce rate by 25%."
Research has shown that emails with the recipient's first name in the subject line enjoyed a higher open rate (18.3% compared with 15.7%).
A report from Accenture also says 75 percent of consumers are more likely to buy from retailers that recognize them by name, recommends options based on past preferences, or knows their purchase history. No matter what they say, people judge emails by their subject lines. It's your duty to make it as compelling as possible.
2) 53% of emails opened on mobile devices. You're better off optimizing your email for mobile opens.
Litmus came to this conclusion after tracking email opens for more than four years. This is a wake-up call for marketers to optimize their emails for mobile opens.
So, how do you optimize your emails for mobile opens?
"Designing for Email", a book by Smashing Magazine, recommends the following:
Single-column layouts that are no wider than 500 to 600 pixels as they're easier to read
Links and buttons should have a minimum target area of 44 times 44 pixels as it sucks to have clouds of tiny links on touchscreen devices
The minimum font should be 13 pixels. Anything smaller could break the layout
Place all vital design elements in the upper portion of the email, if possible. Scrolling for miles is much harder on a touchscreen than with a mouse
Keep your message concise
Follow these suggestions to design emails that "look effective on the small screen as they do in your Web browser or desktop inbox."
3) Triggered open rates are 76.7% higher than non-triggered email messages. You're better off sending triggered emails as part of your marketing mix.  
Epsilon came to this conclusion after sending approximately 340 million triggered emails across various industries. It discovered that the triggered emails had a higher open rate as well as click rates (because they are deployed based on a customer's action). Triggered emails are like answers to questions customers ask on your website. For instance, if a lead subscribes to your email list, you send a welcome message. If he abandons basket, you send a reminder to complete the order.
The bottom line is simple: incorporate triggered emails alongside your business-as-usual emails.
How Smart Furniture Boosted Open and Click Rates by Using Behavioral Emails
Before now, Smart Furniture had been sending mass emails without success. They were also wasting valuable time manually creating lists. The situation changed when they decided to implement triggered emails. These are the results:
Open rates increased by 311% for welcome emails while click rates went up by 327%
Cart abandonment emails had a 41% open rate and 56% click rate
Post-purchase emails enjoyed a 284% increase in open rate as well as a 295% boost in click rates
4) Plain-text emails get higher open rates. You're better off sending messages in both HTML and text formats.
Hubspot came to this conclusion after a survey which involved over a thousand professionals. They discovered that HTML emails decreased open rates as well as clickthrough rates. And that an HTML email does not hurt your deliverability as long as you have a properly coded HTML email and a plain-text version.
Coding Your HTML email
Doug Addison, a professional web developer, recommends the following in his book, "Web Site Cookbook: Solutions & Examples for Building and Administering Your Web Site:"
Keep fancy designs and rich media to a minimum
If you can, code your HTML email by hand. Some email clients can trip over the slightest coding irregularity introduced into the message by a WYSIWYG editor.
Make sure you use absolute URLs for all your links and images
Always test your email before sending
Include a Plain Text Version
Most email marketing platforms allow you to create a plain text version of your HTML messages. Take some minutes to put this together. It buys credibility for your campaigns (from email clients) and enables all and sundry to access your email.
5) Marketers have found a 760% increase in email revenue from segmented campaigns. You're better off segmenting your campaigns.
This is according to the DMA. Segmentation is often overlooked but it's a powerful way to boost ROI. It fulfills the consumer's desire to receive only relevant messages.
This image from a research by Optimove shows how segmenting works: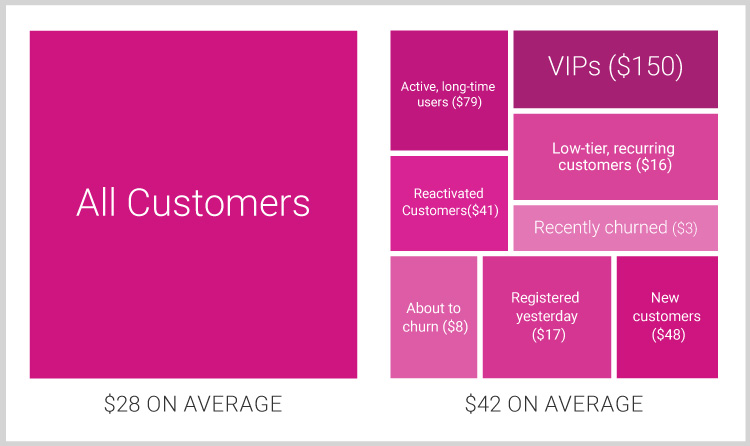 Over 30 million customers and 2,000 campaigns, sent to target groups of different sizes, formed the basis of the research. Jordie van Rijn, an email marketing consultant, discusses the results:
"The segmented group had an average of $42 per customer, compared to $28 when unsegmented. What you see in this overview of (RFM) segmented groups is that the group VIPs is the most profitable with $150, very different than the 'recently churned' group with $3. Not all groups are created equal. By naming the groups you understand that it is pretty silly to send everyone the same campaigns."
6) 91% of customers want to receive promo emails. 86% would like to receive promo emails at least monthly while 15% would like to receive promotional emails every day. You're better off sending promotional emails more frequently (after determining customer preferences through list segmentation).
MarketingSherpa came to this conclusion after a survey which involved 2,057 adults. The results are contrary to the popular belief that people do not want to receive email, especially promotional email (e.g., coupons, sales notifications, etc). People do want to receive transactional emails and the percentage is staggering!
There is the need for segmentation to make a success of this. This helps to avoid sending daily emails to people who only want monthly emails, as they are likely to unsubscribe or report your email as spam. In the same vein, sending monthly emails to the 15% who want daily emails will make them feel underserved, making them an easy prey for your competition.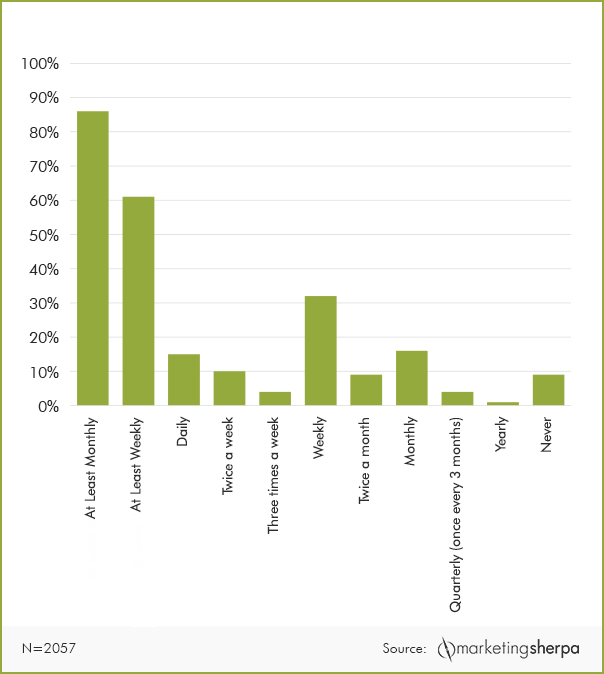 How Dannon Boosted Customer Acquisition through Promotional Email Campaigns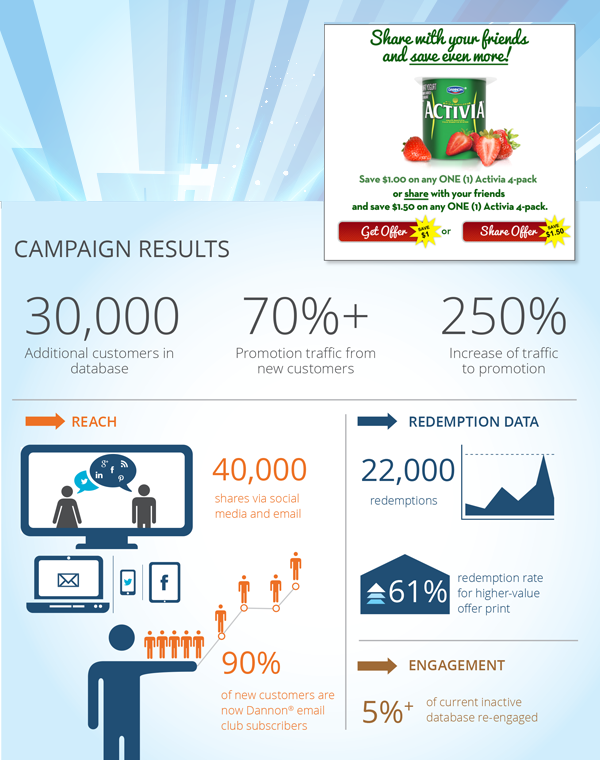 Dannon sells dairy products and sends to several email databases, including the Activia email club. Some members on that list were inactive and Dannon wanted to re-engage them. Using a combination of email and social sharing tools, Dannon set out to drive awareness, traffic and customer engagement. They sent a series of emails over a one-month period. The offer was simple; it provided inactive customers with a coupon. The users were also encouraged to share the offer with friends and family across social networks to receive another incentive that was higher than the initial one.
The results of this promotional email campaign were impressive, as you can see:
30,000 additional customers in the database
70%+ promotional traffic from new customers
250% increase in traffic to the promotion
40,000 shares on social media and email
7) A study of 1 billion emails revealed that video emails see CTRs 96% higher than non-video emails. You're better off including videos in your emails.
You can use videos to stand out in the inbox. Ragan Communications, a B2B publisher and training company, doubled clickthrough rates by using videos. The organization wanted to spruce up its email marketing campaigns and send more than text-only campaigns, so they incorporated video into their messages. The campaigns were meant to promote its live events, such as an annual social media conference, along with their virtual events.
The organization sent three different types of email with each specific campaign: a text-only email, email that had design elements, and email with screenshot and link to a landing page with video promotion. At the end of the day, open rates were consistent across all three email types, but video emails achieved a much higher click-through rate than text-only emails and emails with a design element.
8) Welcome emails generate 3x more revenue than regular promotional emails. You're better off sending welcome emails.
If you don't currently send welcome emails, this is a call to do so. Research has shown that subscribers who receive welcome emails show 33% more engagement. Welcome emails enable you to strike while the iron is hot; while the subscriber is interested in your brand.
How Peak Design Boosted Repeat Purchase Rate by 70%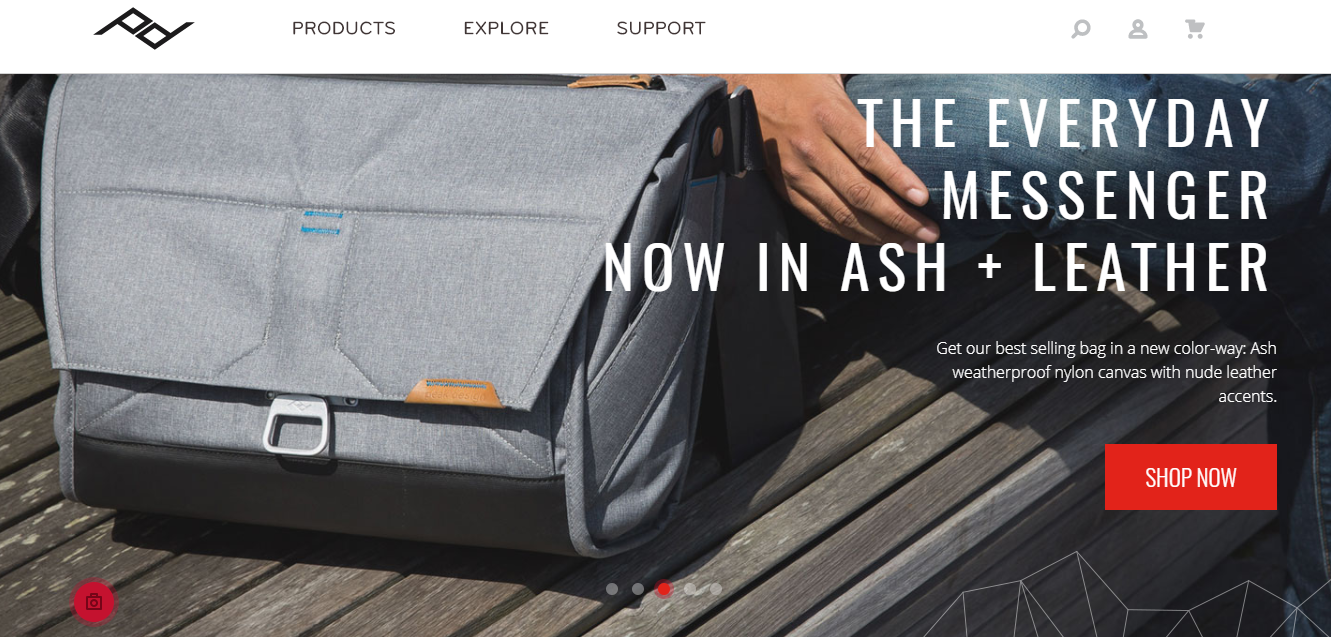 Peak Design sells gear to innovative people who love adventure. It set out to boost repeat purchases with a two-step welcome email series. The emails were sent to introduce first-time customers to the brand. Sent 30 minutes after a purchase, these welcome emails were also designed to encourage a second purchase.
This campaign generated a little over $150,000 within a year (from March 2016 to February 2017).
Why send welcome emails?
They enable you to:
Showcase your brand and what you do
Generate interest in your business
Ask customers questions that will enable you to serve them better
Strike a meaningful and profitable relationship with customers
I could go on and on but the bottom line is: sending welcome email series enables businesses to run profitable email campaigns.
9) Using a call to action button instead of a text link can increase click-throughs by as much as 28%. You're better off including call to action buttons in your emails.
Call to action buttons tell customers exactly what you want them to do after reading your email. They get the attention of people who just skim through emails. They do what text links cannot do because of the following:
Size – A button is often larger than a text link and catches the skimmer's attention
Color – Readers notice buttons because their color is different from that of the background and text
Design – Design elements like shadows, gradients, and other effects make buttons stand out to skimmers. It's not the same with a linked piece of text
Using CTA buttons can significantly increase your conversion rates. Experiment with them today!
The Science of CTAs
It is one thing to have CTAs instead of text links. It's yet another thing to get people to click on your CTAs. How then, do you make your CTAs convert?
Neil Patel suggests the following to get your call to action buttons clicked:
Use words that stir emotions in your button copy as they increase the likelihood of it being clicked.
Test and use the color that converts best as people can and do make decisions based on the color combination used
Leave white space around your CTA as it impacts on user experience. The color, font, and cover photo stand out when surrounded by whitespace.
Place your buttons where people click because positioning matters
Add a bit of animation to draw attention to your CTA and get a higher click rate
Place a product image above your button to show people what they stand to get
Well-crafted CTAs can boost your clickthroughs. Discover what works by implementing some of these tips today!
10) Emails that contain social sharing options enjoy 30% higher click-through than emails without social sharing links. You're better off including social elements in your campaigns.
After analyzing 500 emails, the "Email Marketing and Social Media Integration Report" found that emails with three or more sharing options generated 55% higher click-throughs while those with a Twitter sharing option enjoyed 40% higher CTRs than messages without any social media links.
How SmartBrief Increased Newsletter Engagement by 25% through Social Share Buttons 
SmartBrief is a leading industry news publication. A few years back, they wanted to understand how social sharing could increase its email newsletter interaction. They then came up with a plan to include social sharing options alongside the button that let subscribers send newsletter articles to their colleagues via email.
Initial results showed a 25% increase in reader interaction as well as a boost in visits from social websites like Twitter (traffic increased by 1,680%), Facebook (visits went up by 1,351%), and Linkedin (traffic surged by 2,070% ).
11) Personalized email messages improve click-through rates by an average of 14% and conversions by 11%. You're better off personalizing your emails.
The Aberdeen Group came to this conclusion after surveying 550 organizations. It says 96% of organizations believe that personalization can deliver excellent email marketing performance. This was contained in the "Email Marketing: Get Personal with Your Customers" report. They also concluded that personalized emails are customer-specific and based on "individual profiles, purchase history, product recommendations, demographic behavior, etc." This goes beyond using the first name. It's also different from a mass mailing.
How Doggyloot Achieved 750% Higher CTR through Email Personalization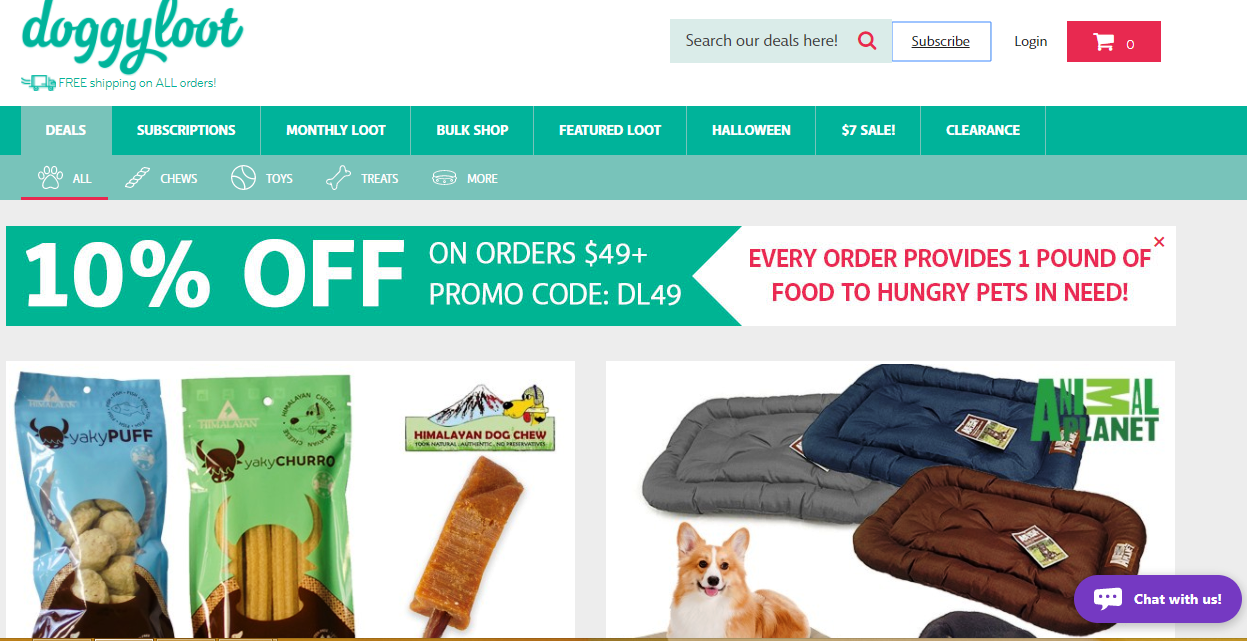 Aside from targeting humans, personalized emails can be targeted towards animals. Doggyloot is an online store that offers pet supply deals. The company sends emails personalized with its data on dogs and not humans. For instance, subscribers receive emails tailored to the size of their dogs. Someone with a Bulldog gets product offers different from someone with a German Shepherd. The conversion rates for these emails are quite high. It all boils down to the fact that they are extremely targeted and relevant.
Here are the results of an email sent to wish dogs a happy birthday:
28.1% open rate
Clickthrough rate was 750% higher than the online store's average
Contributes up to 16% of daily total revenue
How to Personalize Emails
KissMetrics says you can customize emails by:
Building buyer personas that help you send relevant campaigns
Using location and time to determine the best email send times
Automating behavioral emails for customer actions enable you to up-sell, cross-sell, welcome, and re-engage people
Personalizing your business by sending emails with your company name or that of a staff or CEO
Wrapping It All Up
Boost your email marketing efforts by implementing some of these science-backed recommendations today! They may not all work for your brand but you'll discover powerful ways to increase email revenue just by experimenting.
Pinpointe Newsletter
Join the newsletter to receive the latest updates in your inbox.
---