10 Tips to Make Your Emails Stand Out During The Holidays
Table of Contents
There are a few things that people can expect with the holidays –cookies, presents, sales, and more marketing emails in their inbox. Marketers are busy little elves during November and December. Naturally, their job is to capitalize on increased spending during the holidays, so beefing up their email activity is a given. Surprisingly, consumers don't seem to mind the increased influx of emails, because open rates actually improve during the holidays. According to SailThru, in 2013, click-to-open rates were highest during the weeks leading up to the Thanksgiving holiday and stayed steady at an average of just over 11% from November 11 to December 1. The week prior to Christmas, they dropped about 2.8% to an average of 8.34% and increased back to 9.5% the week of New Year's Day.
During the holidays, consumers do expect more emails, but they're also looking for engaging content in those emails. Socially Stacked's holiday marketing infographic reveals some pretty interesting statistics that just may surprise you.
Holy cinnamon sticks! Did you read that? Email offers influence 80% of online shoppers and 71% of in-store shoppers to buy. What's more is that people who buy products marketed through email spend 138% more than people that do not receive email offers. With stats like that, you better be sure your marketing emails stand out, so they get read. To help ensure your emails are a part of those influencing one, we've created a list of 10 tips that will not only help make your emails shine like foil wrapping paper during the holidays, but also throughout the rest of the year.
Tip #1: Think mobile

49% of emails are opened and read on a mobile devices and 65% of all emails get opened on a mobile device first. In fact, Digital Sherpa reported that in 2013, emails that were sent on Cyber Monday produced an open rate of 40.1% from desktop computers and 45.5% from smartphones. iPads and tablets accounted for other email opens on this day. Also in 2013, just about 58% of Black Friday emails were opened from a smartphone. You can bet that percentage jumped in 2014 because the number of smartphone users has increased over this past year. With over half of your subscriber base viewing your emails on their mobile devices, you better make sure your emails are rendering properly across all devices.
Tip #2: Make email recipients curious with an intriguing subject line

I'm sure you've heard this as many times as you hear Christmas tunes in the month of December. There's good reason though – it's important. 35% of email recipients open email based on the subject line alone. On average, 8 out of 10 people will read your email subject and send-from address, but only 2 out of 10 will read the rest. This is the secret to why the email subject determines the effectiveness and success of your entire campaign. The better the email subject, the better your odds of beating the averages and getting what you've written read, by a bigger percentage of your subscribers. The copywriting trainers at American Writers & Artists share "The Four U's" approach to writing headlines –tips will that also work with writing email subjects.
Email subject, preview pane (the first 3 lines), subheads and bullets should:

Be USEFUL (and relevant) to the reader,
Provide him with a sense of URGENCY
Convey the idea that the main benefit is somehow UNIQUE; and
Do all of the above in an ULTRA-SPECIFIC way.
Tip 3: Use a design that compliments your content.

How many times have you deleted an email because it looked unprofessional or cheesy? On the flip side, has an email design ever pulled you in and "commanded" your attention? I'm guessing "yes." Email design plays a big role in how subscribers perceive your brand. It's important to invest time into your email template design and focus on how your design works with your content. Pinpointe's blog article "5 Critical Components of Email Design" covers this in more depth and reveals the basics components of what goes into effective design and gives you insight into what's involved in creating an attractive and effective email design that encourages positive action using five key components:
Composition
Typeface (Fonts)
Images
Color
Balance

Tip #4: Optimize your emails for image blocking.

This one plays a bit into tip #3 because it is related to design, but it deserves to be recognized as a tip on its own. The majority of email clients block images by default. In many instances, ALT text will be displayed in lieu of the image, which can provide an alternative way to communicate your message when no images render in your email. Below is an outline of default image blocking settings for the most popular desktop, webmail, and mobile clients (courtesy of Litmus). Litmus also included support for ALT text and styled ALT text
DESKTOP DEFAULTS

*Images are enabled by default, but were manually disabled for testing purposes.

We've seen plenty of emails that place their main message in the image, only to have it blocked. What's even worse is that many marketers don't use alt tags. According to stats gathered by Convinceandconvert.com, ROI would increase 9+% if marketers optimized their emails for image blocking. If you don't want your email to get overlooked, prepare your email for image blocking by limiting the amount of images you use, and when you do use images, use ALT tags that support your message.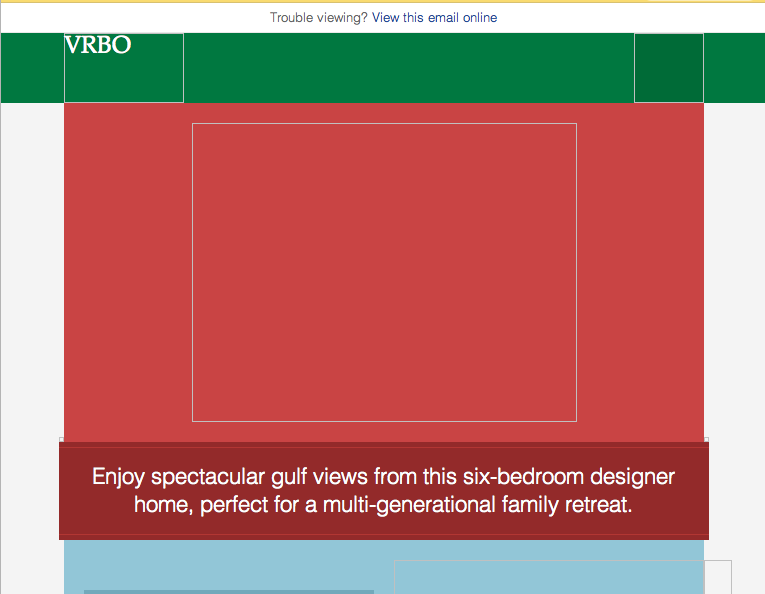 Sample of an email that has lost its message due to image blocking.
Tip #5: Use clear bold headlines and bullets.

A reader should know what your email is about in the first five seconds of opening it. Most readers will scan the headlines in your email and then, if these peak their interest, they will move on to the bullet points. If a recipient has to read 1-2 paragraphs of information to understand what your email is about, you can count on a campaign fail. With this said, you should really spend some time coming up with strong headlines that properly convey your message. Try not to make the reader think too hard by using clever language that can have multiple meanings.
Tip #6 – Place the most important information in the first few lines of your email.

Besides using a killer subject line, the pre-header and header text is extremely important. This copy often comes through as a preview of the text in your email campaign. Pulled from the first few lines of your email content, this text is typically limited to 100 characters or less and is. Use this text to build on to your subject line and further peak the attention of your recipients.
Tip #7: Don't forget the preview pane.

When going through email messages, a large percentage of people view their messages in a preview pane. Out of those from ages 18-34, 84% of people use an email preview pane. The preview pane is made up of the top 400 X 300 pixels of your email campaign. With this in mind, you should design your email to best utilize this space to draw the recipient in and entice them to act.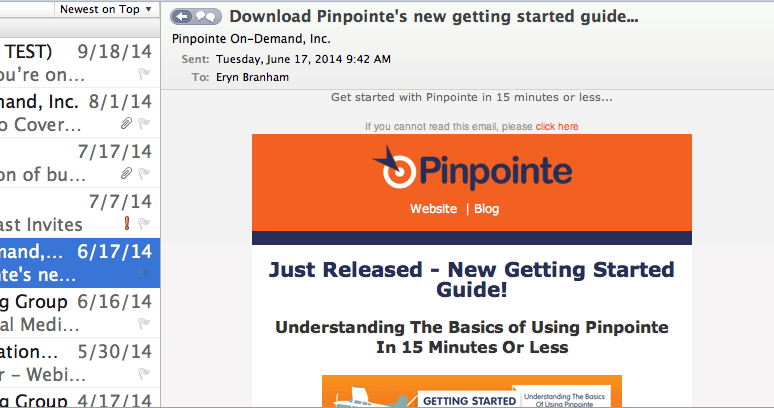 Tip #8: Use relevant and personalized content.

Relevancy and personalization go hand in hand. To improve relevancy, you need to send your offer to the right audience. In other words, you should segment your lists based on specific interests and only sent offers to relevant subscribers. Content that is not significant to a subscriber will almost always get deleted. In Pinpointe's blog article Top 6 Neglected Email Marketing Tools, it explains that 89% of marketers who segment their lists can improve conversion rates up to 355% and increase revenues by 781% (according to Jupiter Research Study).
Tip #9: Create a sense of urgency.

There are different ways to create a sense of urgency, but all will increase the value of your email. Betaout.com covered 5 examples, which include the following in email messages:
Coupon with an expiration date
Limited-time one day offer
Clearance sale
Purchase before an item sells out
Percentage off that ends at a specific time of day
Next time you send an email, give subscribers the perception that it is time-sensitive and your call to action has a quickly approaching expiration date.
Tip #10: Have a good Call To Action (CTA)

When you send out an email campaign, you should always include a clear and concise CTA. After all, isn't the end goal of an email to drive prospects and customers to complete an action, so you can convert them into a leads? If you don't include an obvious CTA, you're missing the mark. Before you send your next campaign out, ask yourself what you want your email subscribers to do. Do you want them to download a free whitepaper, schedule an appointment, get a free consultation, etc.? Once you have defined this, create a bold CTA and place it in several spots in your email campaign. Do not convolute your CTA with countless other links in your email, as this just causes a distraction to your main driving CTA.
Now it's time to shine and put these tips into action.
---
If you need help with your email marketing strategy over the holidays or any other time, please reach out to us at support@pinpointe.com.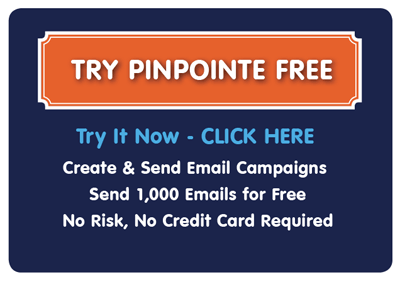 Pinpointe Newsletter
Join the newsletter to receive the latest updates in your inbox.
---